Growing up bagels was a consistent part of our morning breakfast. I loved slathering cream cheese over a huge everything seasoned bagel. Imagine my excitement when I realized that my bagels enjoyment didn't have to be over! These low-carb bagels or THM bagels are going to send you into reminiscent mode as you indulge in this low-carb, but very-carb-like bagel!
This page may contain affiliate links. To view my full affiliate link disclosure, click here.
Are Bagels High in Carbs?
I used to love bagels, smearing them in cream cheese and running out the door. Long gone are the days when I can get away with that type of carbohydrate abuse. A simple oat bagel has over 56 grams of carbohydrates. That can really add up fast, especially if you are trying to loose weight!
There is a mighty significant difference between healthy carbohydrates that fuel and sustain our bodies and those that are simply empty. Unfortunately, a quick look at the nutrition facts of a traditional bagel, and you can see that the ingredient list is long, difficult to understand, and filled with less than ideal ingredients.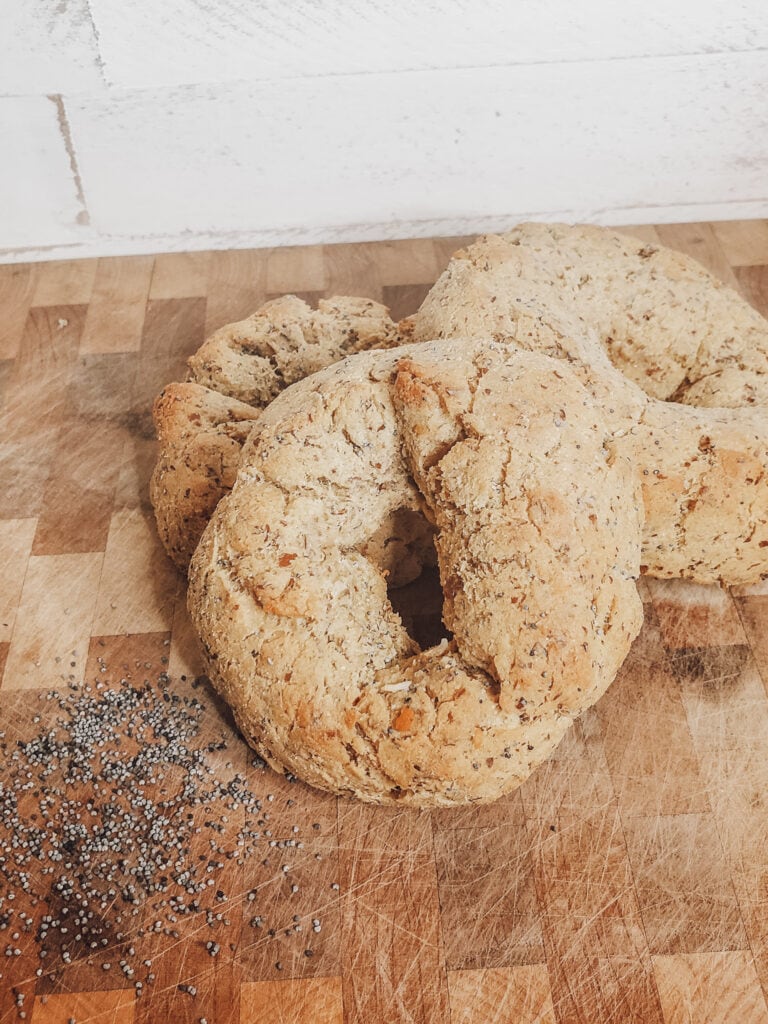 How Many Carbs should you Eat a Day?
According to the Mayo Clinic on a typical 2,000 calorie diet, the average adequate intake of carbohydrates would be between 225-325 grams of carbs per day.
By contrast, those that follow Trim Healthy Mama or even the Ketogenic lifestyle know that that is a considerably larger amount that we typically enjoy.
Especially for those following the THM lifestyle our amount of carbohydrates will change according to how we are feeling and how we are choosing to fuel our bodies.
When I was pregnant and nursing my body craved a lot more carbohydrates, so I did not deprive my body of what it was craving, and I came very close to consuming 225-325 grams of carbs per day.
However, those carbohydrates were very healthy ones, not those typically found in the American bagel. This is why these low-carb bagels are so exciting. We are going to use 5 simple ingredients and some seasonings to make a mouthwatering low-carb bagel!
What are Low Carb Bagels Made of?
These low-carb bagels are going to be very dairy-rich. Sorry to all you dairy-free people out there. But that also means that this is not a 'sweatpants' oatmeal type of meal. You will not want to make this into your daily breakfast routine. This is one of those recipes that is for when you need to mix up your typical routine, but not the routine itself!
The 5 main ingredients you will be using are:
A Low Carb Baking Mix like the THM Baking Blend or my own low carb baking mix.
2 ounces of cream cheese (⅓ fat is fine)
2 large eggs
2 ½ cups Mexican Cheese mix (other types work too)
1 tbsp baking powder
Poppy Sees, Garlic Powder, and Onion Powder
If you would like to try other seasoning toppings, Wonderfully Made Dearly Loved has a great Lemon Pepper Seasoning Mix to try! Another great one to give a shot is from My Montana Kitchen, Sarah has a killer Everything Bagel Seasoning!
---
Are you ready to cut back on sugary breakfasts, snacks, and sweets! I would like to invite YOU to the 5-day sugar challenge. You will get the workbook and email course where we will work together to cut back on sugar, and maintain a healthier lifestyle! Click the image below or learn more about alternative sugar choices here.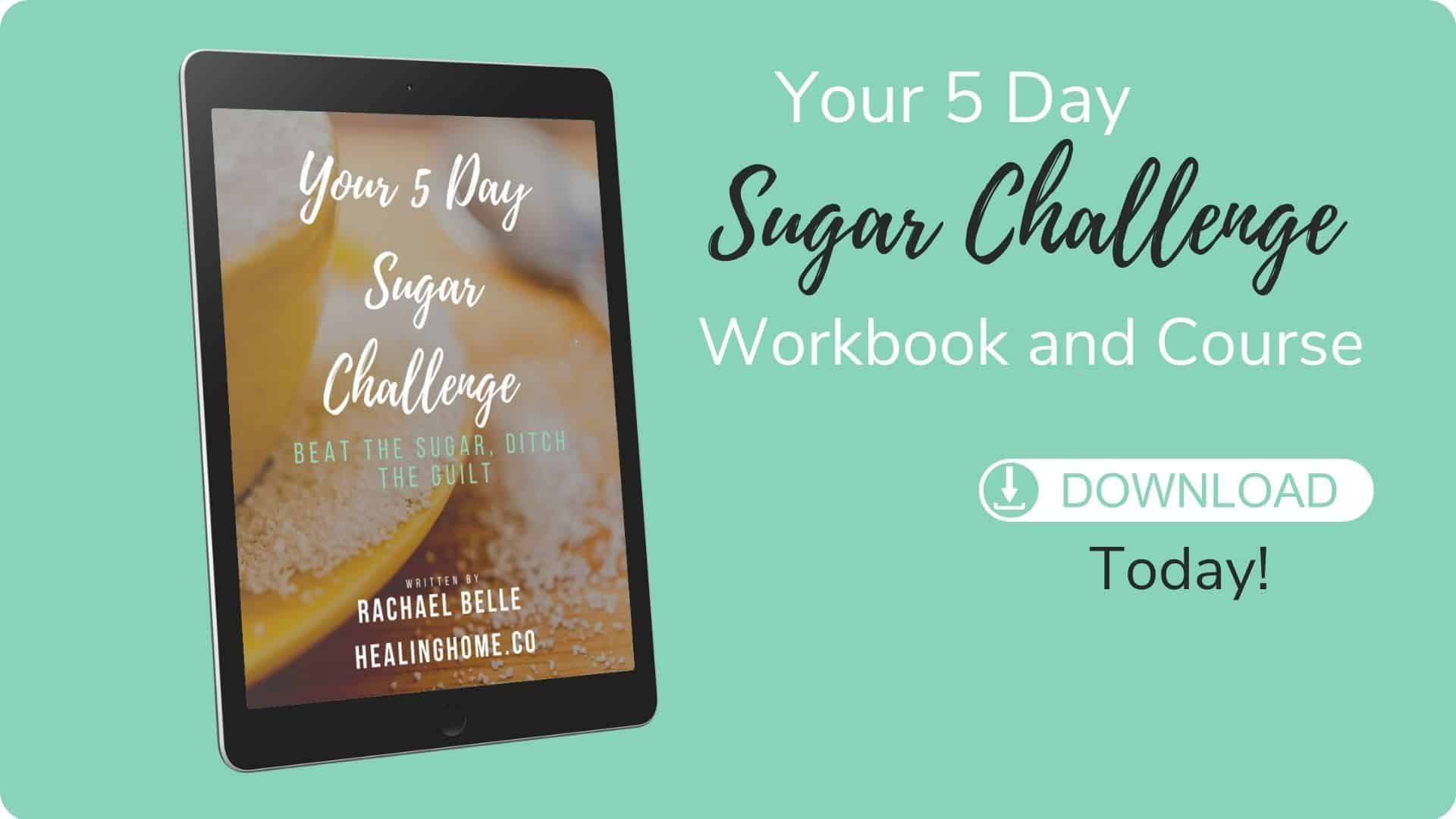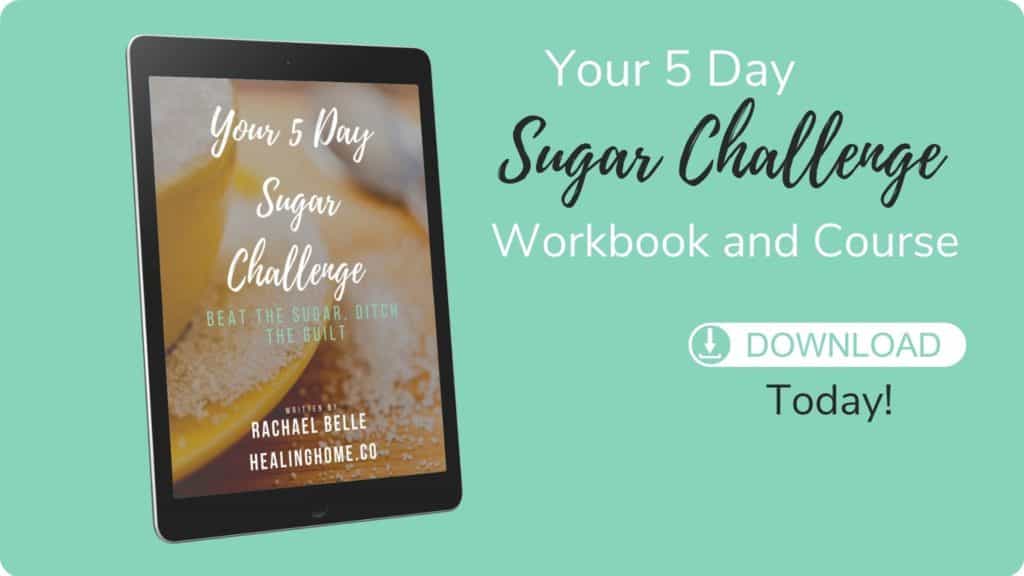 THM Bagels
Because it is dairy-rich it means that it is a nice heavy THM-S meal, but it needs to be enjoyed with some additional protein. A couple of easy ideas would be to throw an egg in there, enjoy some deli meat, or have your protein in a trimmy coffee.
I love how these THM Bagels turned out. They can be stored in the refrigerator and then toasted, warmed up, or eaten cold. All of those ways tasted great to me.
If you try this easy low carb bagel recipe, let me know! Catch me over on Instagram or leave a comment below.
Easy Low Carb Bagels
These low-carb bagels or THM bagels are going to send you into reminiscent mode as you indulge in this low carb, but very carb-like bagel!
Ingredients
1 ½ cups low carb baking mix
1 tablespoon baking powder
2 ½ cups Mexican Cheese
2 ounces cream cheese softened
2 large eggs
1 tablespoon poppy seeds
1 teaspoon garlic powder
1 teaspoon onion powder
Instructions
Whisk the baking blend and baking powder together. Add the poppy seeds, onion powder, and garlic powder and whisk again.
In a saucepan melt the cheese with the cream cheese. Make sure they are well combined.
Add the two eggs to the dry mixture and barely combine.
Add the melted cheese together and start mixing and kneading the dough.
The dough will need to be well combined.
Roll into a long dough.
Separate into 5-6 equal parts.
Roll each part into a bagel like shape.
Place each bagel onto a baking sheet lined with parchment paper.
Bake in the oven at 400 degrees for 14 minutes.
Allow to cool.
Best served after cooled.
Store in the refrigerator.
Recommended Products
As an Amazon Associate and member of other affiliate programs, I earn from qualifying purchases.
Nutrition Information:
Yield:

6
Serving Size:

1
Amount Per Serving:
Calories:

365
Total Fat:

23g
Saturated Fat:

12g
Trans Fat:

0g
Unsaturated Fat:

10g
Cholesterol:

116mg
Sodium:

841mg
Carbohydrates:

22g
Net Carbohydrates:

2g
Fiber:

20g
Sugar:

5g
Protein:

16g
Online calculators are only estimates. Please use your best judgement.