---
Certain foods just tend to go with certain seasons. JELLO® is one of those that seems to work in perfectly with the summer months. But the exceedingly copious amounts of sugar are apt to spike our blood sugar, pack on pounds, decay our teeth, and reduce our immune system. Is there a better alternative? Certainly, there are store bought sugar free gelatin options, but they often contain questionable ingredients as well. A homemade stevia Jello is a refreshing option for these summer months.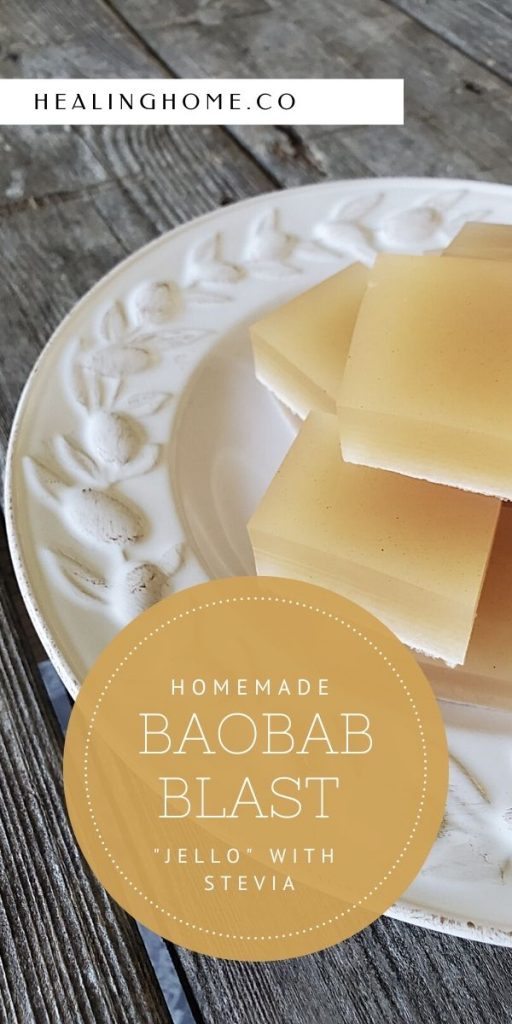 This page may contain affiliate links. To view my full affiliate link disclosure, click here.
Is Sugar Free Jello Unhealthy?
If there are wholesome ingredients in a gelatin recipe it can be extremely healthy. Good quality gelatin can have 10 grams of protein in one serving. It is hydrophilic, which simply means it attracts water. When digested it adds a protective layer of mucus (my apologies for using that 'lovely word') to the digestive tract, which can be healing to digestion. The gelatin however is not as much of a problem as the sweetener!
What Sweetener is used in Sugar Free Jello?
However, sugar free gelatin pre-made packages are typically riddled with hidden ingredients that are destructive to your immune system and health. Sugar alternatives like Maltodextrin, sucralose, and red and blue dye; are quite simply not healthy in the long run. Maltodextrin actually has a high GI index than table sugar!
Is Sugar Free Jello a Good Snack?
A sugar-free Jello with stevia snack can certainly be healthy food if the ingredients are wholesome. The key to a healthy snack is wholesome ingredients.
This stevia jello is just that! I specifically used Trim Healthy Mama ingredients in this recipe, but there are many other wholesome and quality ingredients that can be picked up at most grocery stores. Truvia is a wholesome stevia alternative that is available at Walmart and Target. Great Lakes gelatin is a fantastic company that makes quality and healthy products. These are often also available in retail stores.
Can Jello be Healthy?
It can be easy to make a healthy homemade Jello with stevia. All you need is a bit of gelatin and a good foundation of ingredients. A healthy Jello made with stevia does not need to be hard to make. The hardest part is stirring the Jello into the hot liquid and then the cleanup of the gooey stuff afterward!
Healthy homemade 'Jello' can certainly be healthy when the correct ingredients are used.
Other healthy snacks, meals, and desserts can be found in the Healing Home Harvest cookbook that is FREE! Grab your copy today! You can also check out my newly released Healing Harvest Cookbook Skillet and Casserole edition which is available on Amazon. Click the image below!
Trim Healthy Mama Gelatin Snacks
The Trim Healthy Mama lifestyle is a healthy way to live that focuses on healthy foods but sorts them in a way that supports certain seasons of life. During a season of needed weight loss, our foods can be sorted into fat-based meals or carb-based meals (S and E Meals). Each meal is anchored in protein. Separating our fuels, allows our body to burn fat!
This stevia 'Jello' based snack is a THM Fuel Pull recipe, which means that it does not have a significant amount of carbs or fats into. However, it does have gelatin, which is a protein source. It also has baobab, which is an excessively healing food. Baobab is rich in vitamin C, antioxidants, fiber, and iron! Iron and vitamin C go hand in hand because you need iron to properly digest and use vitamin C! Baobab is one of my favorite ingredients to play around with in recipes. I find it especially helpful during pregnancy and post-partum. This healthy homemade Jello is an immune-boosting giant. It takes snacking to the 'next level' on the health scale!
What is the Healthiest Gelatin?
Quick research on Google will suggest that most healthy bloggers recommend "Great Lakes Gelatin" and I don't blame them. Great Lakes makes a stellar product and I have and would again buy their products including their gelatin to make some homemade Jello. They make their products GMO-free, kosher, and keto-friendly.
For this stevia jello, I think there is an equally excellent product out there that doesn't get enough attention. Trim Healthy Mama has a gelatin product that is made from pure ingredients. It is free of antibiotics, hormones, pesticides, preservatives, and additives. On top of that, all the price is extremely competitive with Great Lakes!
How do you Make Sugar Free Jello from Scratch?
Making sugar free stevia 'Jell-O' from scratch does not have to be complicated. This healthy homemade 'Jello' recipe makes a full 9x13 inch pan and can be used throughout the week as a healthy snack to take on the go!
To make a 'Jell-O' from scratch the key ingredient you will need is gelatin. If you want to make it 'healthy' you will want decent quality gelatin-like Great Lakes or Trim Healthy Mama.
Stevia can be used as an alternative sweetener. I often grow stevia in my garden, so this is a completely wholesome ingredient. This recipe uses Super Sweet Blend from Trim Healthy Mama. It is a much sweeter form of stevia. Alternatively, you can use Gentle Sweet or a Truvia. I recommend starting at ¾ cups of these if you do not use Super Sweet Blend.
How long does it take for Sugar Free Jello to set?
It does not take any more time for sugar-free 'jello' to set than the traditional Jello. About 30 minutes in the refrigerator for it to start firming up, and a full hour for the gelatin to be completely set.
Stevia Sweetened Jello
The best part of this homemade stevia Jello is that it can be tweaked in so many ways. It is a healthy homemade 'Jello' that is filled with healing ingredients. Lemon juice can be reduced if you prefer a less tart flavor. If you reduce the lemon juice by ½ cup, then add an additional ½ cup of water. This recipe is a very firm texture. If you would prefer a more 'wobbly' texture, you can reduce the recipe to 8 or 10 tablespoons of gelatin. Play around and make it your own!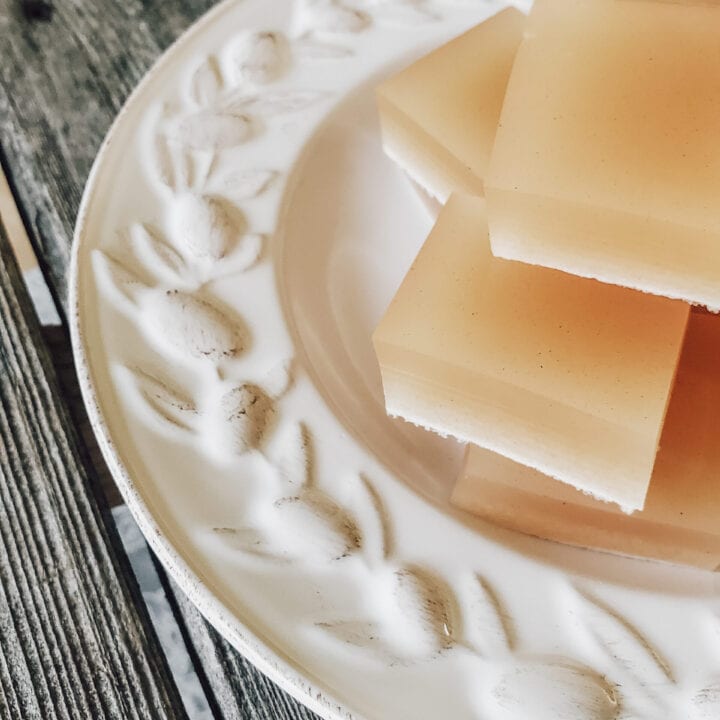 Baobab Blast Homemade Stevia Jello® - The Best Homemade Jello
Are gelatin-based snacks good for you? Not when they have unwholesome ingredients. This stevia-sweetened "Jello" is a delicious alternative to pre-made gelatin snacks. It contains a baobab blast to boost the immune system with vitamin C, antioxidants, and iron.
Ingredients
2 cups lemon juice
2 cups water
¼ cup stevia
¾ cup gelatin
5 tbsp baobab
Instructions
Combine all ingredients except the gelatin with a whisk.
Heat until almost boiling.
Gently combine the gelatin with a whisk or a mixer.
Pour into 13x9 inch pan and place in the refrigerator until set.
Notes
You can adjust the amount of gelatin used to make it more 'floppy.' Start with 8-10 tbsp of gelatin and decrease the amount until you find your desired texture. If you choose to use a store bought stevia like Truvia or THM Gentle Sweet. Increase the amount of Stevia to ¾ cup. Super Sweet Blend is a highly sweet stevia blend.
Recommended Products
As an Amazon Associate and member of other affiliate programs, I earn from qualifying purchases.
Nutrition Information:
Yield:

12
Serving Size:

1
Amount Per Serving:
Calories:

30
Total Fat:

0g
Saturated Fat:

0g
Trans Fat:

0g
Unsaturated Fat:

0g
Cholesterol:

0mg
Sodium:

25mg
Carbohydrates:

7g
Fiber:

0g
Sugar:

1g
Protein:

6g
Online nutritional calculators are only estimates.