So you've decided to dive into the world of einkorn sourdough bread! Yay! I'm so excited for you! If you could see me, I'm literally jumping for joy next to my computer as I type this.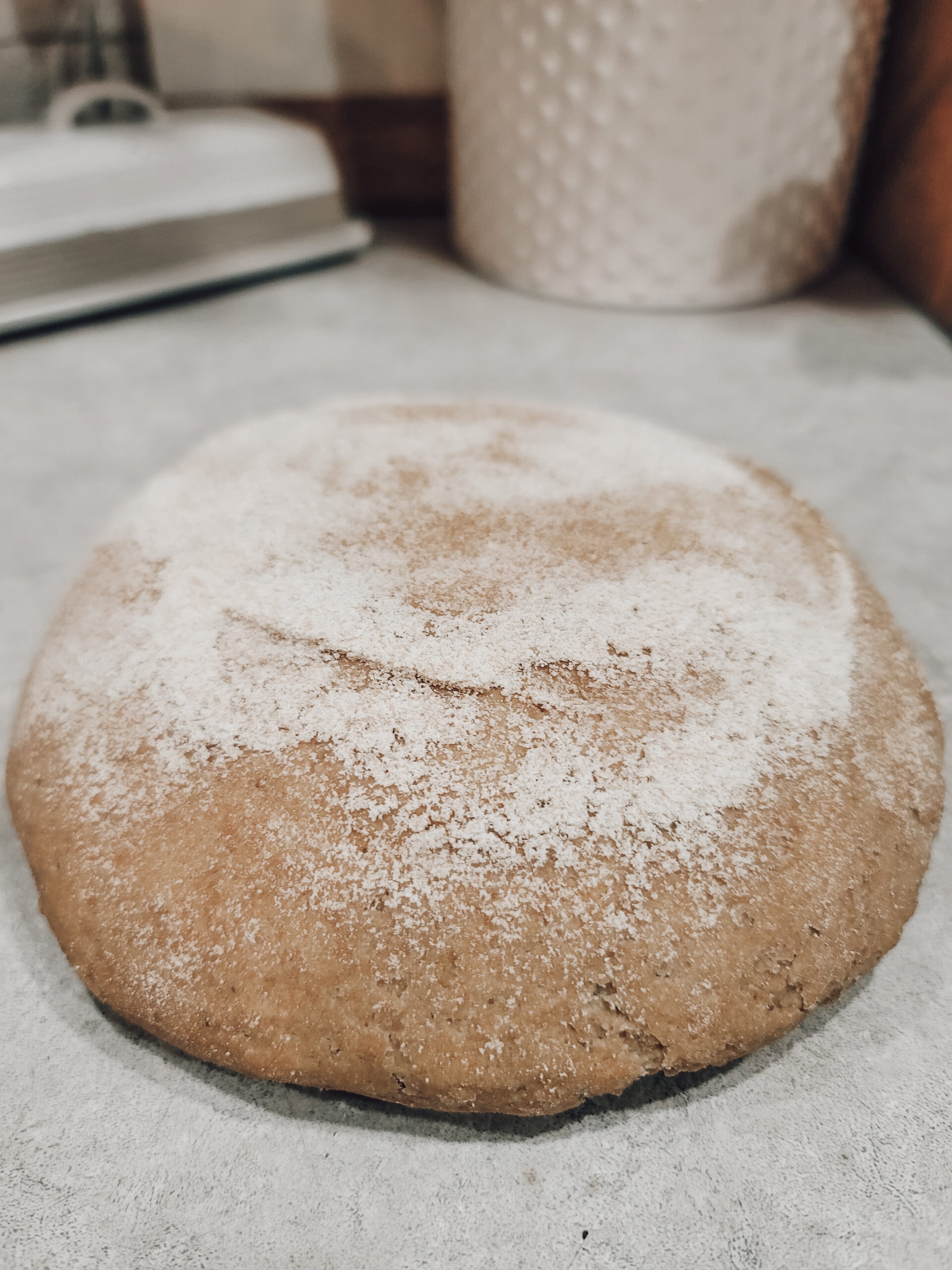 This page may contain affiliate links. To view my full affiliate link disclosure, click here.
Jump to:
Why am I so excited for you? I simply love baking einkorn sourdough bread! There is so much symbolism to this type of flour and it is a highly nutrient-dense flour.
It is said that einkorn is one of the harder flours to work with, but as I've journeyed through my sourdough trail, I have also discovered it is one of the most rewarding flours to work with. Truth be told, it took me months (if not years) to perfect my artisan einkorn loaf of bread that uses whole wheat, but it is now one of my 'go-to' bread when I need an einkorn sourdough bread.
Sourdough has become a weekly staple in my home. The smells of bread are cozy and comforting like a warm blanket on a cold winter day. Coating a warm slice of homemade bread with a slab of butter is a delight that isn't celebrated enough!
Why Use Einkorn Flour?
Einkorn is an ancient grain that has not been hybridized, processed, or tampered with in the many ways that other whole wheat grains have been.
It contained only two sets of chromosomes as opposed to the 48 in modern wheat. One of the many reasons that it has grown in popularity in recent years is that it lacks the gluten protein that triggers many gluten sensitivity problems.
It is beloved in the Trim Healthy Mama community because it is higher in protein and lower in carbohydrates than other modern wheat.
What are the health benefits of einkorn?
You will also find that it is packed with nutrients like beta-carotene. Beta-carotene is essentially vitamin A and it has four times the amount than modern wheat. Einkorn sourdough bread is also brimming with antioxidant compounds of lutein and zeaxanthin. These compounds are helpful to the eyes as it protects the retina from blue light and other harmful effects.
Einkorn flour is a great source of protein, iron, fiber, and thiamine, and is especially potent with B6 and zinc.
Einkorn in the Bible
Breadmaking is a staple in history that goes back to the beginning of Genesis! Would it surprise you to know that the word bread is mentioned 492 times in the Bible from Genesis to Revelation?
Bread has been used in the Bible to symbolize God's provision to his people like
in Exodus with the manna from heaven. But it has also been used to symbolize salvation, like in John 6:35,
Jesus said to them, "I am the bread of life; whoever comes to me shall not hunger, and whoever believes in me shall never thirst.
I was a bit shocked to learn that the birthplace of Jesus, Bethlehem, translates to the house of bread. Our savior and Lord was literally born in the House of Bread. It was a place of life. Jesus is our bread of life, our sustainer, forgiver, and savior. When I'm kneading my sourdough bread, smelling the rich aromas of it baking, and tasting the true richness of its flavor, I am reminded of the symbolism of bread in the Bible. I hope that as you dive into sourdough bread making you also feel the awe of its symbolism, and also enjoy it just as much as I have come to.
Can you use Sourdough Bread on Trim Healthy Mama?
Yes! Here are some of the guidelines when using sourdough on THM.
Your bread and goodies need to ferment for at least 7 hours at room temperature to be on the plan with THM.
A 7-hour ferment ensures that the phytic acid in the grain has broken down which makes it easier to digest.
You can also do a cold ferment. Fermenting the dough for 7 hours or longer breaks down the phytic acid in the grain making it so much easier for our bodies to digest.
If you do a cold refrigerator ferment the time needs to be doubled. A minimum of 14 hours in the refrigerator will give you a THM-approved ferment.
The only time using wheat white flour is acceptable on THM is when souring the flour. This is an exert from the THM website, "You can make your own sourdough bread using a sourdough starter, and either spelt flour, whole wheat flour, some whole rye flour or even white whole wheat flour as that is also a whole grain and not just regular white flour. Sourdough is the only time we permit using small amounts of regular white (non-whole grain) flour on the THM plan, as the fermentation makes it much easier for our bodies to digest." See the full article here.
Other grain flours that can be used on the THM plan are einkorn, spelt, kamut, freekeh, emmer, whole wheat flour, oat flour, whole rye, pumpernickel, hulled barley flour, brown rice flour, quinoa, buckwheat and amaranth flours, cornmeal flour, teff, and sorghum flours.
You can use whole wheat einkorn or all-purpose einkorn on THM, but THM does recommend whole wheat einkorn as the superior option.
What's the Difference Between All-Purpose and Whole Wheat Einkorn Flour?
All-Purpose Einkorn Flour
All-purpose einkorn flour simply means that part of the bran has been removed from the flour. You will immediately notice the difference as the flour is easier to work with in recipes. All-purpose is easier to digest. The bran is the hardest part of the wheat to process. It is also lower in phytic acid.
Ideal for lighter baked goods like muffins, cookies, cupcakes, and cakes.
Whole Wheat Einkorn
Whole wheat einkorn simply includes the entire grain with the bran intact. It means the flour will have a darker color and your bread will look like a whole wheat loaf. Truth be told, this type of flour is also harder to work with in recipes.
Ideal for rustic bread, pancakes, and waffles.
Tips
Einkorn sourdough is sticker than other sourdough bread
When working with sourdough make sure that you are using filtered water. Some water contains chlorine, which will kill the beneficial bacteria in your sourdough starter.
Einkorn flour creates a sticky dough and can be tricky to shape. If you are struggling with how sticky einkorn is, try wetting your hands before you start working with the dough.
Loaf pan bread like my einkorn sandwich bread will yield a softer crust, whereas artisan dutch oven bread will yield a much thicker crust bread.
It's important to know that you will most likely not get 'Pinterest and Instagram' loaves. It will look a bit more like a whole wheat loaf of bread. The important thing to remember is that you are creating a very healthy form of bread that is delicious!
I use both whole-grain einkorn and all-purpose einkorn. Each serves its own purpose and will perform differently in recipes.
Einkorn absorbs less water than modern wheat. When using einkorn instead of modern wheat you will need to reduce the liquid by around 20%. Likewise if you are replacing einkorn with modern wheat you will need to increase the liquid by 15-20%
It also absorbs water slower than modern wheat. When experimenting with a recipe, resist the urge to add more flour at the beginning instead let the dough sit before making adjustments.
FAQs
Can I convert a whole wheat sourdough starter to an einkorn starter?
Yes! The easiest way to convert whole wheat or other types of sourdough starter to einkorn is to start feeding it einkorn flour. It is said that after 5 feedings your sourdough starter will be 96% einkorn based.
How long does sourdough last?
It is said that because of the phytic acid that is in sourdough, it lasts on the countertop much longer than other baked bread. In our home sourdough does not last that long, however, you can place your bread in a bread box, air-tight container, plastic bag, or bread bag like this.
Does einkorn taste different?
A lot of times, people are on board with the idea of einkorn flour, but they are hesitant because they have heard that the taste is different from modern wheat.
Yes, it is different, and as a result, your bread will taste different. It has a nutty flavor, silky texture, and typically a buttery yellow color. It does not bother me in the slightest, you will have to draw your own conclusions, but I encourage you to give it a chance!
How do you know when your sourdough starter is ready?
Times will vary according to many variables like temperature in the room. You will want to feed your starter 4-12 hours before you mix your dough. Your starter will be ready typically when it has doubled in size. With einkorn, the amount of rise varies and it's more important that you are seeing a rise with bubbles than a double or triple in size.
What are the must-have items to bake einkorn sourdough bread?
There are a lot of tools that are helpful, but only a few that you must have. Besides having the einkorn flour, salt, and filtered water, I recommend having a dutch oven, a mixing bowl, and clean dishcloths. The banneton-proofing baskets and scoring lame are nice, but not necessary. All other items are 'bonus'.
What is hooch?
Sourdough starter hooch is simply the alcohol byproduct of the yeast's fermentation. You can stir it back into the sourdough starter or pour it off.
How long does discard last?
I very rarely keep extra discard on hand in the fridge, but many people do! Discard can last for several months in the refrigerator. Keep it in an airtight container. Hootch my form on top.
Tools you May Need
So many of these items can be replaced with other tools that you already have on hand. However, these are the tools that I use and find helpful when making sourdough bread.
More of my kitchen favorites can be found through my Amazon storefront or my Like to Know Shop.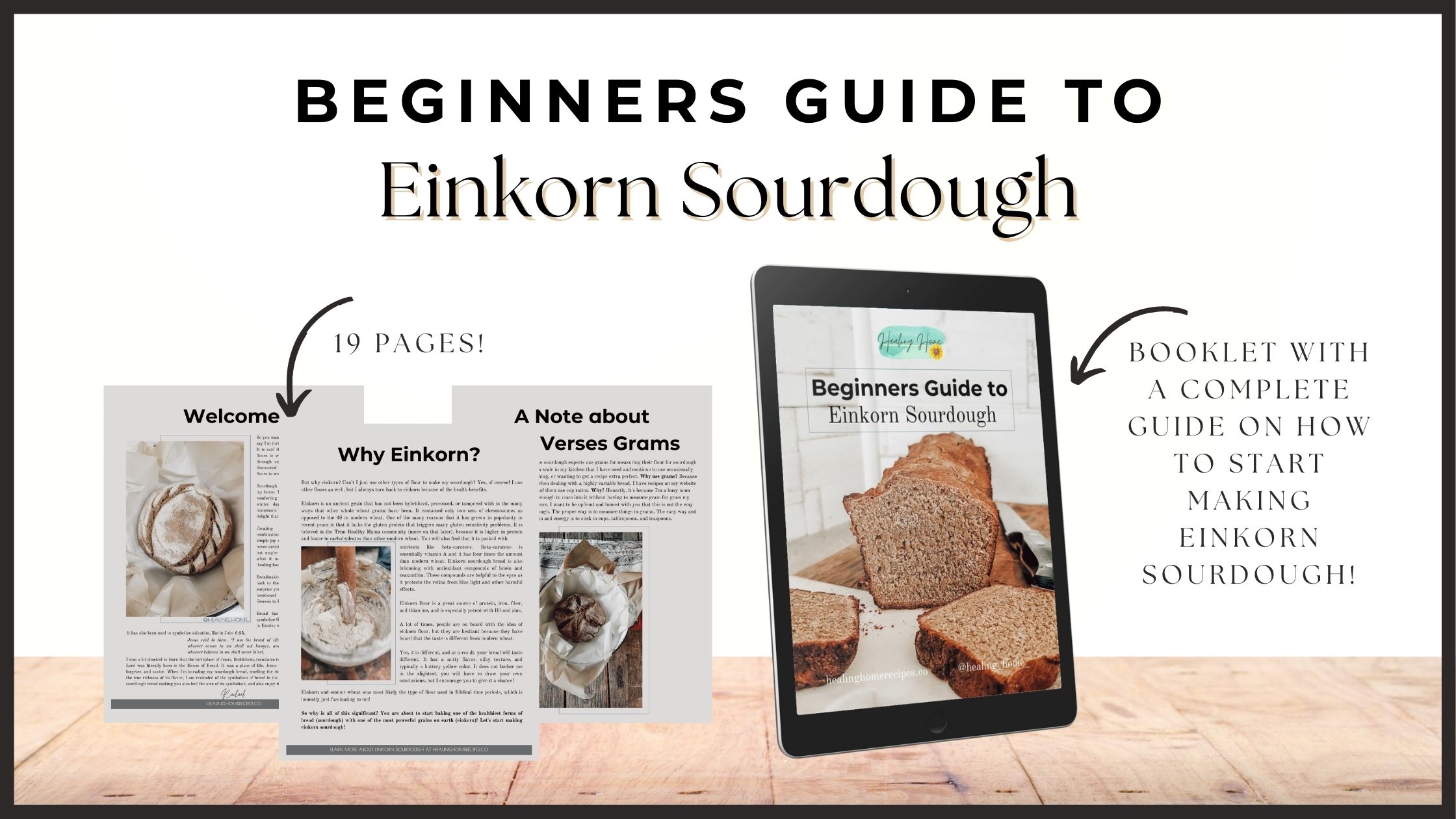 Beginner Einkorn Sourdough Bread Recipes
Beginner Einkorn Sourdough Discard Recipes
Remember to pin for later!