Chia pudding is one of my favorite recipes to make as a delicious treat! Especially during pregnancy, I have always wanted a scrumptious pudding that I can eat freely. This huge chia parfait is going to be succulent and delicious! Enjoy a beautiful and big chia parfait.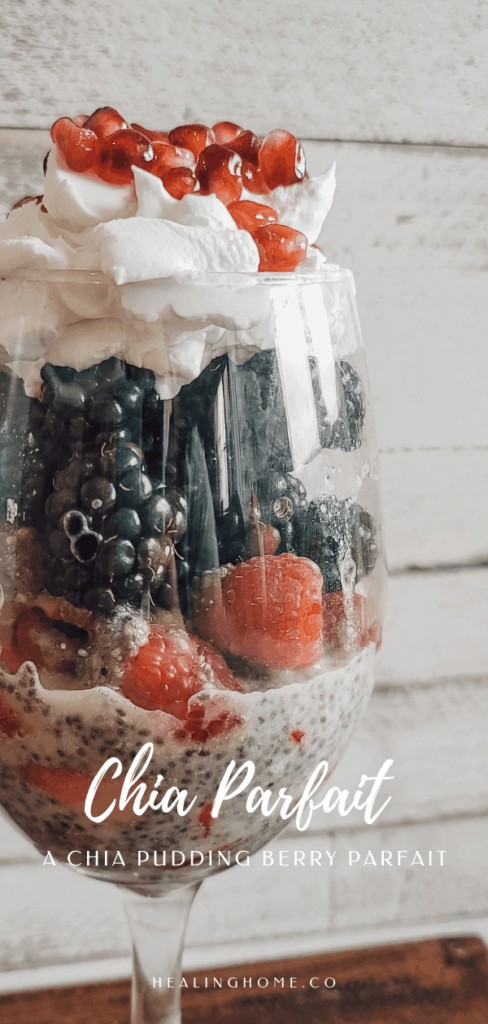 This page may contain affiliate links. To view my full affiliate link disclosure, click here.
Chia Pudding Parfait on THM
I'm going to do something with this recipe that not everyone is going to like. There will be no measurements for the berries in this recipe. Phew, there I said it!
Here is the reasoning. Although berries are a FP on the Trim Healthy Mama plan, there are a LOT of them in the pictures I use. Additionally, the pomegranates are a E fruit. I would consider this recipe a heavy S because of the whipped cream, I use them only a sprinkling on top of the chia parfait, but if you use too many, it will become a crossover.
The main reason I'm not giving quantities for the berries is that I would treat this recipe differently depending on my season of life.
What I mean by this is that I would not have hesitated to eat the entire parfait pictured during pregnancy and nursing. However, during my new season of weight loss and maintenance, I would prefer to only eat part of this parfait and save some for later.
Please consult your THM plan book to learn more information about meals and how to perfectly balance your THM meals, snacks, and desserts.
Benefits of Berries
There are so many beautiful benefits of berries! One of the many reasons they are a fuel pull is because of their multitude of health benefits.
They are filled with antioxidants!
Blackberries are packed with fiber.
Many are high in manganese.
Studies show some berries support brain health.
Raspberries can help prevent stroke and heart disease!
Raspberries are high in omega-3 fatty acids.
Many berries are high in vitamin C.
This blog is filled to the brim with cranberry recipes. Last holiday season I was obsessed with trying to integrate cranberries into everything. However, other berries like raspberries, strawberries, blueberries, and blackberries are on the lighter side.
Find other delicious recipes with the FREE Healing Harvest cookbook!
Chia Parfait Pudding
Truthfully, any chia pudding tastes best with fresh berries. Not just fresh from the grocery, I'm talking about fresh from the ground! I love picking berries from the farmer's market or picked from my garden and then throwing them into chia seed pudding and whipped cream. It is just spectacular!
Serving Tips for the Chia Parfait
This recipe is best served right away. There is just something about everything being fresh and new. However, you can keep this in the refrigerator for up to 2 days. You also don't have to use a wine glass as I did. In fact, when I served this to the company, I made it in the wine glass (for pictures) and then transferred it to two small bowls for serving. It didn't look quite as pretty, but the delicious concoction didn't receive any complaints from my guests.
If you do make this rendition of a chia parfait, be sure to show me or tag me over on Instagram so I can see all the lovely recipes!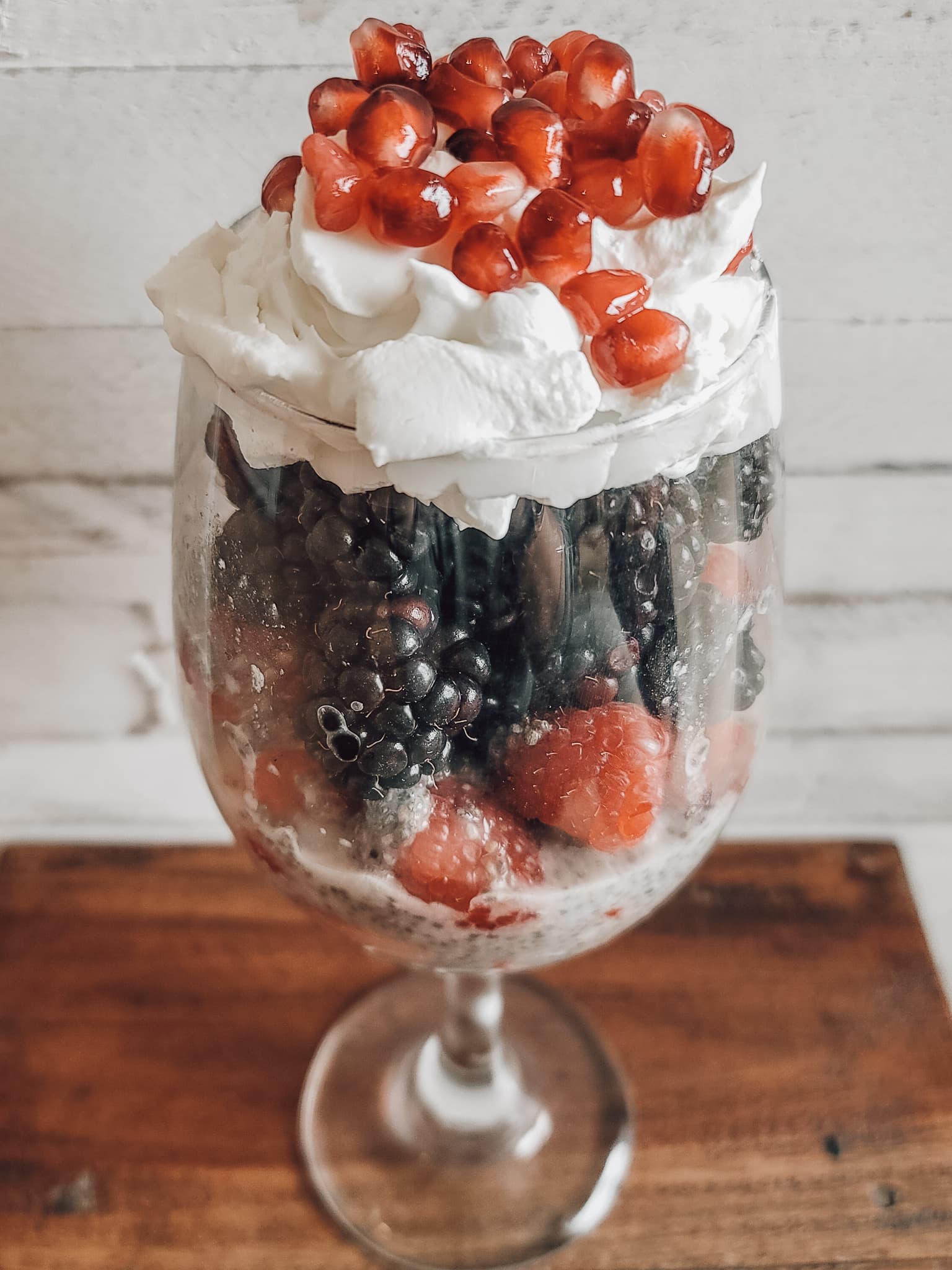 Chia Parfait - Berry Chia Pudding
Ingredients
½ cup unsweetened almond milk
2 tbsp chia seed
1 tbsp whey protein powder
¼ cup whipping cream
2 tbsp Gentle Sweet
Strawberries
Raspberries
Blackberries
Pomegranate
Instructions
If you have not done so already, make your chia seed pudding. You can use the recipe below or use ½ cup of pre-made chia pud from the Trim Healthy Cookbook.
In a bowl mix together the almond milk, chia seeds, and whey protein.
Whip together using an immersion blender.
Place in the refrigerator for 4 hours or overnight.
Make your whipping cream by taking the ¼ cup of whipping cream and 2 tbsp Gentle sweet and placing in a bowl.
Using an immersion blender, blend on high until the whipping cream starts to firm.
Layer half of the chia pudding on the bottom of a glass. Wine glasses work great.
Next add the strawberries. Pour a little bit more chia pudding over the strawberries.
Follow the same process for the rest of the berries.
Top with homemade whipping cream!
Notes
Important: Nutritional facts were calculated without added berries.
Nutrition Information:
Yield:

1
Serving Size:

1
Amount Per Serving:
Calories:

390
Total Fat:

30g
Saturated Fat:

15g
Trans Fat:

1g
Unsaturated Fat:

14g
Cholesterol:

70mg
Sodium:

46mg
Carbohydrates:

13g
Fiber:

9g
Sugar:

2g
Protein:

19g
Online nutritional calculators are estimates only. Use your best judgement when consuming.