Who doesn't love that delicious cheese dip that suddenly makes an appearance during the holiday season? Oh boy, it just drips of cheesy goodness. This high protein dip is a bit more 'health-friendly with wholesome ingredients and as an added bonus it is completely dairy-free. Does that make it a cheese dip? I don't know, but it sure does taste like one!
This dairy-free high protein dip is going to make you forget that you miss the dairy in the first place! It is so creamy and delicious you might just think you stuck your face into a fondue of cheese instead of a pan of dairy-free dip! Enjoy to the fullest.
This page may contain affiliate links. To view my full affiliate link disclosure, click here.
Dairy Free Dip
Why make a dairy-free cheese dip? Great question! I'll tell you the truth. The reason why I made it was because, on one of my last recipes, I had multiple people reach out and wonder how they could make it dairy-free. I was amazed at how many followers I had that wanted a dairy-free option. I already had on my docket of to-do lists to make a holiday high protein dip, but as I heard from people that they wanted dairy-free modifications to my recipes, I knew I had to change my plans just slightly.
Let me tell you, coming up with a protein dip that was also a dairy-free dip was no small task. You dairy-free people really have to jump the hoops to recipes and products that are delicious and meet your dietary needs!
What Snacks are Dairy Free?
This diary-free experiment sent me on a mission to see if there were other diary-free snacks in my recipe files.
There is plenty of other dairy-free, or easily modified dairy-free snacks in my files! One of my all-time favorite dairy-free snacks is this Mocha Cocoa Superfood Balls. Don't let the word Cocoa throw you off though. What I'm actually using are Cacao nibs, which are a great diary-free substitute for chocolate chips. Another great option for a diary-free snack is the popular Baobab Blast Jello.
A safe bet for dairy-free living is always going to be veggies! But finding a dairy-free dip can really be a tough thing, which is why this dairy-free protein dip might just be a great one to have on hand.
Although this is not exclusively dairy-free, another resource for snacking is my 40 snack ideas for healthy fat, carb, and low carb/fat snacks.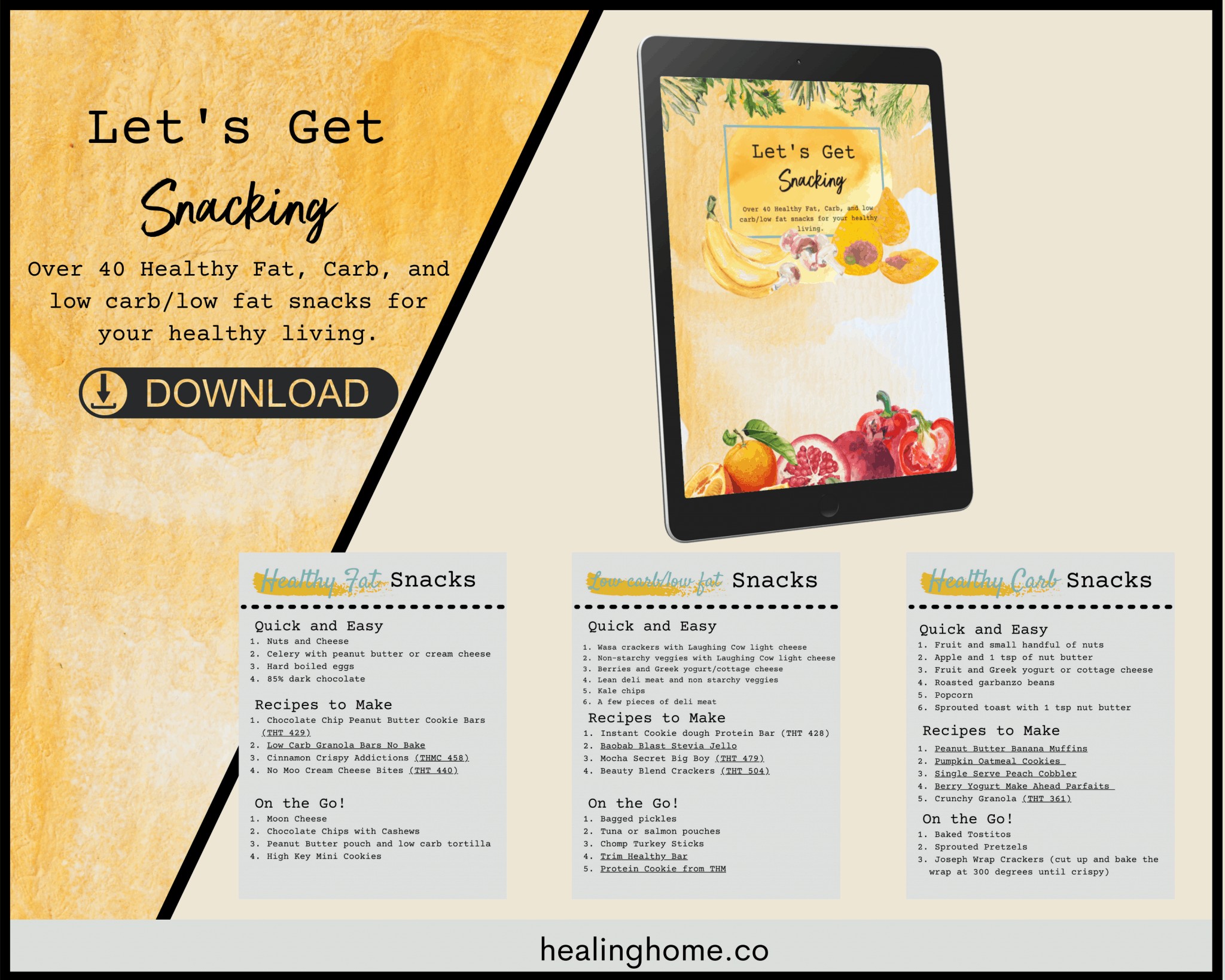 What does Dairy Free Include?
Dairy-free is a very broad topic, but it is defined as any milk or milk product that comes from cows or other mammals. Just like sugar, dairy is amply found in products in the USA. This makes a lot of snacks and pre-packaged foods hard to use!
Trim Healthy Mama can be a great plan to use with dairy-free living, but along the way, you will need to tweak and plan accordingly. The newest cookbook, Trim Healthy Future, is filled to the brim with dairy-free options. Through Cyber-Monday (2020) the Trim Healthy Future cookbook is on pre-order sale, which includes the digital copy! This cookbook is a great way to up your dairy-free recipe files.
Gluten free, Dairy free Appetizer Dips
Ding, ding, ding we have a winner! This dip is also gluten-free. But don't think that will take away from the succulent taste! The main substitute for gains in this dip is the kidney beans, but don't run for the hills yet! The blending and other ingredients really make the bean a subtle flavor.
How to make a Protein Dip
So how does one go about making a protein dip? I'll tell you a secret, the key ingredient that shines through in this recipe is the nutritional yeast. If you get good quality nutritional yeast, you will be able to taste the creamy goodness right away. The Trim Healthy Mama brand is clean and delicious, but I also use Bob's Red Mill option.
The simplicity in this recipe is in the fact that most of the work is just blending all the ingredients together. At the end, you will sprinkle the collagen over the heated mixture, but besides blending and heating, which is the most work you are going to have to do with this dip! This mama likes here simple and easy recipes!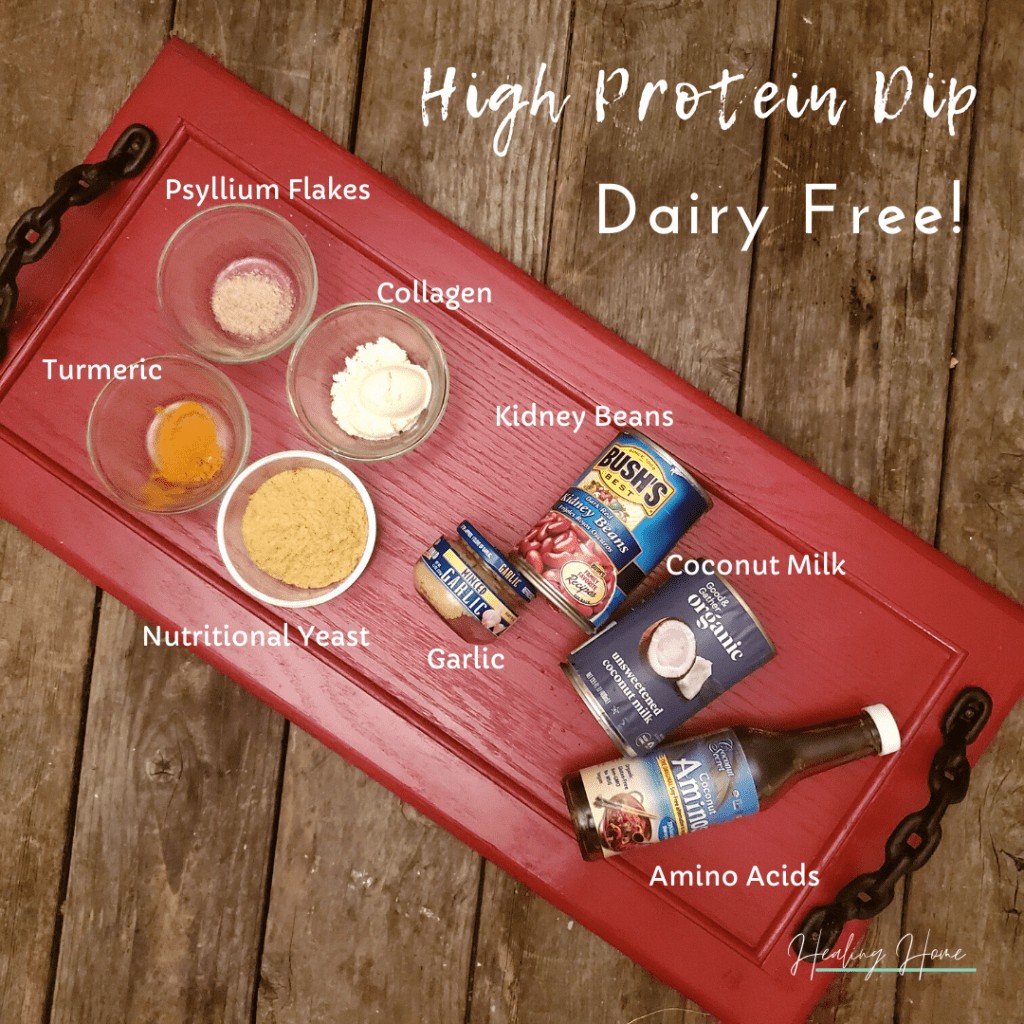 What to Dip?
Besides good ole' fashion veggies (which is still a great option!) what can you use to dip into this fabulous dairy-free dip? Here are two of my favorite options. This protein dip is specifically good with Beauty Blend crackers. That recipe can be found in the Trim Healthy Table cookbook. I love that these crackers are dairy-free, but they also help me on the Trim Healthy Mama plan to stay on track when I get major munchies!
The other option to consider if you are dairy-free is Benito chips. Although this is considered a personal choice on Trim Healthy Mama, it is a better-for-you option that I use occasionally. Or when I'm pregnant, I will be honest, I use Beanitos a LOT! I get the salty crunchies a lot when I'm pregnant.
So did you make it? Let me know what you think over on the gram, which is my favorite place to hang out.
Dairy Free High Protein Dip
This dairy-free high protein dip is going to make you forget that you miss the dairy in the first place! It is so creamy and delicious you might just think you stuck your face into a fondue of cheese instead of a pan of dairy-free dip! Enjoy to the fullest.
Ingredients
1 can kidney beans
1 can coconut milk
¼ cup nutritional yeast
2 tbsp collagen
1 tbsp chopped garlic
1 tsp psyllium
1 tbsp coconut amino
¼ tsp turmeric
Instructions
Drain and rinse kidney beans.
Add all the ingredients into a blender except the collagen.
Blend very well.
Add everything to a cast iron skillet and heat up on medium heat.
Once it is simmering sprinkle collagen on top and mix in with a whisk.
Enjoy with beauty blend crackers from Trim Healthy Mama or another healthy alternative.
Recommended Products
As an Amazon Associate and member of other affiliate programs, I earn from qualifying purchases.