Snacking on Trim Healthy Mama can truly take a back burner while you are learning the plan. But including THM snacks will be just as important to your weight loss as fueling with meals. Here are some simple and easy snacks to consider for S, E, and FP fueling.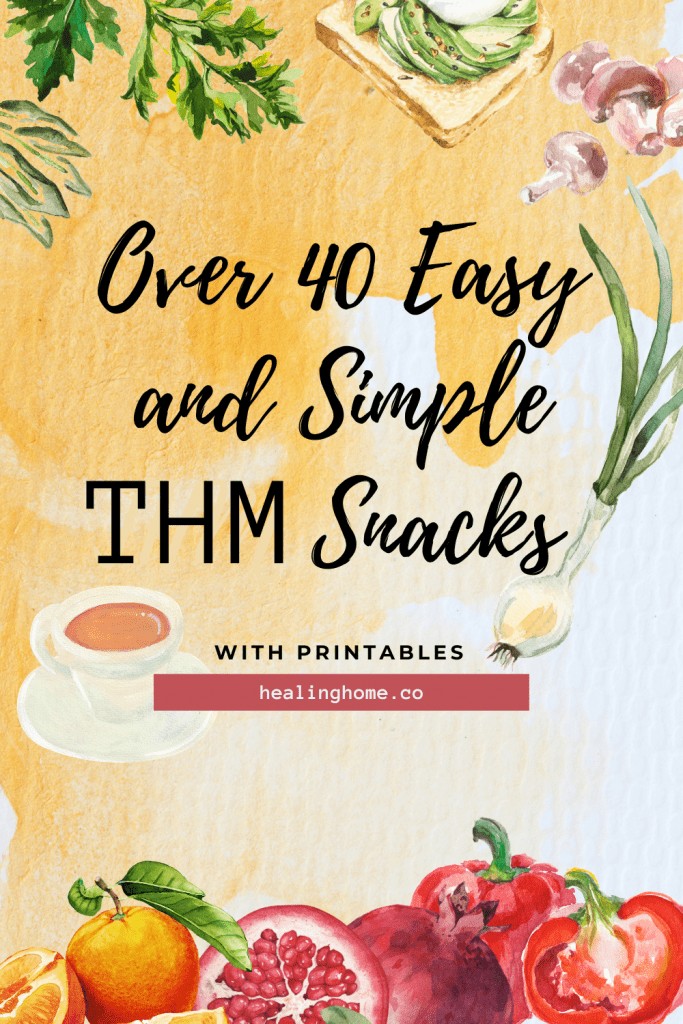 This page may contain affiliate links. To view my full affiliate link disclosure, click here.
What's the Healthiest Snack you can Eat?
When I typed 'THM snacking' into a search engine, I was surprised to see that the most common question related to the query was 'What's the healthiest snack you can eat?' That in itself is a fascinating question to me. There are so many different foods that God has gifted us that can be eaten in a healthy way! There is not one 'healthiest snack' for any eating plan.
Let's think about the avocado for a moment. That little piece of fruit was created by God with an abundance of healthy fats. Most fruits are fueled with carbohydrates, but the avocado is a fatty delicious fruit that is overflowing fats. The fruit contains over 26% of our daily vitamin K needs and more potassium than a banana. Is avocado the healthiest snack option out there?
Maybe not, because let's take a peek at another fruit the baobab.
My research on baobab, is a never-ending pit! There always seems like there is something new to learn about baobab. Take a look at some of these benefits.
Helps to balance blood sugar levels.
Filled with many minerals and vitamins.
Promotes feelings of fullness which can help weight loss.
Has both vitamin C and Iron. Both are needed to absorb the other.
More antioxidants than any other superfood in the world.
High fiber content may help digestion.
So, is incorporating something with baobab the best snack? There certainly is a conundrum here! There is not one best snack, but there are many THM snacks or healthy snacks we can utilize on our journey.
THM snacks can be a diverse opportunity to try a lot of healthy and whole foods. We are going to look at THM S Snacks (also referred to as healthy fats), THM E Snacks (also referred to as healthy carbs), and THM FP snacks ( also referred to as low carb, low fat).
What is the THM diet?
For those that are unfamiliar to the THM way of eating, let's clarify something moving forward; it is not a diet, it is a lifestyle! Simply put we celebrate food in a way that utilize different fuels to balance our blood sugar. You can read more about Trim Healthy Mama at my coaching page, or through my quick start guide to THM.
What are 10 healthy snacks?
THM snacks can be great for not only those following the Trim Healthy Mama lifestyle. You can also use these ideas if you are on keto, paleo, or other healthy eating lifestyles. The download below will have a printable version that is a condensed summary of many of the snacks we are going to talk about below. They are categorized as Healthy Carbs, Healthy Fats, and Low Carb/Low Fat snacks.
A THM Snacks Tip
One tip for adding healthy snacks to your thm snack plan is to carry around some zippys! Serene on the Trim Healthy Mama podcast often talks about her zippys. Add some fresh food into bags that can be quickly stashed away into your diaper bag or purse for on-the-go snacking. I particularly like to have some reusable snacking bags on hand for time and time again use.
Important Note on THM Snacks
Listen up THM mamas, this one is important. Remember that your snacks still need to be anchored in protein! That is a must. Be mindful of your fuels and balancing your blood sugar with proper amounts of protein and then a fuel.
5 Healthy Snacks in S Fuel Mode
Here are 5 simple snack ideas when you are aiming for a S fueled snack. These are also 'quite' snacks, which means if you are a mama with little nappers, you don't need to lug out that giant blender for complicated (but delicious) THM snacks!
Nuts and Cheese
Celery with peanut butter or cream cheese
Hard boiled eggs
85% dark chocolate
½ avocado mashed with ½ cup Greek Yogurt
5 Healthy Snacks in E Fuel Mode
These E fuel snacks are also 'quiet' snacks. Please remember to include protein with your THM snacks. This could be as simple as having a Trimmy coffee with the garbanzo beans or popcorn. The rest would have protein included.
What is THM FP?
Some good FP snacks are a great way to balance out your meals on THM. These snack or meals are going to be lighter and lower in calories. They are still balanced beautifully with protein, but just lower in both carbs and fats.
Wasa crackers with Laughing Cow light cheese
Non-starchy veggies with Laughing Cow light cheese
Berries and Greek yogurt/cottage cheese
On-the-go THM Snacks to Consider
Don't forget to download the full list of over 40+ THM snacks ideas here, but if you are still looking for some easy ones that you can just grab and go with, here are some of my top favorites to consider.
The above are some reason on-the-go alternatives for when you are truly in a rush, but don't forget the value of good fresh God given earth food. Keep your protein in balance when you are snacking and keep some healthy zippys of fresh food on hand.