To anyone that has chronicled their health or Trim Healthy Mama testimony, you know it can be an intimidating process. For the 'world' to see you are putting yourself out there. My THM weight loss journey is a testimony of grace as God molded and changed the way I thought about food, beauty, and my worth in this world. I am by no means done with my journey. On many days I still struggle to find God's grace in the midst of my inadequacies. We are all clay shaped to become more like him.
This page may contain affiliate links. To view my full affiliate link disclosure, click here.
Unhealthy Weight Loss
Growing up, I was always considered 'big boned'. Even as a middle schooler I remember thinking I was smart enough to realize that when people told me that I was big-boned they were just trying to nicely say 'fat'. By the time I entered college, I was resigned to being the 'fat girl. However, as I entered into my 20s I discovered new independence that allowed me to 'take control'.
This control became an obsession and I soon discovered the intoxicating control of working out and calorie counting. Throughout most of my college years, I carefully kept a food journal in which I counted every drop of food that entered my mouth. I had a doctor at the time tell me that women of my age should be eating around 1200-1500 calories a day. That became my gospel. But as I was obsessed with loosing weight I decided to keep it around 700-1000 calories.
Even more unhealthy was my gym routine. I began to work out multiple times a day, running at least 4 miles, and even missing out on important relationships in order to get my daily workout in. I remember once missing going with my three best friends to try on bridesmaids' dresses because I wouldn't be able to work out. I still regret that even to this day.
By 2010 I had dropped to the most unhealthy weight of my entire life. As a 5'10'' size 10 shoe woman I weighed less than 150 pounds. I was a skeleton, but I was so proud to finally be 'healthy' and may be attractive to those around me.
I remember my mom coming to me and telling me that a close friend of hers had some concerns about my weight. All I could think was "how dare they"! After years of working my butt off, I had finally come to a point in which I actually liked how I looked! And someone had the audacity to criticize it!? I'm thankful to that person now because it put a tiny thought in my head that someday would help me to see the truth.
A New Future
In 2013, I met my future husband. He had lived a very different life than I had. He was the first man I had ever dated. He was my first kiss. My first and last love. He was everything I never knew, I always wanted. We quickly fell in love and were married in 2014.
At that point, I had gained somewhere around 20 pounds back and although I considered myself fairly 'healthy' I still knew I had returned to my 'fat' state. I went wedding dress shopping by myself mostly because I was so ashamed by my lack of self-control and being 'fat' again. Looking back at pictures from our wedding day, I can only marvel at my truly distorted view of myself.
What I didn't fully comprehend at that point is that marrying the true 'love of my life' was a turning point in my health journey. I entered a different culture and life than I had ever expected. I can see God's truly amazing fingerprints all along our journey, but like any other story, when you are in the midst of it, it is very hard to see the crafting of God's plan.
One of the biggest health regrets of my life was deciding a few months before getting married to go on birth control. My body and hormones took an incredible hit that would take years to finally return to the 'status quo'. The birth control was never quite right and we changed the dose of birth control 4 times before I decided that it wasn't worth it and dropped it.
THM Weight Loss and Family
We soon decided we wanted to start a family. Little did we know we were launching into a time of infertility. Over the next three years I did my due diligence, visiting doctors and each text result would indicate everything was just fine. God's timing was simply not here.
Although I had never dreamed of having children, I was a teacher and a nanny, and the love I already had for children quickly turned our infertility journey into a very painful spot in my heart. Going from not being sure if I wanted to have my own children, to God fostering that desire in my heart and not letting it come to fruition still leaves a lump in my throat.
During these years I dove into the unhealthiest spiritual, emotional, and physical time of my life. I can define it very simply. Sin.
The Infiltration of Sin
Growing up in a conservative Christian family I gave my life to Jesus Christ at a very young age. My testimony was very simple. I attended a Christian college and did everything 'right'. Although I truly loved Jesus and my affections were for him, I never had a big crisis of faith. Sin can and went from my life, but always with regret, sorrow, and a returning to the Word of God.
After graduating from college, I had big plans to live. I have never been the type of dream about life goals. However, I was always the type to dream about travel and impact. I wanted to impact the world, I wanted to teach overseas. I wanted my life to leave a mark on the world. The college I attended had a tagline that said, "Called to Serve, Equipped to Lead." I can see how that mission was instilled into my heart throughout those formative years.
Getting married was never a dream of mine. I was utterly convinced in my head and still fight the concept to this day that 'fat girls' are not lovable. 'Fat girls' don't get a happy ending. 'Fat girls' have no self-control. 'Fat girls' don't deserve a family of their own.'
Meeting my husband was absolutely intoxicating. He fell in love with me on that first date. He bought a ring within a month. My absolutely zero experience with relationships made it simple to completely fall in love with a man that loved me.
Don't get me wrong. I know God's hand was and is in our marriage. My husband is my best friend and I still marvel today and how simple our love story was. He fits me. He strengthens me. He is not complicated, and for someone who struggles daily with 'deep thinking,' his simplicity grounds me in a way no one else could.
But marrying my husband launched me into a life that I was not prepared for. By 2017 I was in a true crisis of faith. Sin had infiltrated my life. I ate to please myself. I drank to please myself. I read my bible out of obligation with very little impact to my heart. I pleaded with God for help. But sin was attractive. I was in Church ministry and maybe I'm wrong, but I think very few people knew of the complete and utter turmoil my soul was in.
God's Sovereignty Displayed
This next part is the scariest thing I have ever wrote. Drinking was never a part of my life. But sometime after getting married a bottle of wine entered my house. My husband didn't drink, but I enjoyed a glass occasionally. I believe that enjoying a glass of wine occasionally is completely all right. And I still believe that. However, one night I drank too much. All my intense emotions. All my intense feelings. The hatred I had for my body disappeared. It catapulted me into a time I regret deeply.
But God's grace is absolutely sovereign.
By that time my health journey was at rock bottom. I was 213 pounds and miserable. Becoming pregnant was a joyfully awful time. Two close family members were battling cancer. Both sides of our family were in and out of hospitals as our close loved ones declined rapidly. These family members both passed on into their eternal glory within a month of each other.
I tried my hardest to hide how utterly miserable I was. I knew that those who were directly impacted by the passing of our loved ones were at a much more hearth wrenching time then I could imagine or empathize with.
However, just because others were in deeper pain than I could fathom didn't negate the fact that I was at rock bottom. I was depressed, hopeless, and utterly broken.
I never understood that hopelessness that infiltrates a heart to even think about suicide, however during that year I understood. I was never suicidal, but I understood the deep, dark, penetrating hopelessness. It seems as if there is no end in sight. No hope. No assurance of anything lovely or beautiful.
The Distortion of Beauty
My husband would tell me that I was beautiful and instead of accepting his kind and loving words, it angered me beyond any anger I had ever felt. But it was that anger that got a hold of my heart. I knew something needed to change. The anger I felt disgusted me and it propelled me to cry out to Jesus. I would drive to work and simply cry and pray to Jesus. There were no significant words, no defining moments. Just communion with my creator and sustainer.
"But God demonstrates his own love for us in this: While we were still sinners, Christ died for us." (Romans 5:8)
I hated being pregnant. I hated becoming fatter than I already was. But God used this time to break me even more. Three years of pent-up emotions, feelings, and sins were brought raw and unfiltered before the cross of Jesus Christ.
"Under His wings you will find refuge." (Psalms 9:1)
The Catalyst of Return
I still hated my body but looking back I can see how God's mercy used becoming pregnant as the catalyst that would bring me fully back to him. I gave birth to my beautiful son in March of 2018. I was 253 pounds. I have always heard that when you hold your baby an intense sweep of love overtakes you. I didn't feel that. All I felt was utter, un-surpassing, indescribable, incredible relief that my pregnancy journey was over.
It didn't take long for my mother's heart to fall passionately in love with my baby. That love and the work that God had already done on my heart inspired me to look at my body in a different way. I had read the Trim Healthy Mama book, back in 2014, but now I dove into the plan with fervor. I listened to the podcasts. I laughed and cried as I read other journeys to health. My THM weight loss and my Trim Healthy Mama testimony was about to begin.
Trim Healthy Mama Testimony of Weight Loss
I won't go into great detail about Trim Healthy Mama, you can research it yourself if you want to. The premise is based on Deuteronomy 32. The authors were at the end of their rope trying to find the best way to eat and maintain health. They had tried everything, and everything had failed. Finally, in desperation, they turned to the Bible. Like so often happens when we take the focus off ourselves and turn to the Bible for truth, they found it.
Deuteronomy 32 goes into detail about how God cares for his people. He even elaborates on what type of food he gives them. These include grains and greens, glucose, fats and oils, meat and animal fat, butter from cattle, dairy, and fruit (starts in verse 13). He didn't eliminate anything from their diet. It was holistic. Complete.
This changed my way of thinking about food. I didn't have to cut out carbs, fats, fruit, glucose, anything from my diet. I simply had to learn how to work them into my life in a balanced manner. It was a simple plan, a simple lifestyle.
I honestly didn't even realize at first that I was losing weight. Pouring myself into my family and 'better' things than worrying about my body desensitized me to the unhealthy habits of negative 'self-talk'.
THM Weight Loss
Right before Christmas, I met a goal that I honestly didn't think was possible. March 2018 I was 253 pounds. March 10th, 2018 I was 219 pounds. December 23rd, 2018 I was 179 pounds.
That is 74 pounds from my pregnancy weight and 40 pounds from my post-partum weight. The funny thing is that for some women that number would be devastating. When will we realize that numbers are poison? Take a look back at my wedding photos. 175 is about what I weighed on that day.
I once heard it said that losing weight does not make us any more beautiful. It simply reveals a different beauty that God created in us. That right there is truly the real Trim Healthy Mama testimony that I want others to hear.
I'll be honest, just because I have gone through this health journey doesn't mean that I'm healed of all the horrid beliefs that are infused in my head. I still hear echoes of 'fat girls can't be happy,' 'Dan really can't truly love me like this, he's just trying to make me feel better,' 'people will never see the real me under all this disgusting fat,' 'I can't do ___, because I'm fat.'
I'm sure I'm not the only person that hears these echoes. God forgive us for believing these lies.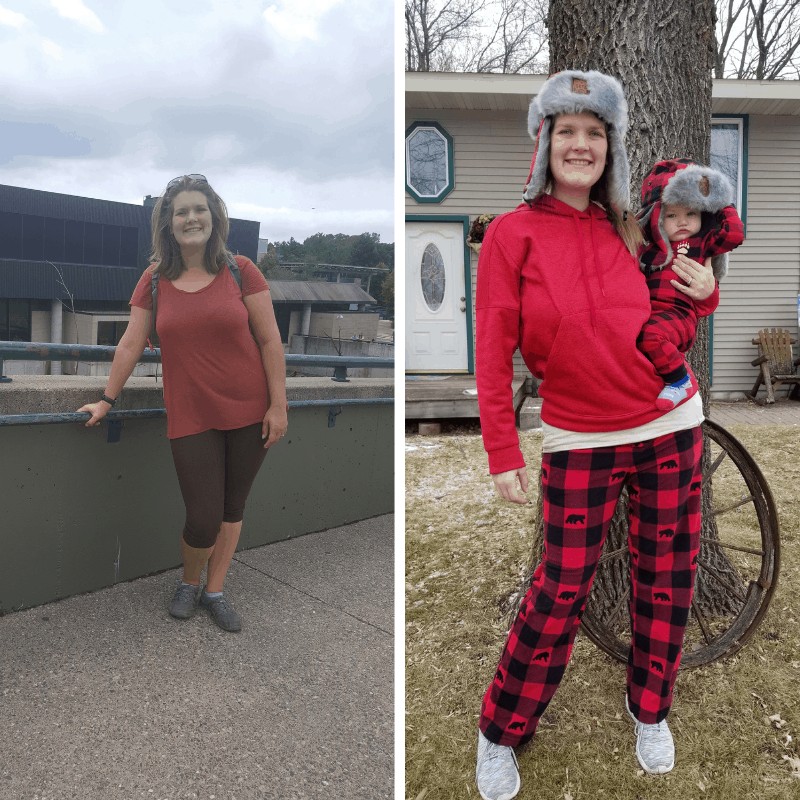 Believing the Lies about Worth
If you believe these lies, let's chat for a second. So often when we talk about lies women believe, we get focused on that we know the lies. Knowing the lies we believe is powerful. However, let's zone in on the word 'believe'. I think that little word gets overlooked.
I know I'm not alone in the lies that I believe. I know because I've talked with you ladies. I've listened to you pour out your heart. I've tried to tell you that the lies you are believing are just that: lies. All the while as I'm trying to encourage you that you are beautiful, you are loved, and a little voice goes off in my head that says, 'they might be beautiful, but don't for a second believe that you are. Remember you are fat. Fat girls are not worth anything.'
I know the lie. But more powerful than knowing the lie is BELIEVING the lie. These lies are so infused into our core, that simply knowing they are lies is not enough. We must shift our focus from acknowledging the lies, to silencing the belief in them.
See what kind of love the Father children of God; and so we are. The reason why the world does not know us is that it did not know him. Beloved, we are God's children now, and what we will be has not yet appeared; but we known that when he appears we shall be like him, because we shall see him as he is And everyone who thus hopes in him purifies himself as he is pure. (1 John 3:1)
Remember back during my college days when I learned the power of controlling my food? These are my young momma days, and I've discovered the freedom of food. I've discovered the joy of eating. The community of eating. There are so many positive Trim Healthy Mama testimonies out there and they are powerful.
It's Not About THM Weight Loss
More importantly, my brain has transitioned from thinking that the ultimate goal is to lose weight, become this, or be beautiful in the eyes of myself or others. I've finally connected the dots that health is about glorifying God.
Health journeys are intimate, personal, inward, self-focused. Maybe that's why they so often fail. Weight loss fails, eating plans fail, that goal to run a 5K fails. What if we changed the focus so it was upward instead of vertical? That is truly where THM weight loss will be successful beyond anything that you could imagine or hope for.
You are Beautiful
As women we are beautiful. We are beautiful regardless of the phase of life we are in. However, we are beautiful because our creator created us. He uniquely crafted me. He uniquely made me. What beautiful healing there is in knowing I am beautiful not because of anything I can muster. I am beautiful because I am a child of God.
If you would like more resources to get you started on your own Trim Healthy Mama testimony or THM weight loss journey you can visit my Trim Healthy Mama coaching page or this THM quick start guide.