Cast iron cooking used to intimidate me. Why use cast iron skillets when I couldn't even figure out how to keep the food from sticking? Were the benefits of cast iron skillets worth the frustration of learning how to use them?
Absolutely! If you are frustrated with your cast iron skillets, don't give up! Here are 5 benefits of cast iron skillets along with troubleshooting tips for common cast iron skillet problems.
This page may contain affiliate links. To view my full affiliate link disclosure, click here.
Advantages and Disadvantages of Cast Iron
The first time I cooked on a cast-iron skillet it was a mess. I didn't pre-heat the skillet, I filled it too full, I didn't realize how hot it was going to get, and my stovetop was a disaster. For a perfectionist, clean freak it was a perfect recipe for me to stick that cast iron skillet back in the cupboard where I figured it would stay for many months to come.
It stayed for a little bit, but my nonstick pans were starting to peel and another strong side of me started to emerge: my crunchy side! I couldn't keep using pans that were peeling. What was in that peel? What was it doing to my body? Was I just a walking dead lady?
As you may have guessed, anxiety might occasionally plan a role in my decisions.
So the researcher side came out and I took some time to look at the disadvantages and advantages of cast iron skillets.
Disadvantages of Cast Iron Skillets
There are four main disadvantages that I found when using cast iron.
Heavy
Have you ever dropped something heavy on your foot? It's not a fun experience. Now I have not ever fully dropped a cast iron skillet on my foot, but I certainly have had one slide from the bottom of my pull-out cupboard only to smack my foot, and that was not fun, I don't want to experience what a full drop would feel like.
This means that they can be a bit of a danger for families with young kids. However, my kids have just learned that they don't touch mamas' black cooking pans and we have been good to go!
Rust
Cast iron unfortunately does rust if not properly taken care of. They need to be fully seasoned at all times, which means you may need to run some extra oil on them occasionally. More importantly whenever they are cleaned they need to be wiped dry immediately to prevent rust from setting in.
I have had rust appear on my cast iron pans more times than I can count. Usually, a little bit of coconut oil rubbed into the surface of the pan takes care of it.
Hot
I've already mentioned this, but it bears mentioning again, cast iron is HOT. Blazing hot and it is no place for little fingers to reach up to in curiosity. It only takes a child one time to learn just how hot cast iron is, but that one time can often be one time too much.
I have personally learned to place my cast iron pans on the backside of the burners when my kids are too young to truly understand 'don't touch' but tall enough to get in trouble. That phrase does not last long and pretty soon we have taught them the meaning of 'don't touch' and the pans come back to the front.
An easy protective measure to use with cast iron skillets is to buy some silicon protectors for the handles.
Changing the Flavor of Acid Foods
The last disadvantage of cast iron skillets is one that I have not experienced myself but is a point of tension in some circles. Some claim that cast iron pans change the flavor of some acidic foods. This includes tomato-based sauces and soups, tomatoes, lemons or other citrus, and wine-soaked meats.
The reason for this is thought to be because of the iron transfer from the pan to the substances. I personally have never thought my cast irons change the flavor, but I'm a novice cook and baker, but a true professional. Experiment and come to your own conclusions.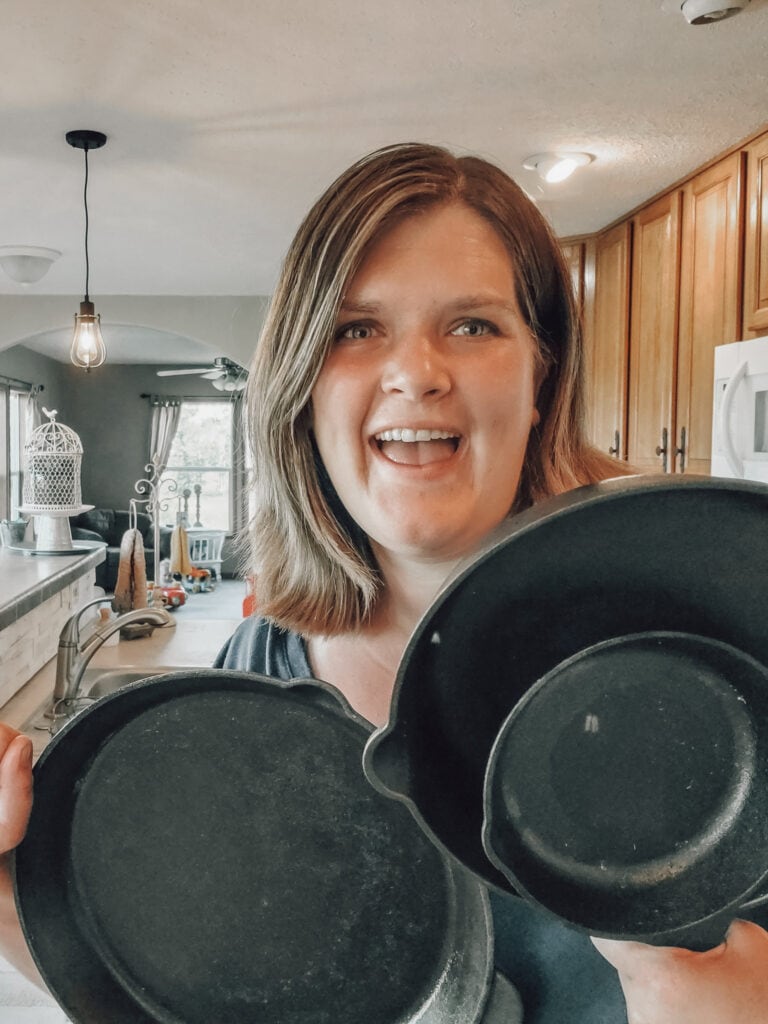 Benefits of Cast Iron Skillets
Now onto my more favorite part! The benefits of cast iron skillets far outweigh the disadvantages, but we had to get those out of the way before we could get to the fun part. There are so many benefits of cast iron cooking and I'm sure that I could come up with more than 5, but for simplicity's sake, we are going to focus on the top five that really bring cast iron above the rest.
Cast Iron Cooking is Basically Indestructible
One of the benefits of cast iron skillets that originally drew me was the idea that I would almost never have to replace the pan unless I wanted to. Have you ever tried to destroy a cast iron pan? It is truly almost impossible. You can drop them, burn them, light them on fire, and it will virtually never phase them. Do a little scrubbing and season them with some oil and you are good to go!
Cast Iron is Almost Non-Stick
Why would I say 'almost'? Mostly because I have not perfected the totality of cooking with cast iron and having it be non-stick. Even my old non-stick chemical pans used to have things stick to them because I tend to be 'that' woman that forgets about what she is cooking in favor of distractions.
However, a pro tip for having cast-iron not stick is to always pre-heat the surface! This is what keeps the surface from sticking. I like to turn my burner on to high heat for a few minutes before cooking anything.
When cooking inside the oven pre-heat by placing the skillet in the oven when you turn the oven on to pre-heat.
Cast Iron Skillet Cooking is Healthy
I know you are thinking, how so? It seems like the health benefits have been debated over the last few years, so this is the section of the article where I tell you to do your own research.
Cast iron cooking can have some added health benefits because of the release of iron. I will always remember being turned away from giving blood because I was too anemic. This sent me on a rabbit trail of understanding the role that iron plays in our health. Low iron has been an issue with me since I was a young adult and cooking weekly with cast iron is partial a health decision.
Cooking with cast iron can increase your iron by a potential of 20 percent! It also can be deemed healthy because of the chemical-free feature, which we will get to next!
I have an entire section of my website dedicated to Cast Iron Skillet Recipes, which my family use on a weekly (sometimes daily) basis. Not to mention my Healing Harvest Cookbooks (available on Amazon), which often use cast iron skillets.
Cast Iron Cooking is Chemical Free
This is probably my favorite benefit. Did you know that Teflon cookware pans were banned in the UK in 2008? PFOA was banned in 2020. In the US, PFOA was banned in Teflon products since 2013.
Not only can Teflon break off and be consumed in your food, but it also can be dangerous to inhale when it is heated to high temperatures. Now to be fair, these high temperatures have to be pretty high (500 degrees +) to pose any sort of risk. The but it is still enough to make this mama pause and wonder about the risks of having non-stick Teflon pans in my kitchen.
The website Health Line claims that there is no proven link between Teflon and cancer, however, there is some research to suggest that there is a link between PFOA and cancer.
The bottom line? You need to do your own research concerning this topic.
By contrast, one of the benefits of cast iron skillets is that it is made chemical-free and is a tool for cooking that has been around for hundreds of years.
An excellent podcast on this subject is by Farmhouse on Boone. She invites Molly Hill of Maison Pur to discuss toxicity in cookware. They talk about the benefits of cast iron skillets and other options you may want to consider for your kitchen.
Where to Buy Cast Iron Skillets
Have you been convinced of the benefits of cast iron skillets?
There are a few companies that I like getting my cast iron from. Truthfully some of my cast iron skillets have just been purchased on Amazon for simplicity's sake. When I was first getting into cast iron skillets, I was convinced I wanted some higher quality iron, but I was not prepared for the high price tag. Cheaper options were chosen until that time came. Here are the cast iron pans that I recommend.
There are many benefits of cast iron skillets and I love using these as a resource and tool in my kitchen!