There are so many easy THM recipes out there, especially thm ground turkey recipes. I debated about sharing this one because it's just too easy! But it's ease is what makes it so fun to share. All you need are a few frozen vegetable bags, some ground turkey or beef and a skillet to put it all in!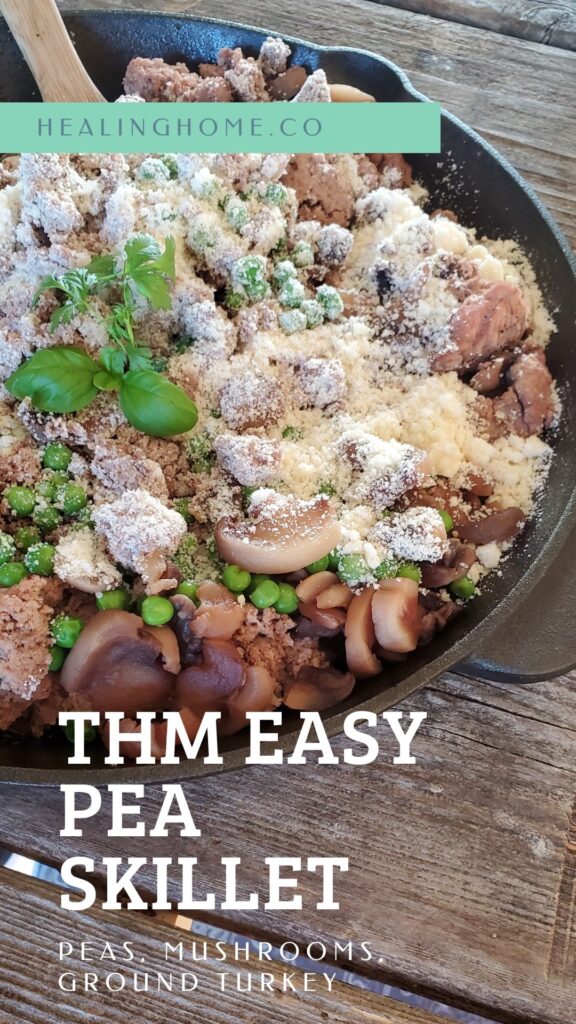 This page may contain affiliate links. To view my full affiliate link disclosure, click here.
If you have never made THM ground turkey recipes, you are missing out! Ground turkey can be a lovely way to add a slightly new flavor to classic THM dishes. Grab some of my favorites below and enjoy my own THM Ground Turkey recipe at the end.
The Frozen Vegetable Recipe Debate
I have never been one to love frozen vegetables. Those bags of frozen vegetables just seem slightly less healthy. But many studies find that frozen vegetables are just fresh veggies. I'm still going to keep my fresh veggies around, but bags of veggies can be very helpful during busy seasons.
Skillets can be a wonderful time to utilize veggies. My hubby loves our 'Vegetable and Sausage' skillet. That one used many frozen veggies supplies and continues to be one of our favorites.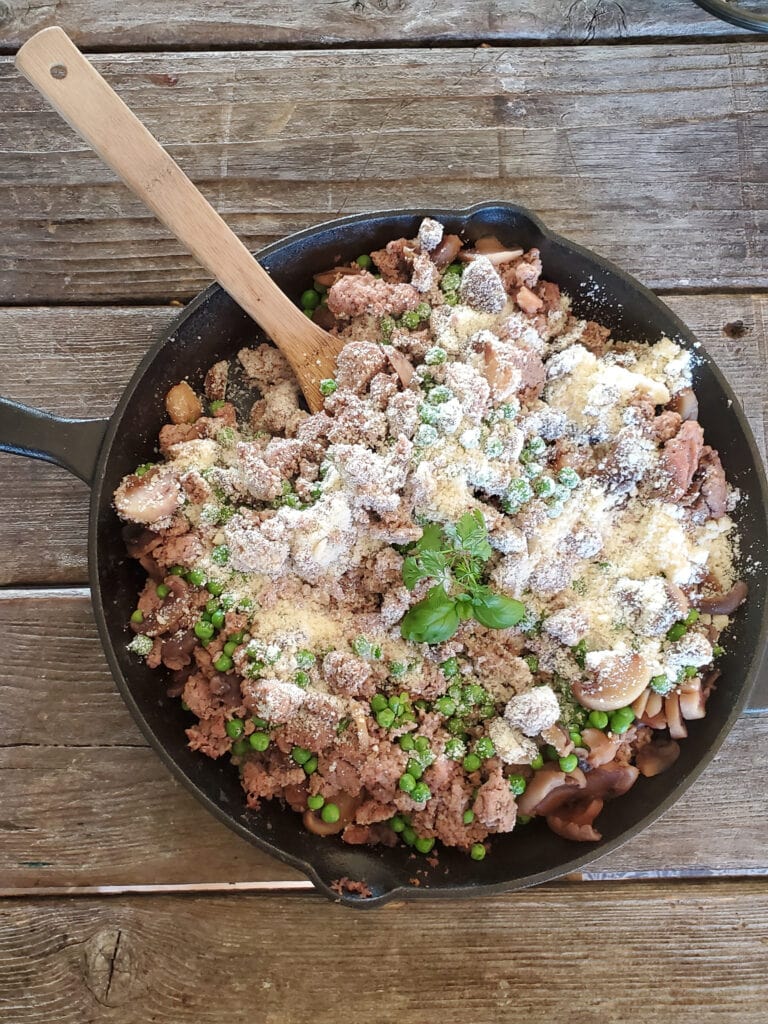 THM and Ground Turkey Recipes
The THM lifestyle makes so many allowances for freedom in eating, including in the type of meat you use in your cooking. Ground turkey is such a versatile option in THM. There are many thm ground turkey recipes and depending on the type of meat you use, it can have less fat then ground beef. Most of the time it is exclusively a S setting meat, unless it is labeled 96-99% lean.
Other Easy THM Ground Turkey Recipes
There is an abundance of other THM ground turkey recipes out there from other bloggers and THM creators. I love the cute name that the Coers Family gave their Trim Healthy Mama style Dirt-E Rice. Such a cute wordplay, and delicious E recipes, which is a great example of how ground turkey does have the possibility of being used in an E setting.
A Home with a Purpose is one of my all-time favorite THM websites and stories. I've never met or talked to Jenifer, but she just radiates God's love and her THM testimony is powerful. These Tasty Turkey Meatballs can be used in a variety of fuel settings.
If you are looking for a rich vegetable meal, then my Okra Infused Spaghetti Squash Casserole might just be the ticket. I can't get enough of this stuff, and my toddler even eats it up! This calls for ground beef, but turkey can definitely be substituted.
My last favorite ground turkey recipe is straight from the THM sisters. This Cheeseburger Pie recipe is in their first cookbook and has become a regular recipe around our house. The ground turkey option is just as delicious as ground beef.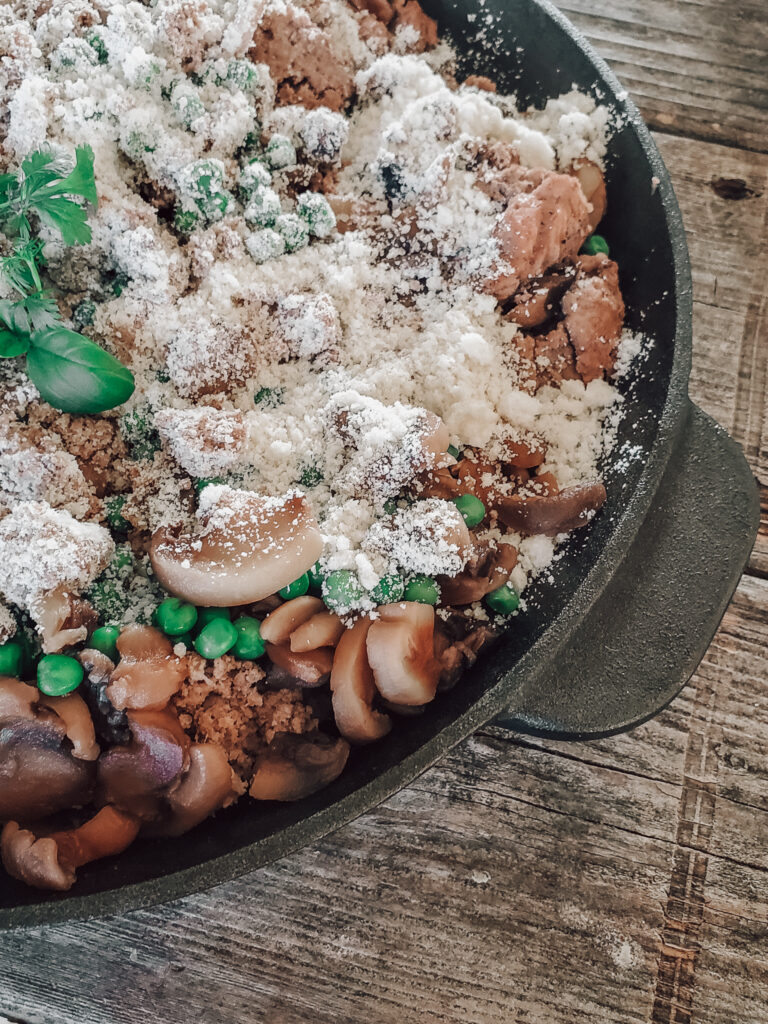 THM Ground Turkey Recipes
THM Recipes with Ground Beef
Most, if not all, THM ground beef recipes can be substituted with ground turkey. However, many of the recipes that have ground turkey, may not be able to be substituted with ground beef. Ground turkey is lean meat that is often used in E settings (healthy carb), and ground beef is a fatty meat that is often used in S settings.
Ground turkey can be subbed into S meals because it is lean, but ground beef cannot be substituted into E meals because it would make it into a crossover. If you are intentionally separating fuels be cautious of this, but if you are going for a crossover type meal, then substitute all you want!
If you are looking for more guidance in this are, consider attending one of my coaching events! You can find out more about Trim Healthy Mama coaching here.
Utilizing the Fuels
Your fuels are the backbone of the THM lifestyle. If you are always using S meals, that's called Keto. A healthy balance of all the fuels is the goal; mixed in with common sense for your respective season in life. Ground turkey can be an excellent resource to use when you need to mix up your fuels.
What are your favorite THM ground turkey recipes?
Easy THM Ground Turkey Recipes
This thm ground turkey recipe is easy peasy lemon squeezy. Well, maybe not quite that easy, you do need to brown up the ground turkey. But after that, all you really need to do is throw in the rest of the ingredients and wala! A fabulous meal for your family is served.
Ingredients
2 lbs of ground turkey
½ cup Parmesan
1 12 oz bag of peas
1 12 oz bag of mushroom
1 tsp basil
1 tsp parsley
2 tbsp nutritional yeast
Instructions
Brown ground turkey. Drain any excess grease.
Combine ground turkey with frozen peas and mushrooms.
Heat on medium.
Mix in seasoning and top with Parmesan.
Notes
Alternatively, you can use ground beef. The green can Parmesan cheese is preferable in this recipe.
Recommended Products
As an Amazon Associate and member of other affiliate programs, I earn from qualifying purchases.
Nutrition Information:
Yield:

6
Serving Size:

1
Amount Per Serving:
Calories:

498
Total Fat:

15g
Saturated Fat:

5g
Trans Fat:

0g
Unsaturated Fat:

17g
Cholesterol:

167mg
Sodium:

284mg
Carbohydrates:

12g
Fiber:

5g
Sugar:

5g
Protein:

46g
Online nutritional calculators are only estimates. Please use your best judgement.