There are some amazing Trim Healthy Mama content creators out there. They make absolutely delectable and delicious Trim Healthy Mama desserts for the holiday season, but often get lost in all the 'other' content out there. So this year, I have talked to over 12 Trim Healthy Mama recipe makers and compiled a Trim Healthy Mama desserts for the holiday season that are easy and delicious! No more wasting time looking for a easy THM holiday recipe.
What's more is that these lovely ladies are also over on Instagram making our mouths water everyday with delicious and healthy recipes for the entire family. You can find all their Instagram links by their recipes. Follow these ladies, you won't regret the delicious THM recipes you get out of the deal!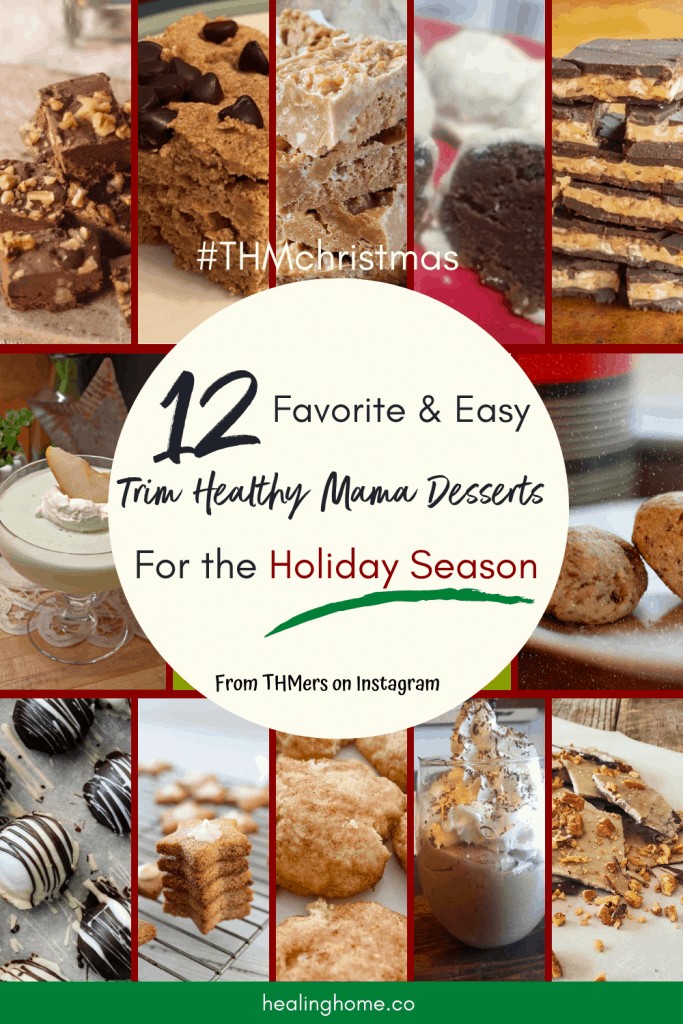 This page may contain affiliate links. To view my full affiliate link disclosure, click here.
What is the Trim Healthy Mama Diet Plan?
If you've spent any time around here and have not heard me mention the Trim Healthy Mama lifestyle, there is a good chance your head is under a rock. But since there are often visitors to my lovely little site, I will do my best to summarize in a quick sentence or two, but if you'd like to hear more about Trim Healthy Mama, visit my coaching page.
Simply put, Trim Healthy Mama is a lifestyle change that focuses on losing weight or maintaining weight by separating our fuels and balancing our blood sugar. The two main fuel types are S meals (healthy fats) or E meals (healthy carbs). Both these meals are anchored in protein. Although the Trim Healthy Mama lifestyle does not use sugar, that doesn't mean we don't like sweets! We simply replace traditional sugar with botanical sweeteners like stevia, or monk fruit.
How can I Satisfy my Sweet Tooth without Sugar?
Awww, you are in luck because we are about ready to launch into some of the best sugar-free recipes on the internet. Yep, I'm THAT certain that these recipes are going to knock off your Christmas socks. Sweeteners like monk fruit and stevia may take a little bit to get used to, but you will soon see that you will be in no way deprived because these Trim Healthy Mama desserts will satisfy that sweet tooth!
What are the Healthiest Desserts?
You are about ready to find some of the healthiest Trim Healthy Mama desserts out there! These desserts are delicious and healthy. Most of them focus on healthy fats, which will make them a Trim Healthy Mama S Recipe. Use these throughout the holiday season to stay on plan, eat healthily, and maybe even lose some weight!
Trim Healthy Mama Desserts
We are about ready to get to the good stuff, I've held you in suspense for long enough. Are you ready for some Trim Healthy Mama dessert recipes that you are sure to go back to year after year? Hold onto your hats because we are going to make everything from THM Christmas cookies to THM dessert balls, to THM bars, and they will all be sugar-free and on plan!
Turn on the Christmas music, get out the mixing spoon, and let's bake some favorite THM desserts!
THM Desserts with Cream Cheese
In the THM communities (here is the main THM group), we often talk about the cheesy THM plan in a bad light. This is because Trim Healthy Mama is not meant to be a cream cheesy plan all day. It's easy to abuse cream cheese because it is so stinking delicious! Many of these desserts are going to use cream cheese. It is the holiday season, and a little bit of cream cheese can add a whole lot of deliciousness to you season and is a whole lot better to eat a bit more cream cheese with these sugar free desserts, than to eat entirely off-plan. Enjoy the cream cheese and stay on plan!
I'll have to be honest here, I had never heard of Yellow Glass dish before I connected with her for this piece, and boy was I missing out. You have to go check out her recipes! Josi is on fire with creating healthy and healing recipes that are full of flavor! This keto spice cookie is just one of many dessert recipes that she has. These THM cookies are probably going to change your Christmas desserts forever!
And by the way, her instagram is also stunning, and makes my mouth water every time I head over there! If you have a taste for art, she also designs beautiful watercolors.
If you spend time in the Trim Healthy Mama communities, you probably have heard of Nana's Little Kitchen, she is another recipe creator that knows how to make delicious recipes that you will come back for time and time again. Her instagram is a little less active than her facebook page, but don't worry there are still some amazing-looking recipes highlighted there along with some tips for Trim Healthy Mama!
No recipe roundup is complete without at least one from Mrs. Criddle's kitchen. She is a staple around the THM community, with dozens, hundreds, maybe thousands of healthy Trim Healthy Mama dessert recipes. But did you also know that she has a Mrs.Criddles Home website too?! She writes about home life, marriage, homes schooling, parenting, and self-care. Her instagram page for both her recipes and home are both remarkable with beautiful photos and content.
These brownie truffle bites are going to change your holiday celebrations this year, they are that good. Cream cheese desserts can add a whole lot of flavor to your holiday season! Don't wait, go get the ingredients and try them today!
These nostalgic THM cookies are something out of childhood. And they are super simple! I love that Molly has pictures of her kids working with her in the kitchen on these. Make sure to let them cool all the way before taking them off the pan.
Molly is also a THM coach, and her instagarm page is filled with success stories of others on the THM plan. But it's also filled with encouragement and tips for Trim Healthy Mama. She has some really interesting Trim Healthy Mama dessert recipes on her website too!
What I love about whole-hearted health is Lisa's passion for ministering to mothers that are a bit less young. Now don't get offended, I'm not calling anyone old, I've learned my lesson on that one in the past! She is committed to helping women with autoimmune disorders, hormone imbalances, chronic fatigue, and thyroid issues. Those issues can be tough regardless of age, but I love that she is passionate about helping women in her season of life find success with food freedom. Her instagram is beyond helpful with Trim Healthy mama
These pumpkin blondies are healing and healthy, they are great to have on hand during the holiday season when the sugary munchies hit!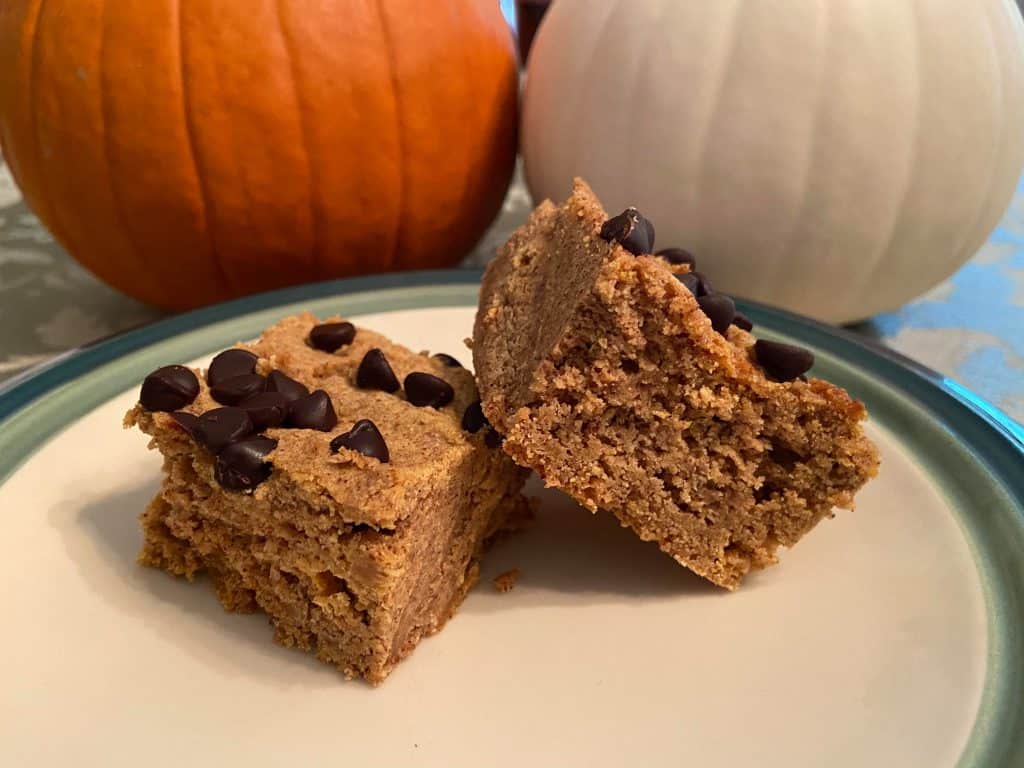 I can picture it now! Snuggling up on the couch with this mousse watching the latest Christmas special. It is a perfect recipe to indulge with and stay on plan! It is rich, delicious, and won't pack on the pounds if eaten in the proper setting.
Jennifer Overstreet brings us this recipe, and as a Trim Healthy Mama coach, she knows how to encourage you on your THM journey. She has been enjoying food freedom with Trim Healthy Mama for over 6 years, so she knows the benefits of keeping consistent throughout the holiday season. Her instagram chronicles her Trim Healthy Mama journey with different meals and foods she is trying.
Hey look! I made it on the list! You can do that when you are the writer! I felt like these little monk fruit-sweetened brittle deserved a shout-out. They are so easy to make and completely delicious enough to get away with taking them to a holiday gathering. The no-bake element makes them a no-brainer when you are in a rush throughout the week. THM no-bake desserts are a great way to add some simplicity to the holiday season! Please note that because of the consistency of the brittle they do need to be kept refrigerated in the freezer.
And yes, I'm on Instagram too! You will find my page filled with encouraging scripture passages, recipes, and a few pictures of my adorable kids!
Joyfilled Eats is another THM recipe creator that you have probably heard of if you have spent any time in the THM world. Taryn has lost over 50 pounds doing Trim Healthy Mama, and her THM desserts are out of this world. My favorite part of her website and recipe creations are her '5 ingredient' recipes. Five ingredients! It cannot get much simpler than that!
Her beautiful food pictures on Instagram are enough to warrant a stopover!
Rena is a stay-at-home mom of 4 kids and she is rocking Trim Healthy Mama dessert recipes. These white chocolate truffles are super good and will remind you of an Oreo cookie truffle. She chronicles her food freedom journey over on Instagram, along with a sprinkling of her adorable 4 kiddos!
Homespun Eats is my new favorite THM blogger. You've got to check out this recipe, but even more, you've got to check out her Instagram. She is going to be your new favorite follow; I can almost guarantee it. She has beautiful pictures, wonderful ideas, and deep thought-provoking truths to share. I think when I grow up, I want to be Hannah, she is that great!
The Salted Carmel PB crunch is going to use pork rinds for the crunchy part, which keeps these little wonders in S territory!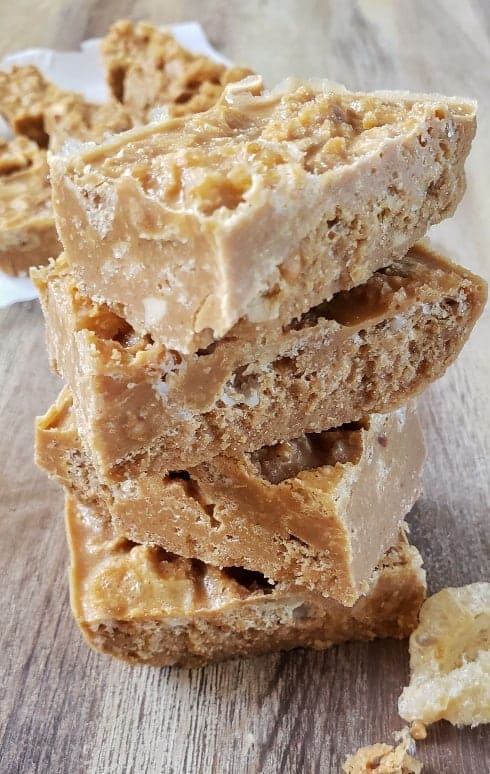 If you have every thought there should be more Trim Healthy Mama cookbooks, then this next blogger and Instagramer, may just amaze you. She has a spiral bound cookbook that is Trim Healthy Mama friendly. It is filled with Trim Healthy Mama desserts, meals, snacks, and sourdough bread. At 600+ pages you just may have to grab it.
THM E desserts can be hard to find, and I love that Around the Kitchen is great at making them. This lime pear dessert is the only Trim Healthy Mama E dessert on this list, and it is well worth incorporating it into a holiday celebration.
Pecan Snowballs from A Home with a Purpose
A Home with a Purpose was the first THM blogger that I truly got obsessed with. She has an amazing weight loss story and she continues to hit hurdles that some only dream of. She is transparent, honest, and brings us delicious recipes and honest THM victories.
Her Instagram is where her transparency truly shines through. Hard truths and hard stories of victories and failures lie in her feed. I cannot recommend following her enough.
Snowball cookies are my favorite Christmas dessert. I was so glad to find these Pecan Snowballs in a true THM Christmas cookies format.
Trim Healthy Mama Dessert Recipes
What are your favorite THM desserts? Did I list one of your favorites? I would love to hear from you! Instagram is my favorite place to hang out with other Trim Healthy Mama's, but you can also find me over on Facebook or in our free private facebook group. Come join me in celebrating food and growing together.
Want more healing and healthy recipes. My Christmas gift to you is my new Healing Home Harvest Cookbook, which is filled with delicious and healthy recipes. Feel free to download today!