There is something about a silky chocolatey truffle that is irresistible. The issue often is that sugar gets in the way of enjoying a chocolate truffle. Not anymore with these irresistible Chocolate Avocado Truffles. These things about sing out with chocolatey flavor and silky goodness. You may want to eat the entire platter, which is exactly what I wanted to do the first time one of these perfected little bites entered my mouth.
Trim Healthy Mama friends, these are a crossover, but don't let that scare you off! These can make an excellent afternoon snack, a holiday dessert to keep you on the plan, or just a nice treat when you truly need that creamy, silky chocolatey flavor.
This page may contain affiliate links. To view my full affiliate link disclosure, click here.
What Makes Chocolate Truffles Different?
In the strictest sense, this is not a traditional truffle. A truffle usually is something that has a chocolate ganache in the center with a chocolate coating, powder, or nuts. However, the chocolate truffle has evolved with time, and the word can be held a bit more loosely. These chocolate avocado truffles are silky, creamy, and look so good.
Sugar Free Chocolate Truffles
The thing that often ruins a good chocolate truffle is the infamous amounts of sugar that assail the little round goodies. Sugar can have a devastating effect on our health. The sugar epidemic is more dangerous than we realize, especially as we consider that sugar is often used as a preservative in foods that are not typically a dessert. Packaged foods like crackers, tomato sauce, or ketchup are filled with copious amounts of sugar that lower our immune system and add inches to our waistlines.
Enjoying a treat is still possible though! A treat like these avocado truffles is still extremely delicious. Using botanically sweetened ingredients can replace the harmful sugar and we can still get our sweet fix!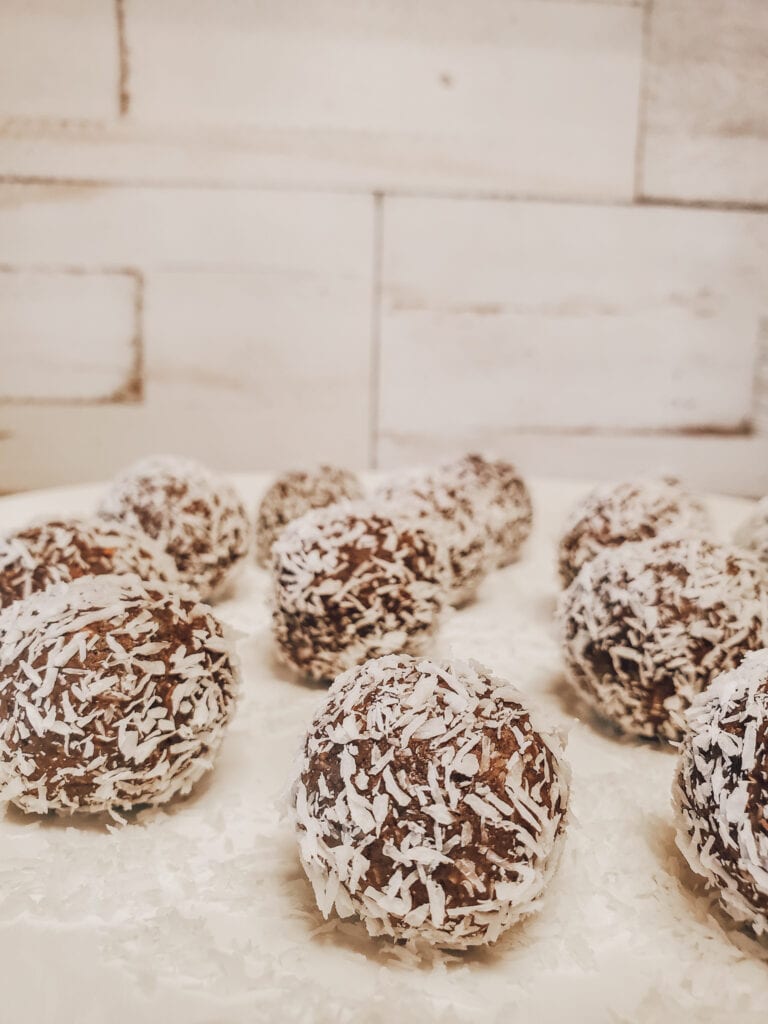 Replacing Instead of Eliminating
Replacing ingredients like chocolate chips with a botanically sweetened chocolate chip can dramatically increase our health and wellness. Instead of using sugar-laden chocolate chips, grab some Lily's botanically sweetened chocolate chips.
I often hear that the desserts don't taste the same when using 'better' for your products. Give it another chance. An apple and an orange do not taste the same, but they are equally as good. In the same way, a 'better for you' dessert is not the same as its unhealthy counterpart, but only because it is a different dessert! Give it a chance, and don't compare to other desserts. Judge it by its flavors alone.
These avocado truffles are not going to disappoint though! Because of the avocado, this sugar-free chocolate truffle is going to be creamy and delightful!
If you are interested in learning more about food freedom with Trim Healthy Mama, please check out my coaching page or the main Trim Healthy Mama website.
Want to discover more recipes that are all about replacing instead of eliminating. Grab the Free Healing Home Harvest Cookbook!
Is there Sugar Free Chocolate Chips?
There certainly is sugar-free chocolate chips, which is exactly what I use in these sugar-free chocolate avocado truffles! But sugar-free chocolate chips are not all equally made.
Have you ever eaten a sugar-free candy and immediately received a stomachache for your efforts? You discovered the ingredients called inulin. This little ingredient can cause terrible stomach bloating, discomfort, and possibly a few extra trips to the restroom.
What is the Best Sugar Free Chocolate?
I have two favorite sugar-free chocolate options. Both are great options if you are living the keto or Trim Healthy Mama lifestyle. However, they have some distinct differences that may make one or the other better for you.
Lily's Chocolate Chips - Runner up!
I highly recommend Lily's chocolate chips or bars for any sugar-free baking.
This recipe uses white chocolate chips from Lily's Chocolate. I remember the exact place I bought my first bar of Lily's chocolate. Eagerly I purchased just one candy bar, figuring that it would last me a while. Nope. I got in the car, unwrapped a slice, and proceeded to eat the entire delicious botanically sweetened bar.
How many net carbs are in Lily's chocolate?
You can find more information about Lily's Chocolate and the keto lifestyle on their website. But they claim to have 3g of net carbs per serving or less.
For those on the Trim Healthy Mama lifestyle, their chocolate bars are still all going to be in the 'E' territory.
The Ultimate Chocolate Chips from Trim Healthy Mama
As much as I do enjoy Lily's chocolate, Lily's does have both inulin and dextrose in many of their chocolates. Both of these ingredients can cause stomach discomfort for some people. Personally, I do not have stomach issues, but many others I talk to have.
If you have stomach discomfort with inulin chocolate chips, I suggest superior sugar-free chocolate from Trim Healthy Mama. These chocolate chips are truly the 'ultimate' sugar-free chocolate. You won't find a purer botanically sweetened chocolate on the market.
Sugar Free Chocolate Avocado Truffles
These sugar-free little wonders are going to be added to your dessert repertoire. They are stinking delicious, and I think the taste may rival many sugar-laden truffles. Try them and let me know over on Instagram what you think!
Chocolate Avocado Truffles - Sugar Free
There is something about a silky chocolatey truffle that is basically irresistible. The issue often times is that sugar gets in the way of enjoying a chocolate truffle. Not anymore with these irresistible Chocolate Avocado Truffles. These things just about sing out with chocolatey flavor and silky goodness.
Ingredients
1 cup stevia sweetened white chocolate chips
1 tsp coconut oil
1 cup unsweetened coconut flakes
2 avocados
¼ cup stevia
2 tbsp collagen
2 tbsp cocao powder
1 tbsp Macha (optional)
1 tbsp whey protein
1 tbsp oat fiber
Instructions
In a microwave or on the stovetop, melt the white chocolate chips with 1 tsp of coconut oil.
Remove the avocado from the skin and pit.
Using a handheld mixer or a stand mixer, beat the avocado until it is fluffy.
Slowly mix in the melted chocolate. Continue to mix until it is fully integrated.
In a separate bowl whisk together the stevia, collage, cocoa powder, matcha, whey protein, oat fiber, and ½ cup of the unsweetened coconut flakes.
Add the dry ingredients to the mix and blend well.
Set the mixer bowl in the refrigerator for 20 minutes to firm up the dough.
Using tbsp-sized scoops, mold the dough into small truffle balls.
Roll the balls in the remaining coconut flakes.
Recommended Products
As an Amazon Associate and member of other affiliate programs, I earn from qualifying purchases.
Nutrition Information:
Yield:

12
Serving Size:

1
Amount Per Serving:
Calories:

133
Total Fat:

11g
Saturated Fat:

6g
Trans Fat:

0g
Unsaturated Fat:

5g
Cholesterol:

1mg
Sodium:

13mg
Carbohydrates:

30g
Fiber:

3g
Sugar:

3g
Protein:

3g
Online nutritional calculators are estimates only. Please use your best judgement when consuming.