Chocolate Chip cookies take me back to childhood. They could the poster image for childhood. But once again, chocolate chip cookies are tasty, but not kind to my mama waistline. Trim Healthy Mama comes back to save me again, but this time with the softest THM Chocolate Chip Cookies that I have ever tasted.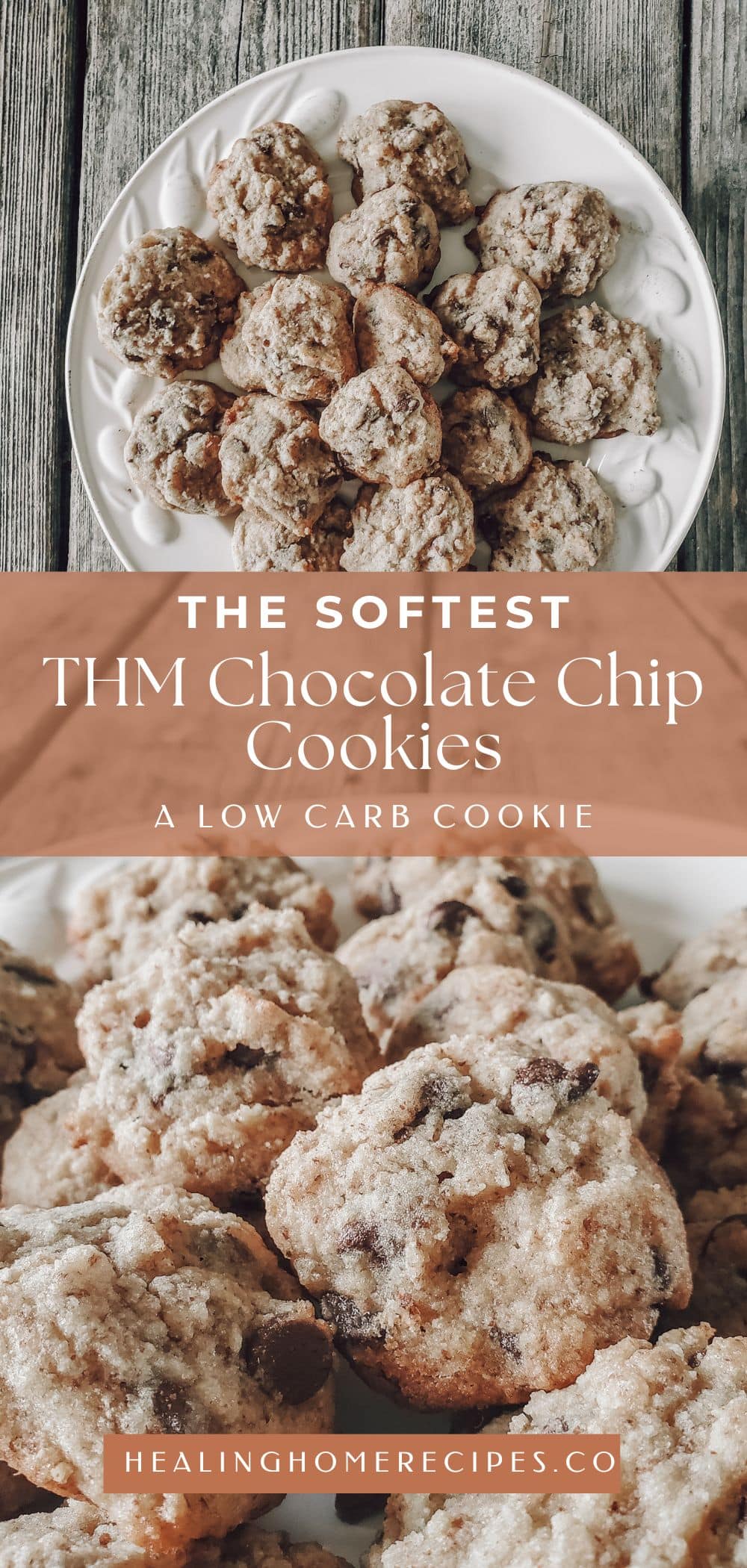 This page may contain affiliate links. To view my full affiliate link disclosure, click here.
Jump to:
Making THM Chocolate Chip Cookies
I have eaten a lot of THM cookies during my years of being a THMer. Top on my time as gluten-free, and the number of 'healthy' cookies I have tried climbs to extraordinary amounts. Most cookies in the healthy categories are too crumbly, too hard, too bitter, too nasty, and too healthy tasting to eat!
These are just the opposite. If you have been around this blog for any length of time, the best recipes I make are those that pass the 'Husband Dan' test. My husband is a foodie. He is not a healthy food foodie and therefore can be rather critical of my THM recipes. He wants to taste only the best. The first time I mentioned his critical taste buds was for the "Hubby Approving Veggie Stir Fry," which is still a dinner-time favorite.
I'm proud to say, that these cookies passed the 'husband Dan test' with excellence, and he has gone back for more multiple times.
Ingredients
Butter
Gentle Sweet
Low-carb baking mix ➡️get a homemade version here
Egg
Vanilla
Baking powder
Sugar-free chocolate chips
See the recipe card for quantities.
Instructions
The recipe is once again very simple. You can completely mix the dry and wet ingredients separately, but if you are more of a Drive-Thru Sue, just go ahead and mix everything together in one big bowl (I admit, I sometimes do that!). Then pop them in the oven for no more than 11 minutes. They should be just slightly browning around the edges. These are very easy to burn so watch them!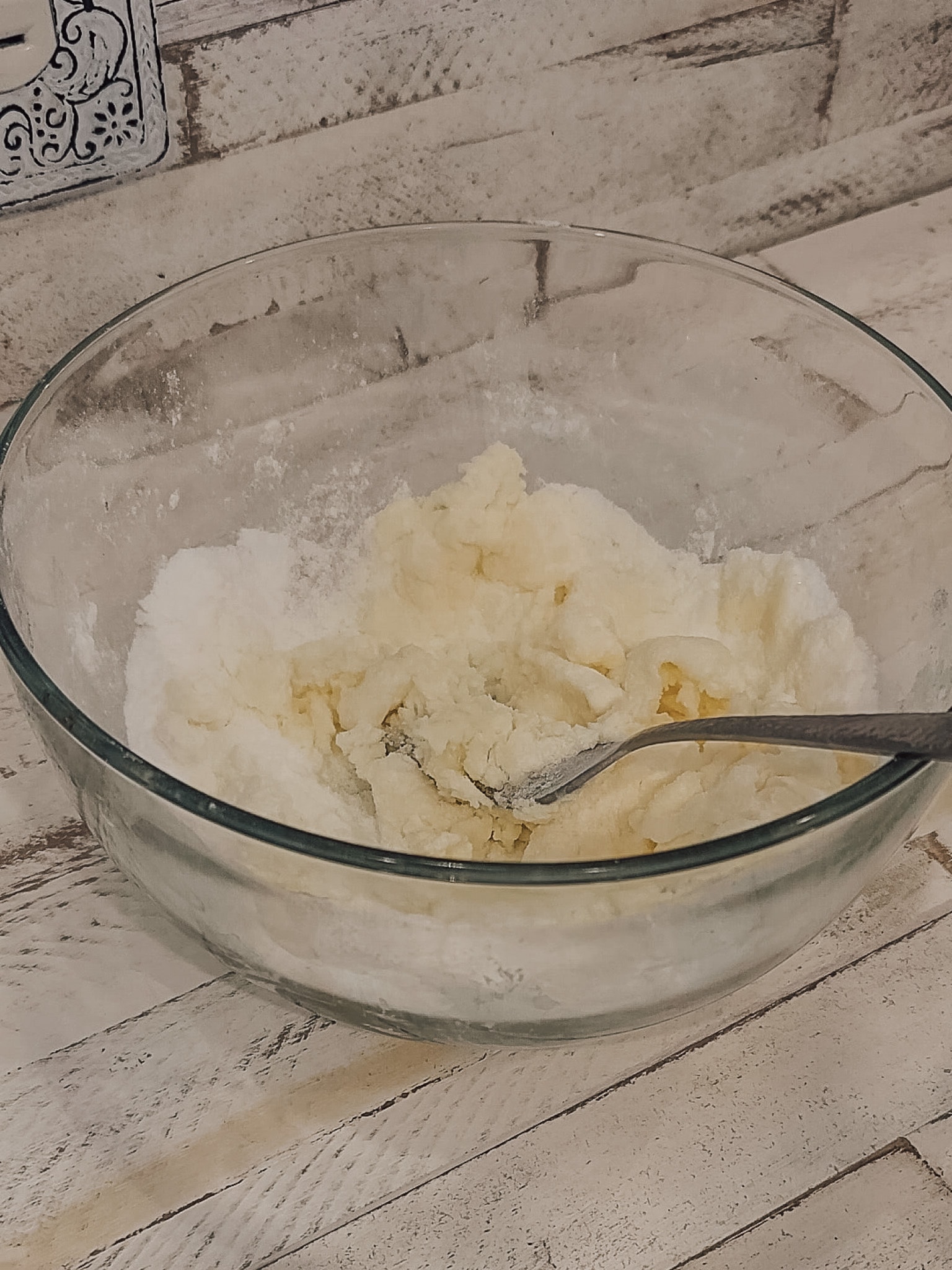 Preheat oven to 375 degrees. Cream butter, stevia, and egg mixture together. Add vanilla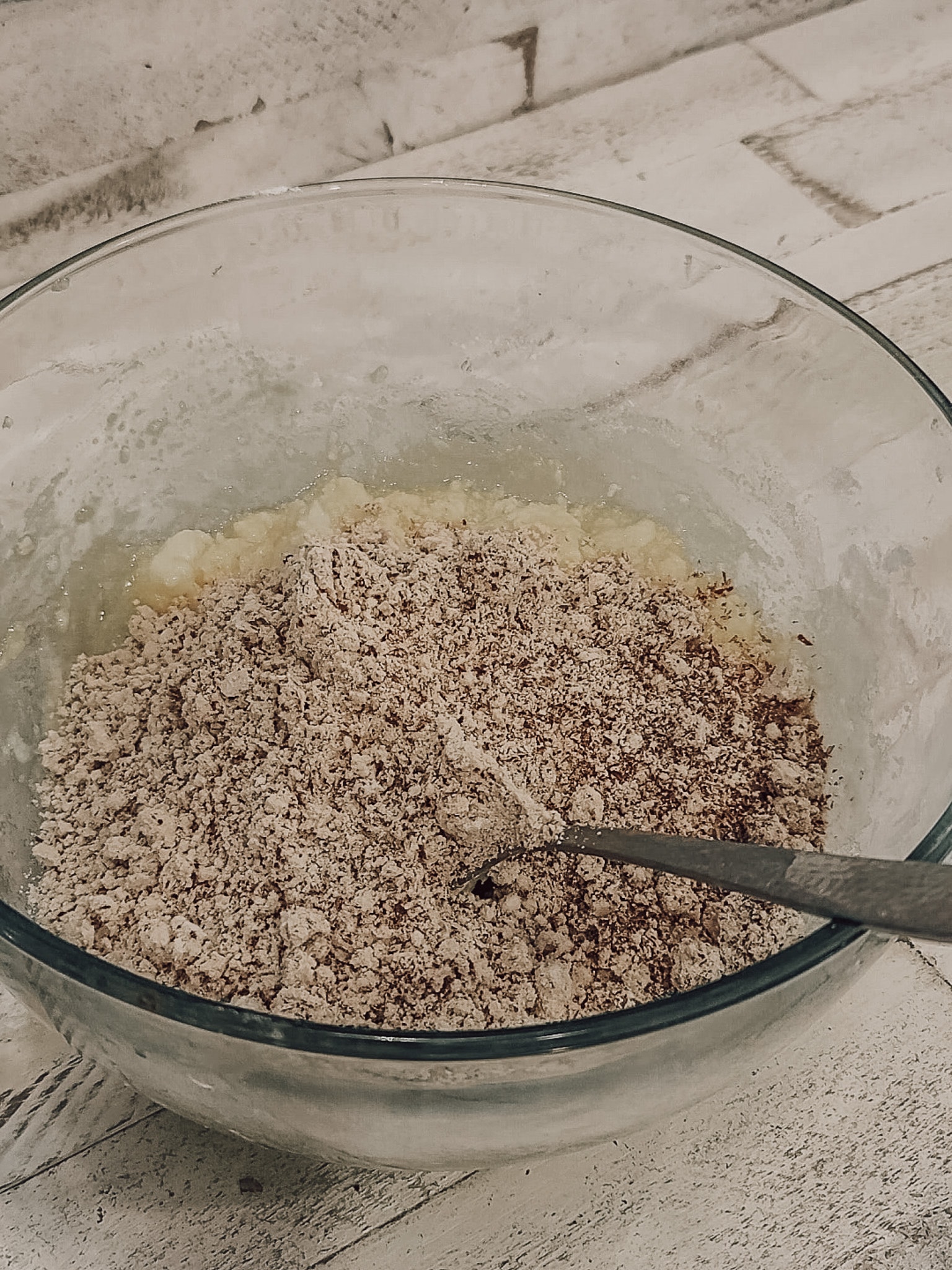 Whisk flour blend and baking powder together. Gently combine the flour blend with the wet mixture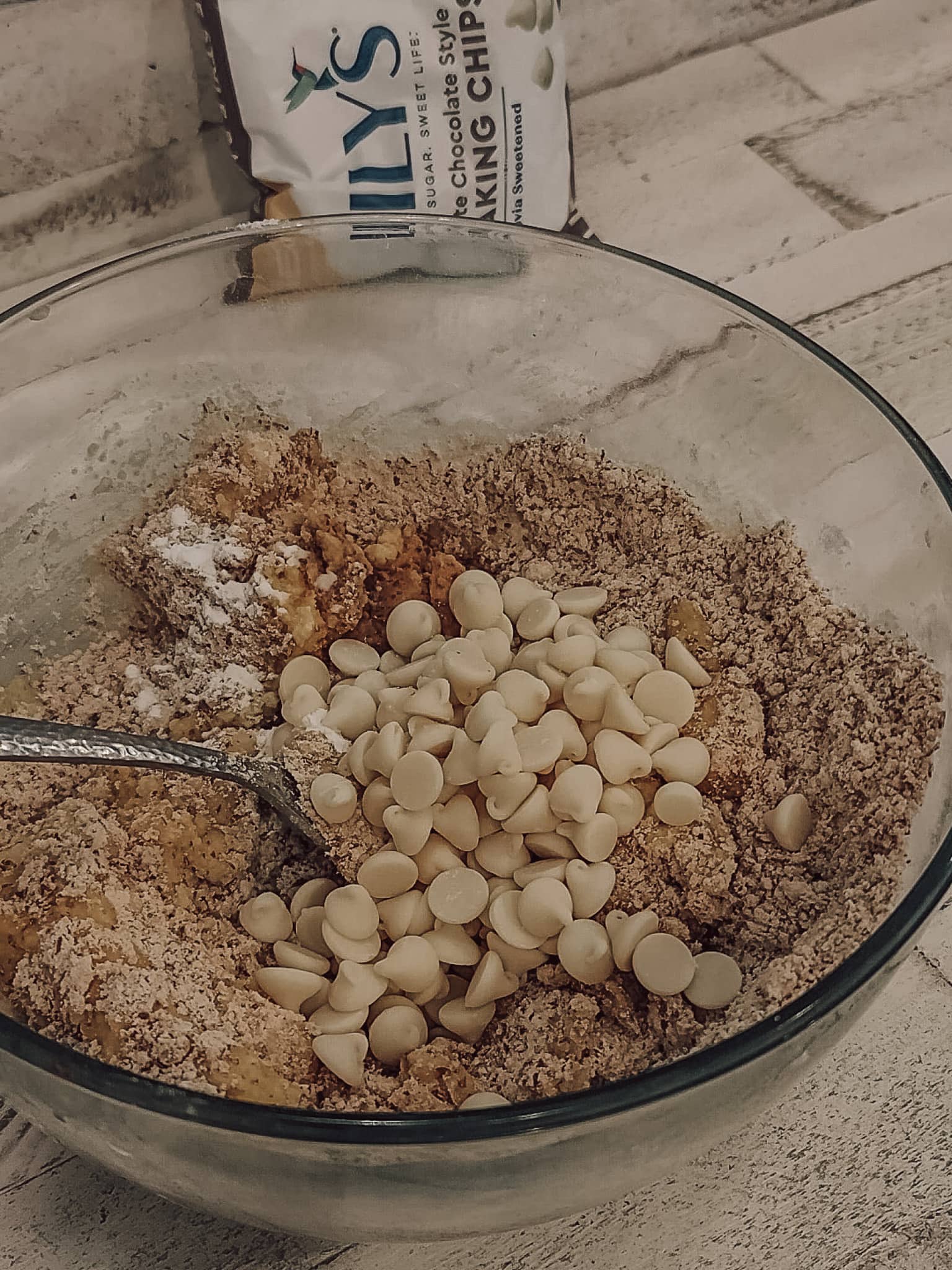 Fold in chocolate chip cookies. Cover two baking sheets with parchment paper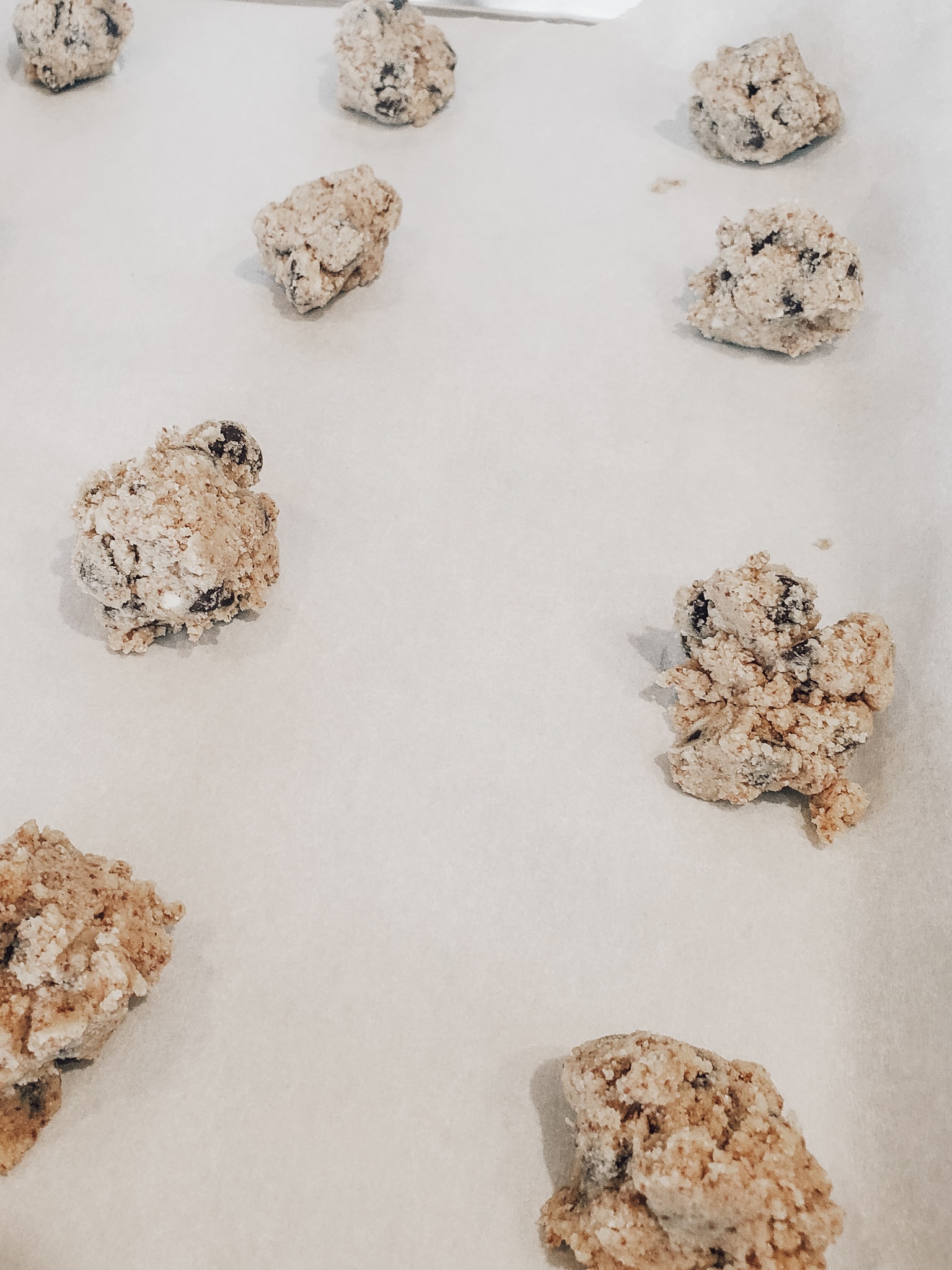 Use tablespoon-sized scoops and place them on baking sheets.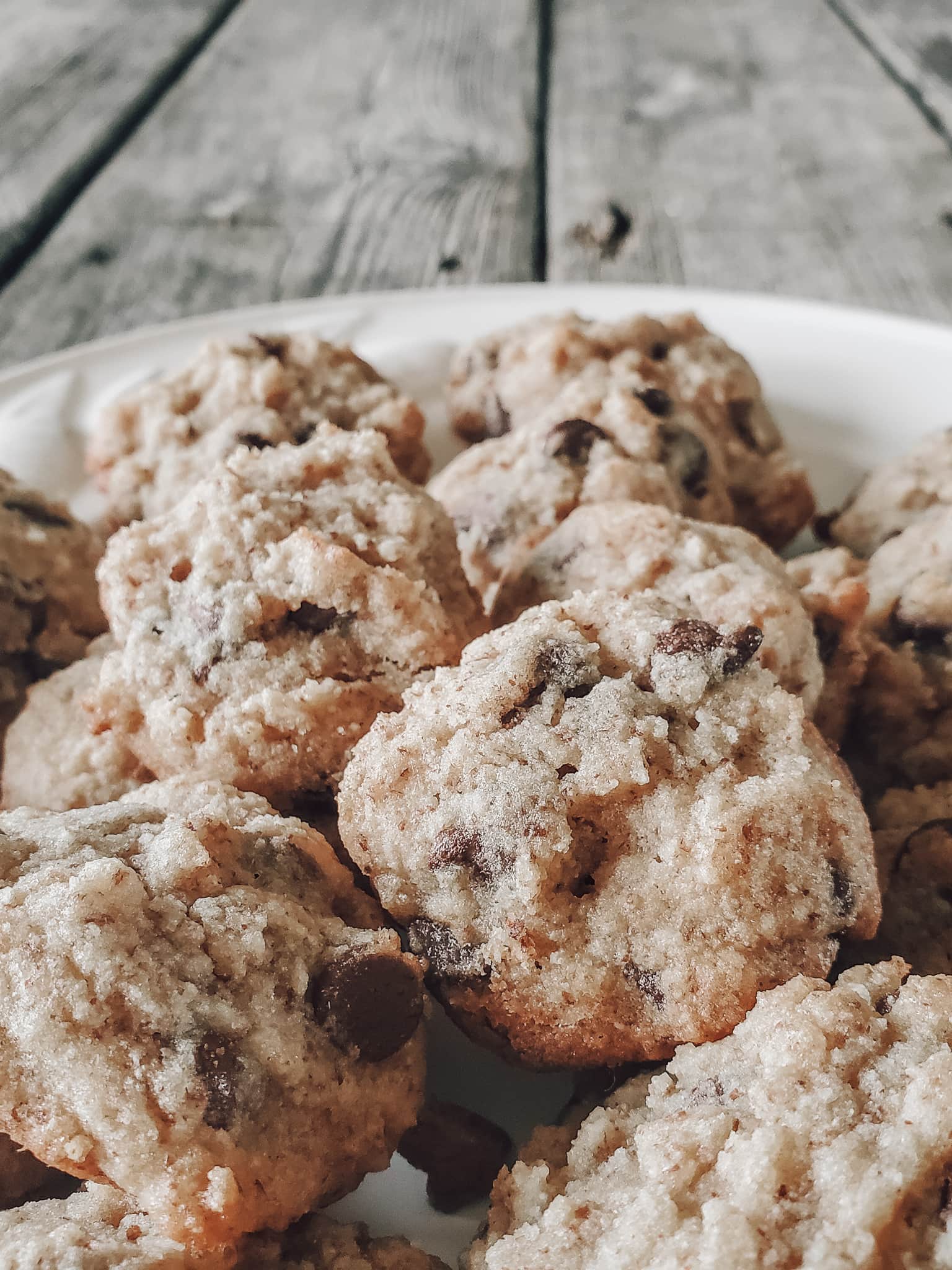 Bake for 11 minutes. The edges should just be turning brown. Let cool on the baking pan before taking the cookies off the tray.
Hint: The cookies will be very crumbly before they are cooled. Let them cool completely before taking them off the cookie tray!
Equipment
Measuring cups and spoons
Mixing Bowls
Baking Trays - I love buying sturdy ones or better yet, cast iron!
Spatulas and spoons
Parchment Paper - these are bleach-free and come in sheets!
You can find the entire list of baking and cooking essentials that we use in our kitchen by visiting our Amazon Storefront or Like to Know shop.
Storage
One of the really fun things about this recipe is that they are very easily stored! Mix up the dough and place in tbsp sizes bites on a baking tray. Freeze on the baking trays and then put the uncooked cookie dough into freezer bags. Now without any prep you can bake THM chocolate chip cookies whenever you want!
Cooked cookies should be stored in an airtight container for up to 2 weeks.
FAQ
Do I need to use the THM brand of Chocolate Chips?
Sugar-free chocolate chips have to be one of the most confusing and frustrating food items to get right on Trim Healthy Mama. These THM Chocolate Chip Cookies have used many different sugar-free options over the years. You do not have to buy the THM brand of chocolate chips for these to be successful.
Are Trim Healthy Mama Chocolate Chips Worth It?
As of 2023 THM no longer makes its chocolate. The information here will remain for informational purposes.
THM Chocolate is certainly the purest on the plan. They have no questionable ingredients like sucrose, corn fiber, or chemical sweeteners. They are a bit annoying to get because you have to purchase them separately from anything else you order, and during the summer months, probably will want an ice pack to go with them.
For me it's all about priorities, I think the THM chocolate chips are completely worth it...in some seasons of life. Right now I would prefer to use my money to go toward THM stevia, baobab, or protein powder. Those are products that THM soars above the rest in. Although Trim Healthy Mama chocolate chips are the best on the market, they also have good competitors that I can find in local grocery stores.
Do I need to use Trim Healthy Mama's Baking Blend?
THM baking blend can be another hot-button topic in the Trim Healthy Mama community. You don't need Baking Blend to be on plan. You certainly don't need Baking Blend for this recipe. I've never used Baking Blend in this recipe. If you do, let me know how it turns out!
You can also try my low-carb baking mix, which is what I use for all my Keto and THM-friendly treats
In the Trim Healthy Mama Table book, the authors talk about using a mixture of 1:1 coconut flour and ground flax seed as an alternative to their Baking Blend mixture. What makes this cookie so fluffy and soft is the added protein. So, if you are really without a baking mixture, you can try ¼ cup coconut flour, ¼ cup flax seed, and ¼ cup protein powder. That will really make these THM Chocolate Chip Cookies Soft and fluffy to the making!
Healthy Chocolate Chip Alternatives
There are other options out there. The THM community went crazy about a year ago when Bake Believe launched an 'on-plan' chocolate chip that is available in many grocery stores like Walmart.
Another tried and true option is Lily's Chocolate. This stevia-sweetened chocolate chip has been around for the test of time, and THM, Keto, and other diets have used this healthy alternative to sugary chocolate chips.
ChocZero is another chocolate chip good to mention because they are sweetened with monk fruit instead of stevia. Sometimes stevia can cause an allergic reaction or tummy distress. Monk Fruit is often a gentler option. ChocZero however does use corn fiber, which is an off-plan ingredient on THM. Therefore, this would be considered a 'personal choice' product in the THM community.
Finally, let's talk about Hershey's sugar-free chocolate chips. To be honest, I have used this alternative in the past. Let's be clear though. Hershey's chocolate chips are not THM on the plan, nor does it use clean ingredients. These are readily available in most grocery stores and are kinder of a budget. Hershey's uses maltitol, which is far from a healthy ingredient and can be extremely hard on the digestive tract. I have used them occasionally when my budget was tight, or I was in a pinch.
There you have it! These the certainly the softest THM Chocolate Chip cookies that have ever crossed my lips. How about you? If you try them, I would just love to hear how they turned out. Shoot me a message or sign up for my newsletter, which is where all the juicy new recipes and printables are to be found! You can also grab the completely free Healing Home Harvest Cookbook with more Keto and THM-friendly recipes.
Related
The Softest THM Chocolate Chip Cookies
These are the softest THM Chocolate Chip Cookies I have ever eaten! They are soft, sweet, and scrumptious. Children will eat them up and mamma will avoid feeling the sugar-laden guilt of giving their babies sugary sweets.
Ingredients
1 stick of butter
½ cup Gentle Sweet
¾ cup low carb baking mix
1 egg
1 tsp vanilla
1 tsp baking powder
¼ cup sugar free chocolate chips
Instructions
Pre-heat oven to 375 degrees
Cream butter, stevia, and egg mixture together.
Add vanilla
Whisk flour blend and baking powder together
Gently combine the flour blend with the wet mixture
Fold in chocolate chip cookies
Cover two baking sheets with parchment paper
Use tablespoon-sized scoops and place them on baking sheets
Bake for 11 minutes. The edges should just be turning brown.
Let cool on the baking pan before taking the cookies off the tray.
Notes
Although THM Baking Blend will work wonderfully in this recipe, you can also use my Low Carb Baking mix, which is what I use in all Keto and THM friendly recipes.
Recommended Products
As an Amazon Associate and member of other affiliate programs, I earn from qualifying purchases.
Nutrition Information:
Yield:

24
Serving Size:

1
Amount Per Serving:
Calories:

64
Total Fat:

6g
Saturated Fat:

3g
Trans Fat:

0g
Unsaturated Fat:

2g
Cholesterol:

18mg
Sodium:

55mg
Carbohydrates:

7g
Fiber:

1g
Sugar:

0g
Protein:

1g
These numbers are calculated using an automated online system. They are not meant to be 100% accurate. Use your best judgement when using the numbers.