Have you ever wanted some hummus dip and didn't quite want the carbs and fat mixture that come with it? This tahini dip is a perfect substitute! It is completely fat-based, which means that my Trim Healthy Mama friends can enjoy it in S mode!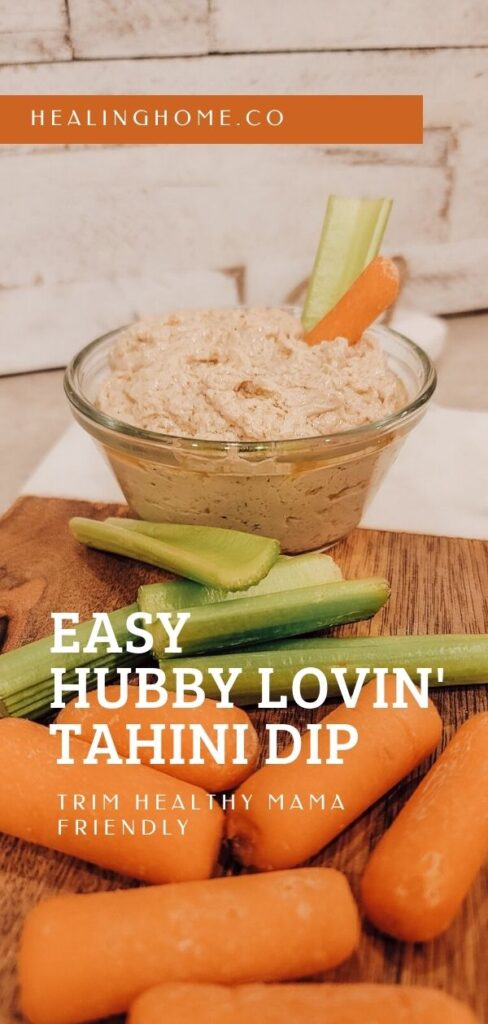 This page may contain affiliate links. To view my full affiliate link disclosure, click here.
Can you Eat Tahini as a Dip?
Yes! Tahini makes an excellent dip! It is often a forgotten health food, but it truly is a versatile option that can be used as an alternative to many other sauces or tips.
Use as a salad dresssing
Spread on a piece of sprouted toast
Dip veggies in it
Stir it into soup
Make it into a peanut allegy replacement
Use on sandwiches
Make cakes, cookies, or desserts with it
Or make it into a yummy humus alterative!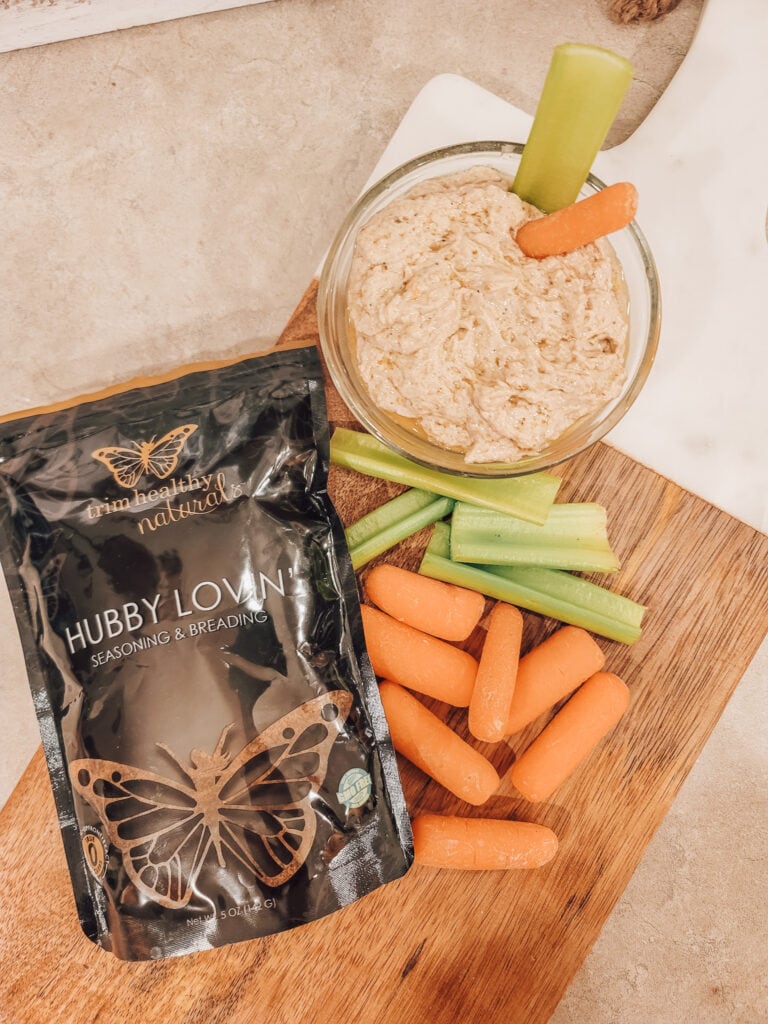 What is Tahini Dip Made From?
Tahini is made from ground sesame seeds into a smooth paste. One thing that is nice about this health food is that it can be made into something savory or sweet. It truly is one of the most versatile pastes that have a lot of health benefits as well. It can be made from hulled seeds or whole seeds.
The most well-known dish that tahini is made with is hummus! This is what this recipe is all about! Tahini originates from Middle Eastern or Mediterranean dishes.
Tahini is very smooth, which is why it does so great as a hummus alternative!
Why is Tahini good for You?
Tahini is considered a health food in most circles. It contains more protein than milk and many nuts. What makes it famous is it's a rich source of vitamin B which is known to boost energy and brain function. It also contains vitamin E, magnesium, iron, and calcium.
Hummus Alternative
Why make a hummus alternative? There is nothing wrong with hummus. In fact, it is very good for you. There are healthy fats and carbohydrates that make it a wonderful option for most people.
However, if you live a Trim Healthy Mama lifestyle, you may want something similar that does not contain both healthy fats and carbs at the same time. That is where this option becomes a great alternative.
It is all fat-based and although it does taste different than traditional hummus, it certainly is remonstrant of the texture!
Ingredients for the Hubby Lovin' Tahini Dip
Why is it called 'Hubby Lovin'?
The seasoning is made with a special concoction from Trim Healthy Mama called Hubby Lovin' breading and seasoning. If you don't have Hubby Lovin' seasoning you can alternatively use equal parts parmesan, garlic powder, paprika, parsley, pepper, and a tiny bit of cayenne.
However, I have found having Hubby Loving' seasoning on hand is super nice! I use it in lots of chicken recipes and as a very easy way to flavor dips, soups, and sauces. I've even used it in meatball recipes!
1 cup tahini
½ cup water
¼ cup sour cream
1 tbsp fresh garlic
1 tbsp baobab powder
1 tbsp nutritional yeast
2 tsp Hubby Lovin Seasoning
1 tsp mineral salt
How do you make Tahini Dip
This is one of the best parts! You can just mix all the ingredients together and serve! No complicated recipes are allowed!
Store in an airtight container in the refrigerator for up to two weeks.
Looking for additional dip recipes. Check out one of my favorite Buffalo Dip Recipes!
Did you try this recipe? I would love for you to share the recipe and tag me on Instagram! Tell me how you liked it!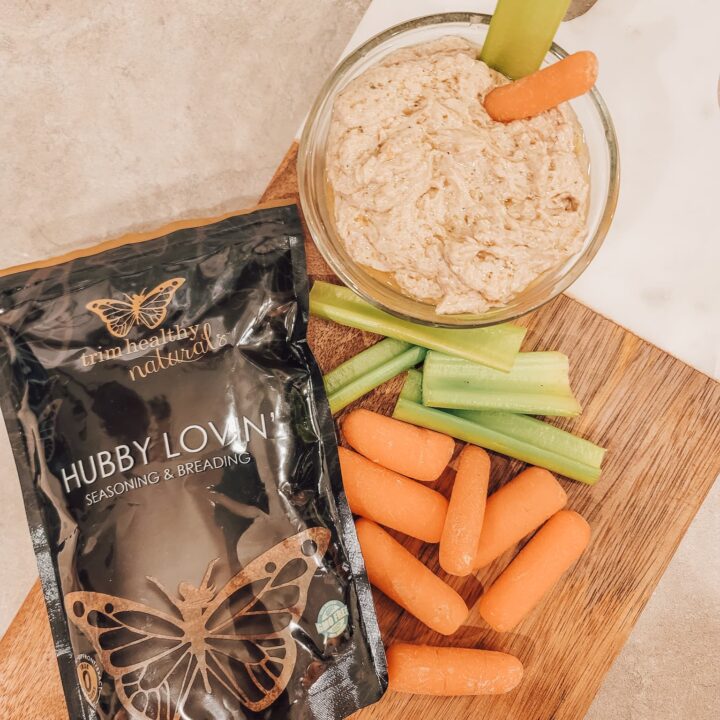 Easy Hubby Lovin' Tahini Dip
Ingredients
1 cup tahini
½ cup water
¼ cup sour cream
1 tbsp fresh garlic
1 tbsp baobab powder
1 tbsp nutritional yeast
2 tsp Hubby Lovin Seasoning
1 tsp mineral salt
Instructions
Combine all the ingredients together in a bowl
If desired you can add more water at 1 tbsp at a time for better consistency
Enjoy with vegetables or low-carb chips!
Store in the refrigerator in an air-tight container.
Recommended Products
As an Amazon Associate and member of other affiliate programs, I earn from qualifying purchases.
Nutrition Information:
Yield:

16
Serving Size:

1
Amount Per Serving:
Calories:

99
Total Fat:

9g
Saturated Fat:

1g
Trans Fat:

0g
Unsaturated Fat:

7g
Cholesterol:

2mg
Sodium:

342mg
Carbohydrates:

4g
Fiber:

1g
Sugar:

0g
Protein:

3g
Nutritional calculators are only estimates. Please use your best judgement.