Stevia no bake cookies can be the answer to a quick dessert that is guilt-free and delicious to boot. No sugar, no-bake cookies are great to feed your family, bring to a holiday gathering, or just enjoy yourself!
I love using mint chocolate chips in this recipe, but honestly, you can use any type of chocolate to customize and make it your own!
This page may contain affiliate links. To view my full affiliate link disclosure, click here.
THM No Bake Cookies
To begin with, this recipe would be considered a Trim Healthy Mama crossover. Remember Mama's crossovers are on plan, crossovers are on plan, crossovers are on plan! We often get in a rut with alternating THM-S and THM-E meals and snacks and forget about the beauty of crossovers.
This is a heavy crossover, that shouldn't be forgotten. But we can still enjoy crossovers with freedom because we need to cycle those fuels around! This would be a great treat to have one square for a snack or after-dinner treat. But it also is a great THM dessert to bring to a holiday gathering.
THM desserts during Thanksgiving and Christmas can be hard to come by and these tasty stevia bake cookies might just be your ticket to stay on plan during a holiday gathering! Last Christmas I was obsessed with bringing these peanut butter ball desserts to every holiday gathering. They were a great THM dessert that helped me stay on plan, but this year, this dessert is so easy, it may just win out! Another great THM-friendly dessert is these super-soft THM chocolate chip cookies.
If you love recipes like this, consider downloading the FREE Healing Harvest Cookbook, which has fifteen low-carb and healthy-fat recipes that the entire family will enjoy!
How Long do no Bake Cookies Last?
As these are not traditional no-bake cookies, you will want to store them in the refrigerator in an air-tight container. They will last about 2 weeks in the refrigerator. You can also store them in the freezer to enjoy yourself at another time.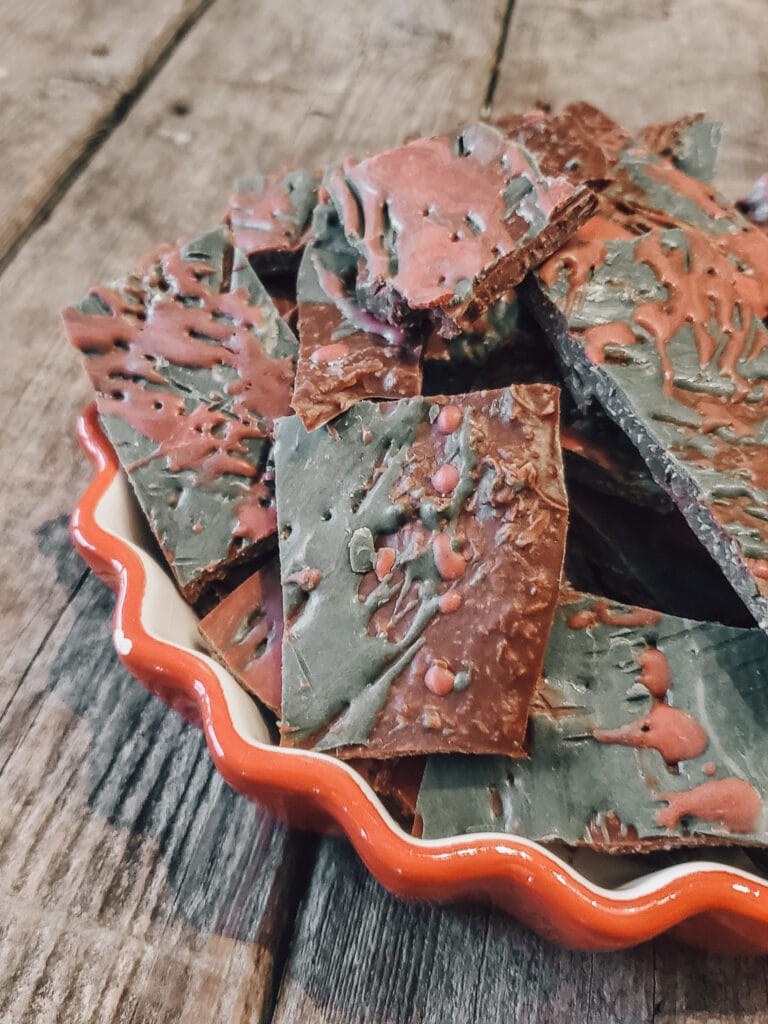 Stevia No Bake Cookies with Lily's Chocolate
Lily's stevia-sweetened chocolate chips (they call them botanically sweetened) is really the key to this blessed dessert. When I first heard about Lily's Chocolate, I remember sneaking off to every health food store that I could imagine, and I finally found a rectangular bar at a little tiny health foods store. I purchased one and told myself that it would last me a good long while.
I ate the entire thing in the car.
That's how good they are. No sugar and absolutely delicious.
Lily's has come far since the first time I tried a chocolate bar. Now I can find them in major grocery chains, including Wal-Mart, and their flavors have exceeded the normal dark and milk chocolate bars. They even harvest their products through fair trade. They truly are a great product. These stevia no-bake cookies prove that their product is top-notch. A no sugar no-bake cookies filled with delicious Lily's Chocolate.
These no sugar no-bake cookies use two types of Lily's Chocolate in the recipe. The mint chocolate chip is quite amazing and the white chocolate chip cookies are quite delicious as well. You can choose to use only one type of chocolate, or you can mix up the flavors and try other combinations!
Can you use Stevia to bake with?
Although these are no-bake cookies, the question often arises if you can bake with stevia. The answer is a resounding YES! Stevia is different than traditional sugar, but once you get the hang of it, the benefits of getting rid of high glycemic sugar far surpass the learning curve.
No Bake Cookies with Coconut Oil
Coconut oil is another of the key ingredients in these healthy no-bake cookies. The coconut oil replaces the traditional no-bake cookie with lots of butter. These are no baked cookies without butter, and with coconut oil. I personally do not taste any coconut flavor in these, but a lot of this will depend on the type of coconut oil you use. The coconut oil makes these no sugar no-bake cookies a very smooth texture.
The Best Stevia No Bake Cookies
I call these the best stevia no-bake cookies because they are fast, delicious, and healthy. They are calorie-dense, so if you are following the THM plan, be sure to use these appropriately. Using them on a Keto diet is similar because chocolate is considered a carbohydrate, so use them with caution.
These are such an easy and delicious recipe; you might be coming back to it repeatedly!
Stevia No Bake Cookies
Stevia no bake cookies can be the answer to a quick dessert that is guilt free and delicious to boot. No sugar and no bake cookies to feed your family, bring to a holiday gathering, or just enjoy yourself!
Ingredients
1 ½ cups mint sugar free Lily's Chocolate Chips
1 cup white sugar free chocolate chips
2 cups unsweetened coconut flakes
1 tsp vanilla
1 tsp mineral salt
1 cup coconut oil
1 tbsp chia seeds
Instructions
Melt the chocolate and coconut oil in a saucepan on low heat.
Add the vanilla and mineral salt. Stir in unsweetened coconut flakes.
Spray a 9x9 inch baking pan with cooking spray.
Pour mixture into pan and refrigerate until it hardens.
Notes
This is a THM crossover recipe. There are both fats and carbs included.
Recommended Products
As an Amazon Associate and member of other affiliate programs, I earn from qualifying purchases.
Nutrition Information:
Yield:

16
Serving Size:

1
Amount Per Serving:
Calories:

362
Total Fat:

27g
Saturated Fat:

21g
Trans Fat:

0g
Unsaturated Fat:

4g
Cholesterol:

0mg
Sodium:

158mg
Carbohydrates:

29g
Fiber:

3g
Sugar:

0g
Protein:

2g
Online calculators are estimates only. Use your best judgement when consuming.