It's August in Minnesota which means it's ground cherry time! I was amazed at how well my little ground of ground cherry bushes did this year, there was an abundance of harvest for just 6 plants, which meant that we could do everything from jam to this delicious ground cherry pie. The recipe is sugar-free, low carb, and rich tasting.
This page may contain affiliate links. To view my full affiliate link disclosure, click here.
What Can I do with Ground Cherries?
I can tell you our favorite things to do with ground cherries, and that's to eat them! Yep, just pop them in your mouth like a typical berry and let the flavors sparkle. These things are such versatile fruit and are delicious to just eat. My toddler is hilarious with them. Each one he eats has to be just the right color or he spits it out! He is not typically a picky eater, but these little wonders are so delicious when they are ripe that anything but ripe is just not worth it to him.
For this recipe, I used slightly less ripe ground cherries and it really added a spunky flavor to the dish. Something got into my garden and knocked many of my ground cherries down before they had turned ripe. I wanted to use these, and this was an incredibly good solution. You can use your greener ground cherries or use the bright yellow ripe ones. The taste will vary slightly, but both are good. You can see in the picture below which ground cherries are the ripe yellow and those with the slightly greener color.
You can also make beautiful jams with ground cherries. This sugar free recipe is phenomenal. You'll notice her ground cherries are completely ripe, where are mine in the recipe picture are greener.
Are Ground Cherries and Gooseberries the Same Thing?
Ground cherries can also be called gooseberries. I don't claim to be a plant expert, but my understanding is that ground cherries and gooseberries are the same things, but the variety of plants just varies slightly. Many people use the title interchangeably.
What Does a Ground Cherry Taste Like?
Absolutely delicious. Simply delicious!
I know, that wasn't much of an answer, was it?
Okay, so a ground cherry has just a bit of a ripe tomato taste, the subtle sweet taste of a cherry, and an almost pineapple flavor. I love the crunch that a ground cherry has! If you have never enjoyed a ground cherry, grow some next year or find a farmers' market that has these little lovelies!
Sugar Free Ground Cherry Pie
I like to give credit to where credit is due, so I must admit something. This recipe was inspired by an original Trim Healthy Mama recipe called "Guilt Gone Cranberry Pie". I love making this recipe during the holiday season!
When I started looking into a ground cherry pie, I couldn't find anything that met my needs some a sugar-free and Trim Healthy Mama-friendly pie. It occurred to me that the Guilt Gone Cranberry pie base might just work with ground cherries too! This recipe took quite a few renditions before it was perfected because ground cherries have more water content than cranberries, but the original inspiration behind this recipe came from the cranberry recipe.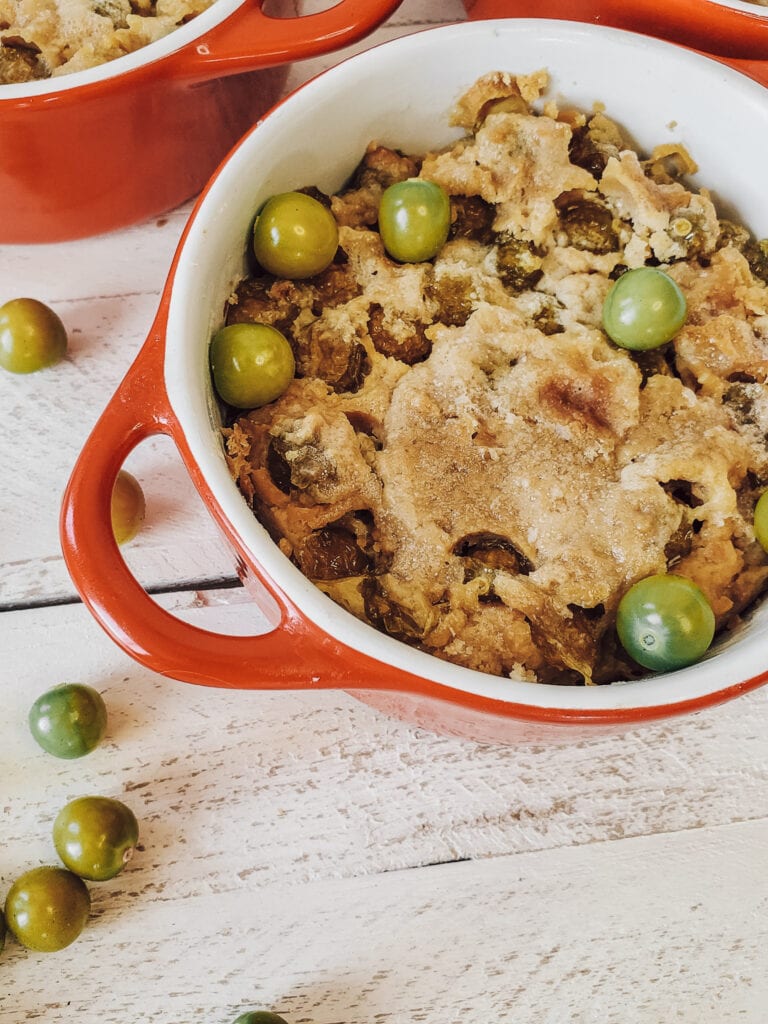 More Recipes for the Entire Family
I think this ground cherry pie recipe is destined to be a repeat around here. It's so good, rich, and delicious. A Trim Healthy Mama recipe that can be used every time we have ground cherries. How else do you use your ground cherries; I'd love to hear from you either on Instagram or Facebook! You can also connect with me in my newsletter. When you subscribe, you can download my FREE Healing Home Harvest cookbook that has plenty of healthy and healing recipes for the entire family! There are some lovely desserts, like my sugar-free peanut butter balls, but my healthy fat cast iron skillet recipes really shine through in that cookbook.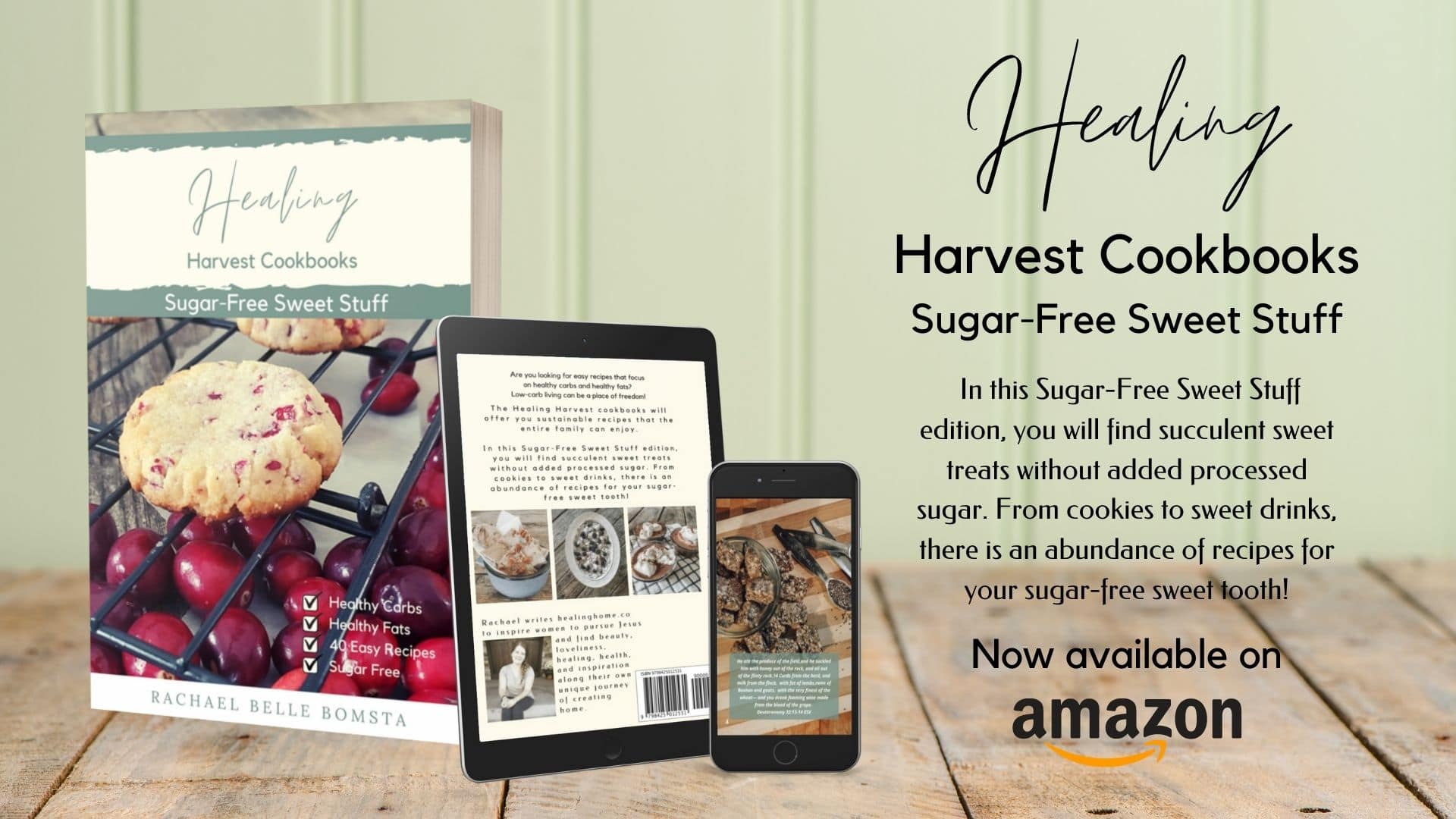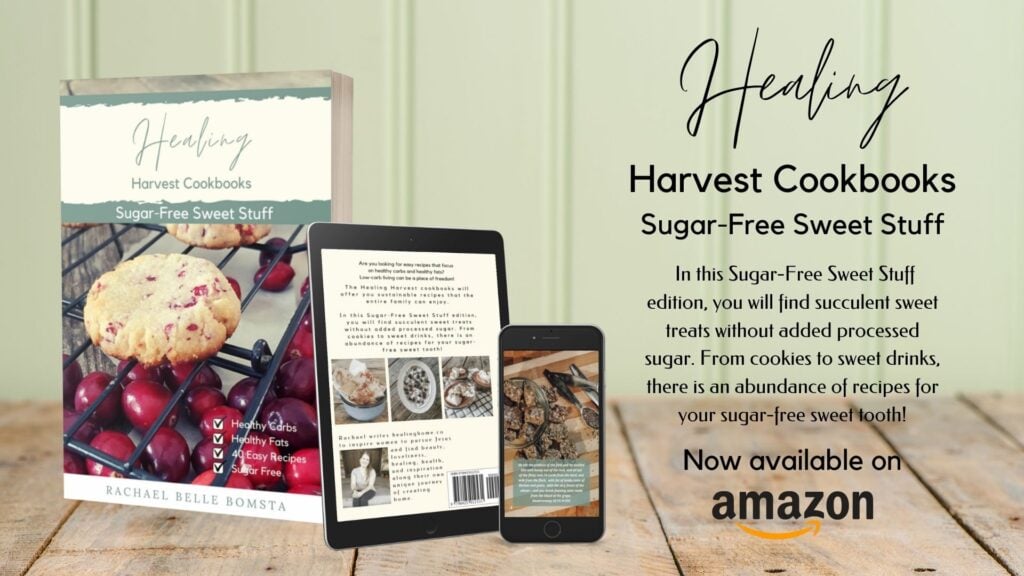 A Ground Cherry Pie that is Delicious and Sugar Free
Enjoy this sugar-free ground cherry pie! It is delicious and very rich. Make it in cute ramekins or bake it in a cooking pan.
Ingredients
1 ½ - 2 cups ground cherries
½ cup oat fiber
3 eggs
¼ tsp guar gum or xantham gum
⅛ tsp salt
6 tbsp butter
¼ - ½ cup stevia blend or Gentle Sweet
½ tsp vanilla extract
Instructions
Cut the stick of butter into small pieces.
Combine all the ingredients together except the ground cherries. Mix well.
Add the ground cherries and combine well together.
If using ramekins divide into three equal portions. Be sure to get approximately the same amount of butter in each container.
Or use a 9x9 baking dish.
Bake at 350 for 45 minutes.
The butter will make the pies look very watery, so let sit for 10 minutes prior to serving.
Is good both cold and hot.
Notes
If you like a sweeter and richer pie, use ½ cup stevia blend. ½ cup was way too rich for me, but I know some people like the sweetness!
Recommended Products
As an Amazon Associate and member of other affiliate programs, I earn from qualifying purchases.
Nutrition Information:
Yield:

4
Serving Size:

1
Amount Per Serving:
Calories:

306
Total Fat:

22g
Saturated Fat:

12g
Trans Fat:

1g
Unsaturated Fat:

8g
Cholesterol:

185mg
Sodium:

261mg
Carbohydrates:

27g
Fiber:

1g
Sugar:

1g
Protein:

8g
Online calculators are estimates only. Use your best judgemet when consuming.