Long ago I remember the lunch lady at my small-town school serving me hash browns. They were greasy, nasty, and delicious all at the same time! Do you remember those days too? You're my kind of lady, let's be friends! The days of indulging in those highly processed hash browns are gone. But something better has taken their place.
Introducing the Low Carb Hash Brown Casserole! Filled with yummy fats, delicious dairy, and hash brown-like texture!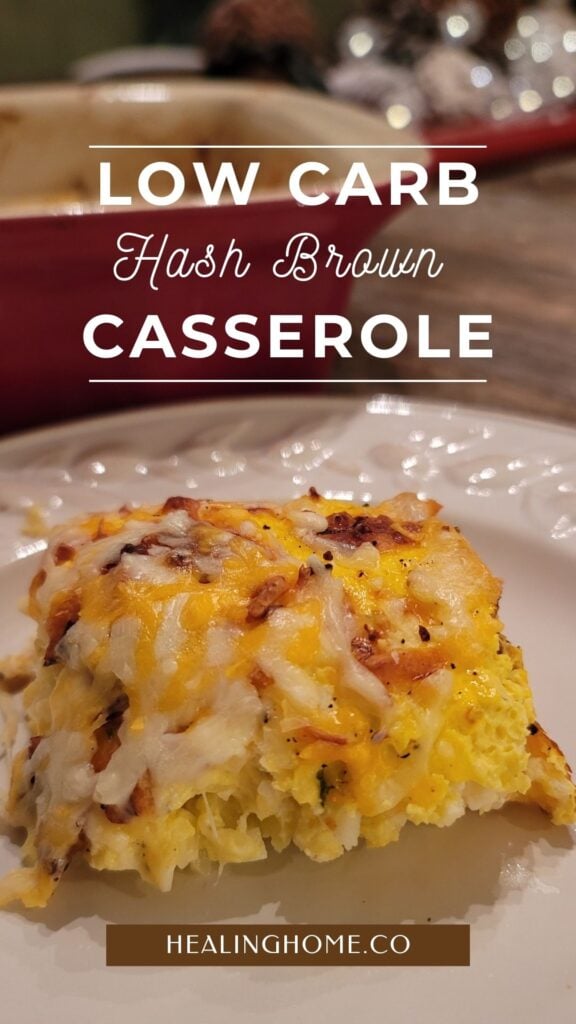 This page may contain affiliate links. To view my full affiliate link disclosure, click here.
Cheesy Hash Brown Casserole
Who doesn't love a cheesy hash brown casserole!? The combination of potatoes and cheese just sings with deliciousness. Yet those on THM know that the combination of carbs and fats can easily add some extra inches to our waistline if we are consistently eating heavy fats and heavy carbs together.
So how do we enjoy those delicious cheesy hash brown casseroles without all the extra heavy fats, carbs, and calories?
Gluten Free Hash Brown Casserole
For years I lived a gluten-free lifestyle and struggled to figure out which traditional food items were gluten-free, and which were not.
This casserole is 100% gluten-free because it uses the beautiful vegetable cauliflower to replicate the texture and taste of potatoes. The recipe uses riced cauliflower as a substitute, but if you would prefer a little more work for a much greater reward but can shred the ends of fresh cauliflower which gives this casserole a much more potato-like texture. I originally read this idea on Joy Filled Eats with her Cracker Barrel Hash Brown Casserole idea.
What brand of hash browns are gluten free?
There are a few hash browns that are naturally gluten-free. Ore-Ida and Simply Potatoes hash browns are gluten-free. But THMers don't get excited just yet because both of them contain a little-known ingredient called dextrose that spikes your blood sugar and isn't an ideal ingredient.
Occasionally I will add some potatoes (1 cup of freshly shredded potatoes) to this recipe to give it an even more potato flavor. However, if you choose to do that you will be in crossover mode. Keeping it as-is will leave you in S territory.
You can find other delicious veggie and low-carb recipes through my THM Starter Pack!
Cauliflower Hash Browns Recipe
There are many potato look-alike recipes that use cauliflower. We make mashed cauliflower quite a bit around here. I personally like using fresh cauliflower, but I know many enjoy using riced cauliflower instead. Another recipe with cauliflower that I can't live without is the Buffalo Cauliflower Dip. I love hot dip during the holiday seasons and the Buffalo Cauliflower Dip is one that I return to every single holiday season.
This cauliflower hash brown recipe just might be another one that I return to repeatedly during the holiday season. As a low-carb hash brown casserole, it is a great one to keep around when the off-plan treats start coming at you!
Another great look-alike recipe for Hash Browns is in the new Trim Healthy Future Cookbook, which will be available for order again soon! on page 90 there is an excellent recipe for Rad Has Brown Casseroles that uses radishes instead of cauliflower!
The Low Carb Hash Brown Casserole
It's time to dive into the actual recipe! As you may have guessed the main portion of this look-alike low-carb hash brown casserole is the cauliflower! You can use shredded cauliflower, but the recipe calls for rice cauliflower since it is the easiest!
As usual, I love recipes that you can throw all the ingredients into the same pan you are cooking in, us mama's got to keep our meals simple, simple, simple. To make this recipe you will literally throw everything into the same pan you are cooking in and bake away!
The Best Low Carb Hash Brown Casserole
Introducing the Low Carb Hash Brown Casserole! Filled with yummy fats, delicious dairy, and hash brown-like texture!
Ingredients
2 16 ounce bag of riced cauliflower
2 cups shredded cheese (divided)
1 cup mayonnaise
3 large eggs
1 tbsp parsley
1 tbsp nutritional yeast
Instructions
Pre-heat oven to 350 degrees.
Add the riced cauliflower, 1 cup shredded cheese, 1 cup mayonnaise, eggs, and parsley in an 8x8 baking dish.
Mix it all together.
Sprinkle the remaining cheese on top and then sprinkle the nutritional yeast on top as well.
Bake at 350 degrees for 20-25 minutes or until the top cheese is golden brown.
Recommended Products
As an Amazon Associate and member of other affiliate programs, I earn from qualifying purchases.
Nutrition Information:
Yield:

8
Serving Size:

1
Amount Per Serving:
Calories:

360
Total Fat:

32g
Saturated Fat:

9g
Trans Fat:

0g
Unsaturated Fat:

21g
Cholesterol:

109mg
Sodium:

421mg
Carbohydrates:

7g
Fiber:

3g
Sugar:

3g
Protein:

12g
Online nutritional calculators are only estimates. Please use your best judgement.