I will never turn back. Truthfully, I never will. Trim Healthy Mama for life! This lifestyle plan has changed my life and thousands like me! Are you ready to jump on what is trying to decide which Trim Healthy Mama book to buy? There are so many Trim Healthy Mama cookbooks out there, which one is the best? Let's dive into not only the cookbooks published by the THM books sisters but also some other helpful books published by fans and friends alike!
This page may contain affiliate links. To view my full affiliate link disclosure, click here.
How Does the Trim Healthy Mama Plan Work?
Whether you are an experienced THM mama looking for some alternative books, or a newbie, it is always nice to do a quick review of how the THM plan works.
There's a lot of science that goes into the THM plan but simply put, we anchor everything with protein and then choose to eat either a Fat Based meal or a Carb based meal. Trim Healthy Mama categorizes this as a Satisfying meal (S-Meal) for fat-based or an Energizing Meal (E-Meal) for carb-based. Based on this our body can burn through these fuels more simply and then burn off body fat as a result.
Is Trim Healthy Mama low carb?
This is one of the most misleading questions that I get about Trim Healthy Mama. In a sense, THM is low carb, but it also embraces carbs! Carbohydrates and fats are eaten in a way that supports the body's ability to digest and use them in optimal ways.
You will notice that in many Trim Healthy Mama cookbooks that there is a balance between healthy carb recipes and healthy fat recipes.
How do I Follow Trim Healthy Mama Diet?
I was tempted to say, "just start!" But I know it's not that easy. I sat on the sidelines watching others rock the Trim Healthy Mama plan for many years before I started my own journey.
So, what helped start the plan?
I bought the book. That was step one. Learning the plan is fundamental to starting the plan. Trim Healthy Mama quick starts, like this one, can be helpful, but the best and richest information is found from the authors of the plan.
Originally, I bought the 'big book. The original Trim Healthy Mama book is wordy but filled to the brim with valuable information 'big' book. I learned so much from this book, but honestly, would not recommend it to a new THM newbie. The sisters have stopped printing it, so it will be gradually disappearing from stores.
The only time I would recommend purchasing or getting the original book is if you don't mind rabbit trail reading, in-depth information regarding all parts of the Trim Healthy Mama lifestyle, and fun bantering between sisters.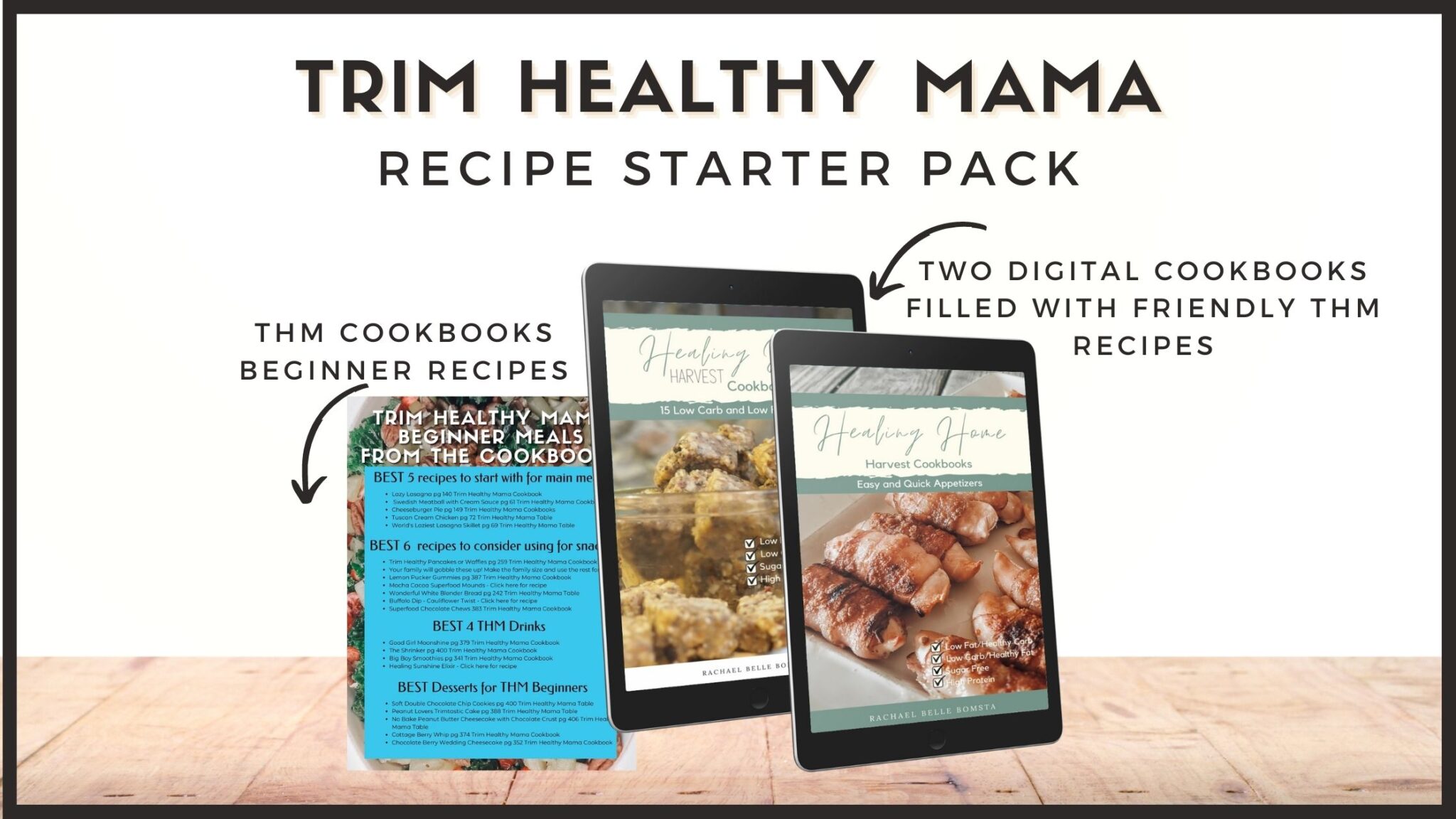 Is There a Trim Healthy Mama App?
Another resource to consider if you are new to the plan or looking for more THM books and resources is the THM Food Analyzer App. This handy app will guide you in what foods are fat-based, carb-based, or fuel pull-based. It also has many of THM's most popular resources like the sweetener conversion chart or their popular Workins digital workout! I love their minimal impact and amazingly fast workouts. My toddler has even joined me a time or two because the sisters are so engaging and silly!
Trim Healthy Mama Journey App
The Trim Healthy Mama Journey App is here, and it came out with quite the bang! Like any new app, it came with some glitches. Overall, the app's mission and value are easily seen, and I would highly recommend replacing any other food tracking app with one specifically designed for your Trim Healthy Mama journey. The glitches are worth it!
Which THM Book Should I Buy?
I've held you in suspense for too long! Let's get down to business.
Which Trim Healthy Mama cookbooks should I buy?
There are two types of cookbooks that I have found helpful over my years of doing Trim Healthy Mama. The first are those written specifically by the Trim Healthy Mama authors, and the second are those written by those that follow a Trim Healthy Mama lifestyle.
Trim Healthy Mama is a copyrighted name and business, so those written not by the original authors often create their recopies as 'Fat Based' or 'Carb Based' or a similar version to distinguish between the trademarked THM "S-Meal' or 'E-Meal.' It might seem a little complicated at first, but once you understand the plan, it will make perfect sense.
Start with the books written by the authors, and once you have a firm understanding of the plan, you can branch-off to include many of these other THM books and Trim Healthy Mama Cookbooks that I'm going to list below.
Start with the THM Books. Know the plan inward and outward and how to tweak it for your lifestyle! Let's go over my favorite parts of each book.
Out of the 5 available, this is the book I would recommend the least.
Advantages
The book has so much information! It's both a drawback and an advantage. I'm thankful that I read this one first, but it was a considerable time commitment to process the information.
You will understand the beginnings of this plan. For those that are THM fangirls, this is a fun read!
Drawbacks
The book is too long. As in, 642 pages long!
Lots of rabbit trails.
Too much information.
There are not recipe pictures.
If you are new to the THM books, this is the one I would recommend starting with to learn the plan. It is so well laid out and wonderfully summarizes the best parts of the Trim Healthy Mama lifestyle.
Advantages
This plan book is exceptionally well laid out. The information is simple and easy to understand.
Macro numbers are included for those that find them helpful.
Drawbacks
There are no recipes in this book. It is meant to be read solely for the plan.
This is the companion cookbook to the plan book. They were released at the same time. I remember the THM community going crazy for both books. The Facebook groups will be filled with THMers trying the new recipes and loving them! It was a home run!
Advantages
There are plenty of dairy-free recipes.
Many no special ingredient recipes. So, most of them can be cooked and made just by taking a trip to the grocery store.
A list of special ingredient items is listed and explained in detail.
Includes beautiful pictures.
Drawbacks
There is no explanation of how the plan works in introductory chapter.
I'm going to give away the big reveal. This is the book I recommend the most. For those getting started with THM books and the THM lifestyle, this one climbs to the top in a heartbeat. The Trim Healthy Mama Table cookbook soars above the rest in quality and a simple explanation of the plan.
Advantages
A full explanation of how the plan works.
Detailed list of special ingredients and why and how to use them.
A quick NSI solution to replace the flour blend

(Baking Blend)

that so many of the baking recipes include.
At the end of every recipe that includes a special ingredient, they have included a way to replace it with a NSI (no special ingredient).
Many fast recipes for busy moms.
Many gluten free recipes.
Drawbacks
I have never heard any drawbacks to purchasing this cookbook. It is beautifully done.
Trim Healthy Future Cookbook
Trim Healthy Future was one of the craziest book launches that I've ever seen! The THM ladies not only crashed the trimhealthymama.com when the book launched, but they kept doing it for days after, trying to get their hands on this newest cookbook. It was quite the thing to behold!
Unlike the other three Trim Healthy Mama Cookbooks, Trim Healthy Future was written primarily by Rashida who is Serene and Pearl's niece.
Drawbacks
Although this book really has captured my attention and my love of all things THM, I still would not primarily recommend it to a beginner. The summary chapter is super quick and does not give enough detail to be of any help to a beginner. In addition to all the other typical 'odd' ingredients that THM uses in their recipes, this cookbook is also going to include citric acid, pectin, and natural food colorings.
Advantages
However, if you have a grasp of the concepts of THM, you might LOVE this book. It is packed with recipes that are more friendly to fast-paced family life. I am particularly fond of the all-day sipper recipes found at the beginning of the book. Rashida rocks that section.
There seems to be a fresh perspective on THM recipes with this book and it is exciting for those that have lived the THM lifestyle for some time now.
Other Helpful Cookbooks
If you are looking to branch out from the THM books, here are some considerations. These are not specifically a Trim Healthy Mama book, but they are cookbooks that you can use alongside the plan. I recommend these for those THM ladies who need a little refreshment to the plan. Innovative ideas can spur us on to better success!
---
Looking for healthy snacks on your THM journey? Can I tell you about my absolute favorite go-to snack for when I'm on the go? It's CHOMPS! These are free from GMOs, gluten, soy, dairy, added sugar, added nitrates, MSG, artificial preservatives, coloring, or artificial sweeteners. Goodness, that was a mouthful, but it all goes to prove that these little snacks are a dynamite option for any THMer! Get all the CHOMPS flavors here!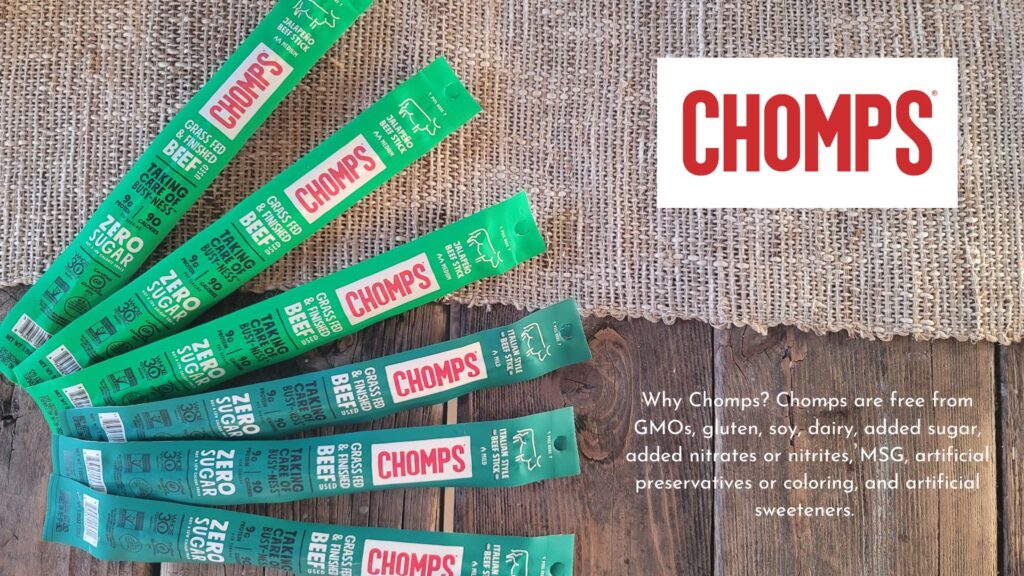 This book by Brianna Thomas follows the THM lifestyle. As the THM S, E, and FP, and Crossover phrases are trademarked by Trim Healthy Mama, Brianna Thomas categorizes her recipes as follows.
Healthy Fats
Foundational Fats
Healthy Carbs
Low Carb/Low Fat
Healthy Carbs & Healthy Fats
Brianna is famous in the Trim Healthy Mama book community for her ice cream recipes. They are fantastic and won't disappoint!
This is the sequel to Brianna Thomas' first book, and of course, it has more ice cream recipes! I don't know how she makes so many of them! Noteworthy is that she is married in this second cookbook, so her recipes mark a maturation in cooking for a family.
This cookbook is from Mennonite ladies across North America. These recipes are rooted in the Trim Healthy Mama philosophy and are simple and easy to follow. How they are categorized was a little confusing to me at first, but when you start reading and using the recipes, it certainly is not a deal-breaker.
I recommend this book if you need a few more ideas in your THM kitchen or are feeling a season of 'THM' burnout. These recipes are great to refresh and recharge your THM passion.
There are over 500 recipes in this book that are low glycemic and helpful for the THM lifestyle. The above book and this one are compiled through a ministry called ByGrace Ministry. They can both be ordered in the ByGrace ministry store as well as on Amazon.
If you are looking to get started on making sourdough, this book has many to get you rolling.
Another cookbook that is not endorsed by Trim Healthy Mama but is filled with recipes that effortlessly can be used with the Trim Healthy Mama lifestyle and added to your THM books collection.
It includes many recipes but also contains information about fighting certain diseases with healthy food. Diseases and struggles such as Multiple Chemical Sensitivities, allergies, Leaky Gut, psoriasis, eczema, adrenal fatigue, low blood pressure, and Hashimoto's thyroid disease.
Joy-filled eats has been on this blog for a couple of roundup posts. This Christmas roundup post specifically comes to mind! Her buttery walnut toffee is delicious! Taryn also has four cookbooks out! She advertises them as Keto, but you certainly can use them with the THM lifestyle. I am impressed by these recipes, she does such a good just creating easy and scrumptious recipes that everyone can enjoy.
This last cookbook is in no way affiliated with the THM books or lifestyle. I only recommend this cookbook when you have a firm enough understanding of the plan to recognize and identifying if you are eating a fat-based, carb-based, low carb/low fat. or healthy carb/healthy fat snack or meal. Julie Morris' recipes are of the purest nature, packed with superfoods, and often low glycemic. She often uses stevia in her recipes. They are friendly to THM, but again, they are not specific to THM, so they need to be scrutinized.
I have used this book to expand my snack ideas and to grow my knowledge of superfoods and how they apply to my unique season of life.
A great addition to your cookbook library!
Yes, I just couldn't pass up the opportunity to squeeze my cookbooks in here. I have loved putting these cookbooks together and I hope that they are enjoyable for others to use as well.
Here are all the free and paid cookbook options from the Healing Harves Cookbook series!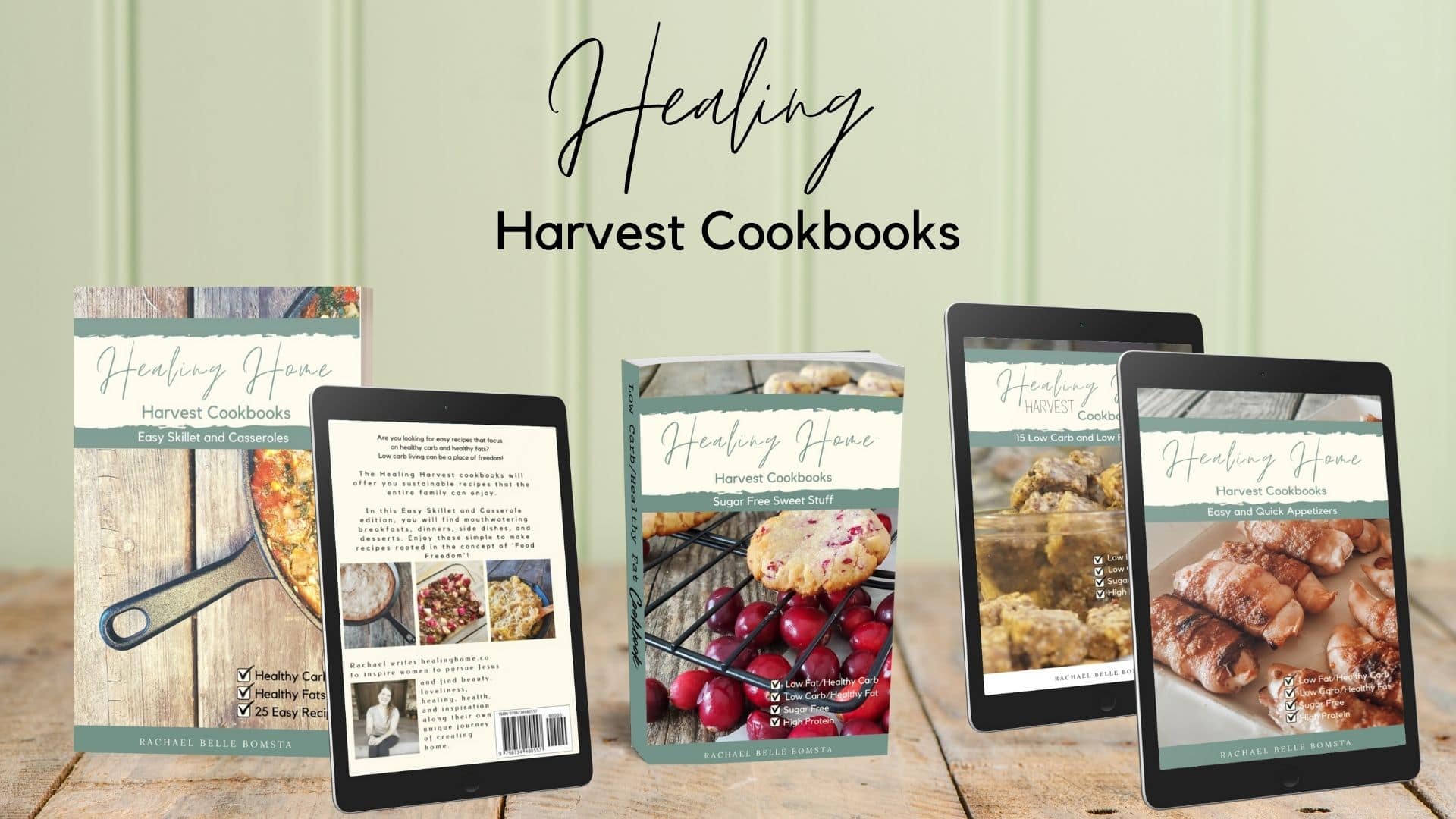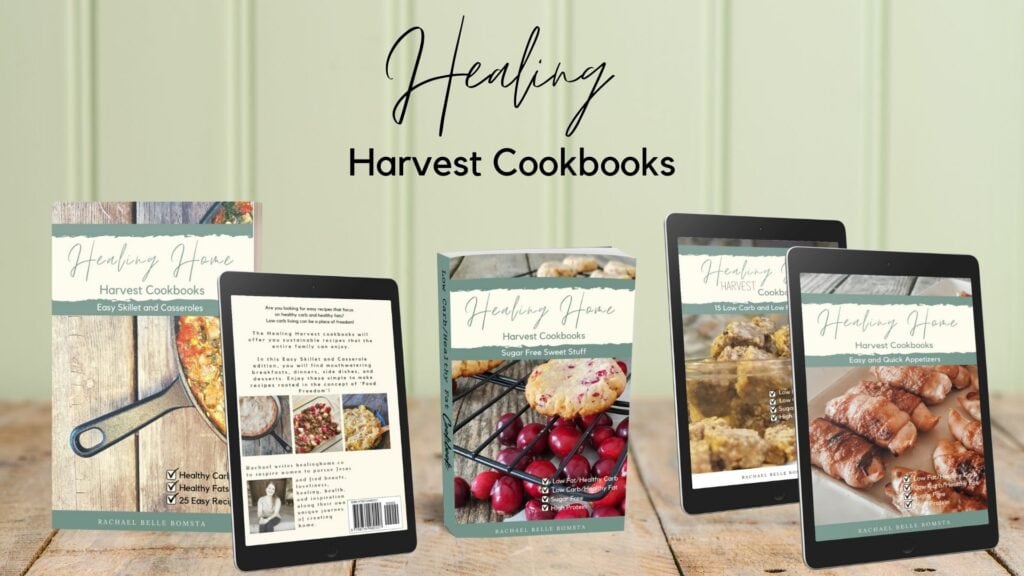 THM Books
I'd love to hear which THM books you decided to purchase? Were they helpful? How is your THM lifestyle going!?
In summary, I believe the Trim Healthy Table cookbook is the best book to grab if you are starting your THM journey. It includes a great summary of how the plan works, but also amazing recipes to try.
If you are looking for another Trim Healthy Mama book, you can consider some of the alternative cookbooks mentioned above. None of them are endorsed by THM, but they can easily be used to aid you in your Trim Healthy Mama lifestyle.