My pregnancy cravings are getting weird. One day I love chicken, the next day it makes me gag. One day I can't eat cheese, the next day I want an entire block. So what's a girl to do when she needs some healthy rotisserie skillet recipes and there is not a Trim Healthy Mama rotisserie chicken skillet recipe out there that look good? A mama makes one!
There are many great Trim Healthy Mama chicken recipes out there, but not that many rotisserie recipes. I will link some additional Trim Healthy Mama chicken recipes at the end of this post.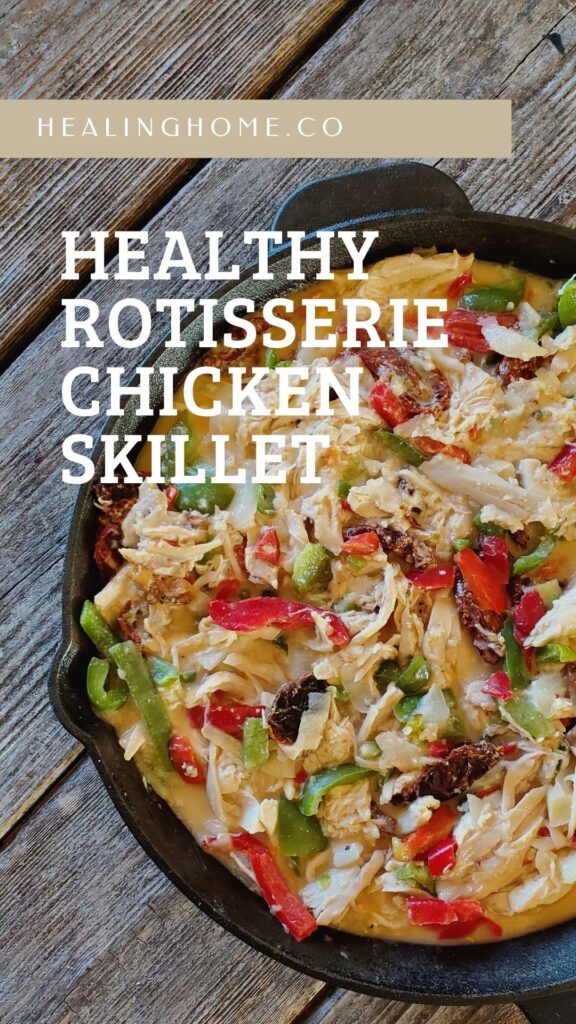 This page may contain affiliate links. To view my full affiliate link disclosure, click here.
A Rotisserie Chicken Skillet

Pregnancy is just plain and simply weird!

Last week I was in a phase of chicken being disgusting to me, but as I grocery shopped the smell of the rotisserie chicken kept bringing me back to the deli section. Apparently, the thought of chicken made me want to gag, but the smell of rotisserie chicken was delicious.

I give up. Pregnancy is so strange.

So, we purchased a rotisserie chicken for dinner. Yet when I got home, I had little desire to only eat the chicken. I suddenly wanted it in something. It was time to find some healthy rotisserie chicken recipes.

Like I said, pregnancy is weird. I've had to make so many adjustments to my Trim Healthy Mama journey during this pregnancy. But maintaining a THM lifestyle during pregnancy can be done! Using a food freedom tracker like the one below has also really helped me keep track of all the tasty food I'm consuming during this pregnancy.
Is Rotisserie Chicken from the Grocery Store Healthy?
Good news for all those wondering about this out there, it is not too bad! The biggest problem is the amount of sodium most rotisserie chickens have. But if you're not eating them every week, you will be okay for a meal or two! Doing a rotisserie chicken skillet like this is a healthier way to eat rotisserie chicken because you will be pairing it with healthy greens and veggies!
You can sub rotisserie chicken in many of the Trim Healthy Mama chicken recipes that are out there. One of the wonderful things about rotisserie chicken is that it is quite juicy, so it makes many of those Trim Healthy Mama chicken recipes very succulent!
Is Rotisserie Chicken Good for Weight Loss?
The answer to this is yes and no.
Rotisserie chicken can be used for weight loss if paired with the correct other foods. For example, if you pair rotisserie chicken with a bunch of fats and carbohydrates together, and top that meal off with a sugary dessert, that rotisserie chicken is probably not going to do you any favors.
However, if you take the rotisserie chicken and pair it with healthy and healing fats or carbohydrates, lots of veggies, and a biotically sweetened dessert, you just might be on a good weight loss journey.
What can I use Rotisserie Chicken for?
There are so many recipes to try with a rotisserie chicken! One of the reasons I truly love picking one of these guys up during the week is because all my chicken is already made. There are many healthy rotisserie chicken recipes out there. Try it in a soup, in a skillet, in a casserole , or anything else you brain can come up with!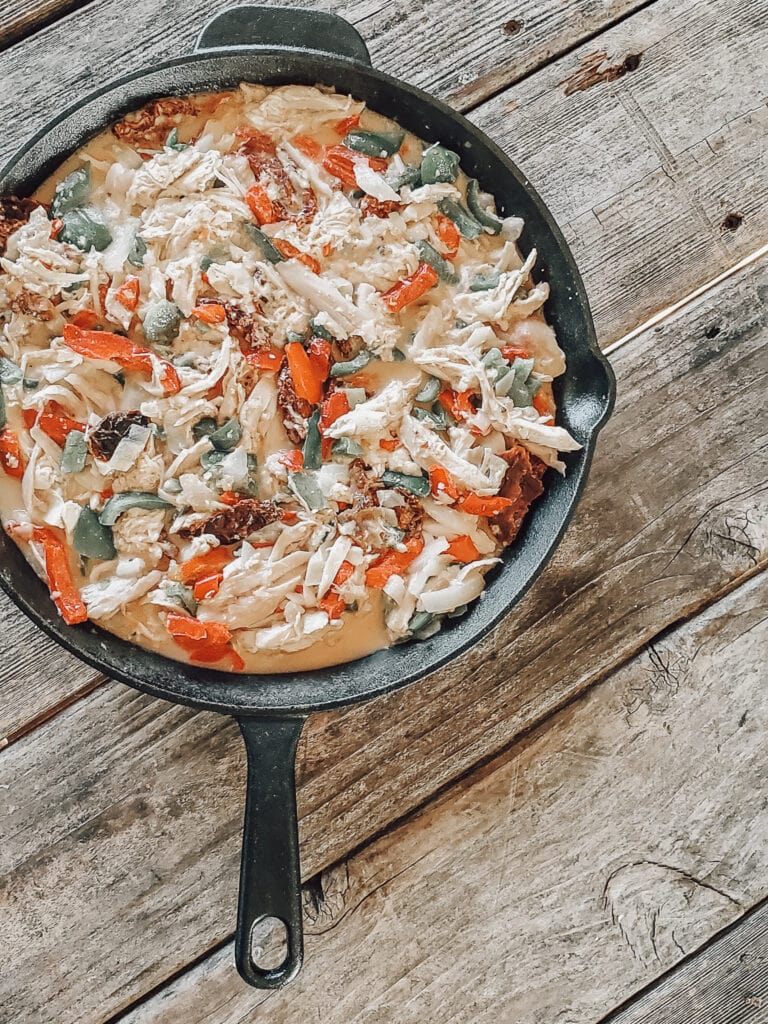 Healthy Rotisserie Skillet Recipes

My Trim Healthy Mama experimenting came out full-fledged and my kitchen was dissolved into a giant mess of experiments. I needed some healthy rotisserie chicken recipes. The end results? Sweet pregnancy cravings! It was so good! I know it was good because my one-year-old ate his whole plate and I had to resist not eating the entire skillet.
The official rotisserie chicken skillet recipe calls for bone broth or chicken broth, but you can also use ¾ cup almond milk to make it even more creamy!

So next time you are at a grocery store, pick up one of those bad boys. It is so scrumptious!
Other Trim Heathy Mama Chicken Recipes
There are many other Trim Healthy Mama chicken recipes out there! Try this Enchilada skillet from Nana's Little Kitchen next time you need a rotisserie chicken skillet!
Or if you are looking for a great S recipe, this Asian Fettuccine from Briana Thomas is certainly a keeper!
And without a doubt, this E meal from Wonderfully Made and Dearly Loved, will please the entire family! What is not to love about pineapple chicken!
---
Note: This recipe uses Glucomannan as a thickener. Please don't let that turn you off! It is a fascinating plant extract and can be used in so many recipes. A single jar lasts me over a yearlong and for that price tag, it is one of the least expensive health foods you will probably have in your pantry. It also is said that glucomannan can be wonderful for weight loss support.
---
Healthy Rotisserie Chicken Skillet
Need some healthy rotisserie chicken skillet? This one is your ticket to a healthy and delicious skillet made with delicious rotisserie chicken.
Ingredients
1 whole rotisserie chicken cut up into bit sized pieces
4 tbsp butter
1 cup grated Parmesan cheese (green can okay)
1 cup bone or chicken broth
2 cups frozen pepper and onion mix
3 ounces sun dried tomatoes
½ tsp glucomannan (for thickening)
Instructions
Cut up and remove the chicken p portion of the rotisserie chicken. Place in a skillet with 4 tbsp of butter. Let the butter melt.
Add chicken or bone broth and mix in.
Add the frozen pepper mix, sun-dried tomatoes, and grated Parmesan cheese. Let everything mix.
Cook on medium heat until a simmer has been reached.
Move all ingredients to one side of the pan and let the broth pool up. Using a whisk quickly stir in the glucomannan. Let it sit until it thickens and then mix everything back together.
Notes
I have also substituted ¾ cup unsweetened almond milk for the chicken broth, and it adds another layer of creaminess!
Nutrition Information:
Yield:

6
Serving Size:

1
Amount Per Serving:
Calories:

359
Total Fat:

18g
Saturated Fat:

9g
Trans Fat:

1g
Unsaturated Fat:

7g
Cholesterol:

83mg
Sodium:

711mg
Carbohydrates:

33g
Fiber:

10g
Sugar:

6g
Protein:

24g
Online calculators are only estimates. Please use your best judgement when consuming.