We are about to talk about my favorite all-time Christmas cookie. If these Keto Snowball Cookies were not spectacular, I wouldn't give them a second glance. If I'm going to trimtastic my favorite Christmas cookie, it must be spot on, and if I do say so myself, these are spot on.
They are buttery, oh so buttery. They are dry without being crumbly. The pecans just sing out with a crunch and a zing that will make your taste buds do wacky things. There is a secret to those candied pecans that you see in there. Read on because I'll share my top secret eventually. And if you stick these bad boys in the refrigerator overnight...there's no turning back, you may never be able to stop eating these until they are gone.
Trust me these are about ready to change your life.
This page may contain affiliate links. To view my full affiliate link disclosure, click here.
What are Snowball Cookies?
You may call them Snowball Cookies, Russian Tea Cakes, Butterballs, or Mexican Wedding Cakes, but they are all the same. This bite-sized delicate shortbread is filled with nuts or chocolate. They are usually buttery, a bit dry, but melt in your mouth good.
Jump to:
What Consists of a Snowball Cookie?
Traditionally these classic cookies contain 5 ingredients.
Butter
Powdered Sugar
Vanilla
Salt
Flour
So why mess with something that is classically good? Well, you have figured it out by now. The sugar and flour make it 100% off plan for the keto or Trim Healthy Mama lifestyle. Christmas cookies in general tend to spike our blood sugar to extraordinary measures. So, we stay away from typical holiday treats.
By no means does this mean we are deprived! These Keto Snowball Cookies are proof! There are hundreds of Trim Healthy Mama content creators out there that daily are jumping over all sorts of culinary hurdles to make delicious trimtastic treats that will satisfy our sweet tooth cravings. Just look at these 12-holiday recipe roundups from some of my favorite THM bloggers!
If you would like more sugar-free and low-carb recipes, you can download my Free Healing Harvest Cookbook. This little cookbook is packed with fifteen friendly recipes for the entire family!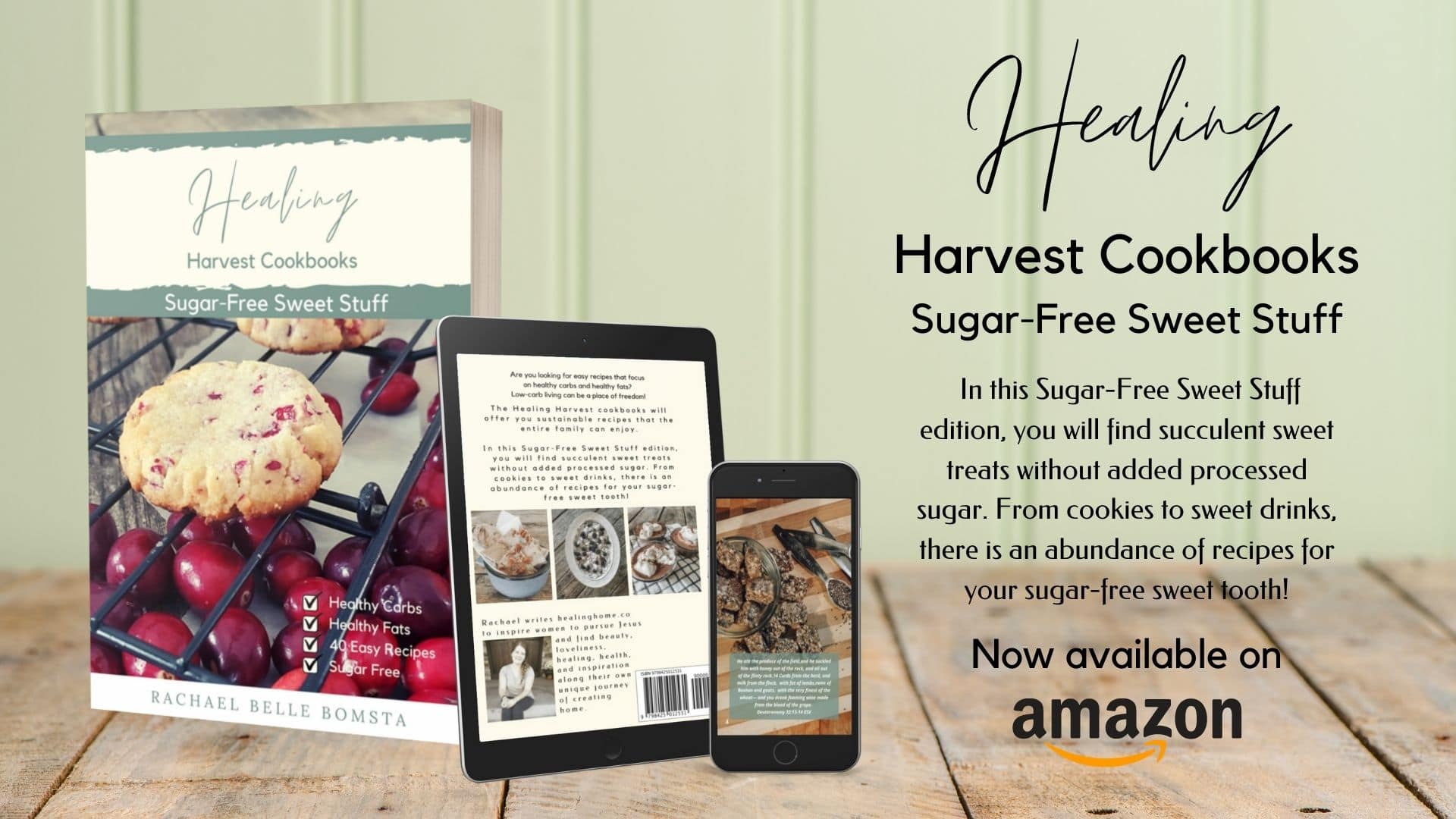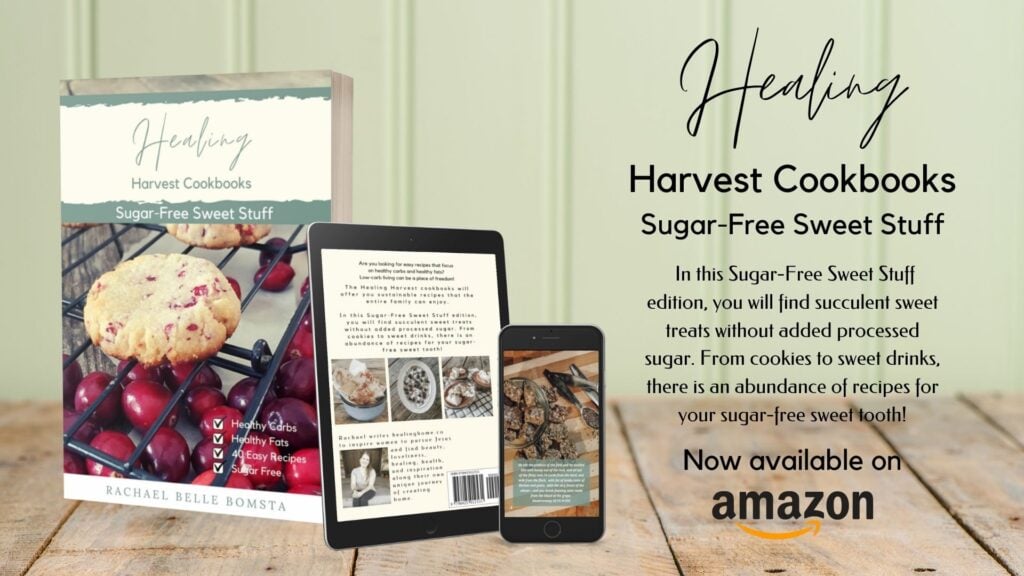 How do you make a Trimtastic Snowball Cookie?
Remember the listed ingredients above? We are going to tweak the ingredients just a little to come up with Keto Snowball Cookies that will satisfy Snowball Cookie craving, but also not spike our blood sugar.
Instead of sugar, we will be using "Gentle Sweet" by Trim Healthy Mama.
Instead of traditional flour, we will be using a combination of almond flour, and oat fiber.
Almond flour is the best substitute that I have found to give you the flavor of shortbread, however, it is one of the most calorie-dense substitute flours. Don't let that deter you from making these delicious round joy balls, just take note in your Trim Healthy Mama head that these are not the lightest cookie out there.
The pleasant thing about these cookies is that there is not a lot of extra work that will go into them. They are going to whisk the dry ingredients, mix the wet, and combine the type of recipe. I even got super lazy with sprinkling the extra gentle sweet over top and just threw the baked and cooled cookies in the Gentle Sweet bag and rolled them around a little bit. Would this be considered a Trim Healthy Mama hack?
Ingredients
Almond flour
Oat fiber
Gentle Sweet
Softened butter
Egg
Butter extract
Baking powder
Vanilla - try my homemade vanilla recipe!
"R's Candied Pecans"
Optional Extra Gentle Sweet to powder balls with
The only thing that might take an extra step is those secret pecans, so lets cover that next.
The Candied Pecans
Not too long ago Trim Healthy Mama released its brand-new cookbook called Trim Healthy Future. THM sisters flocked to the website to be the first in line to catch this new cookbook, and we crashed the website multiple times! That just goes to show you how GOOD these recipes are.
I was one of the crashers and I've enjoyed making many of the recipes included in the new cookbook. One of my favorites has been the recipe on page 308 called, "R's Candied Pecans." Regular pecans will work simply fine in this recipe but trust me you will not want to after you taste the difference using this recipe makes!
The candy-like coating just changes the entire taste of the Keto Snowball Cookies! Try it if you have the cookbook, it will change the entire taste profile.
If you do not have the Trim Healthy Future cookbook, you can also use the THM Candied Pecans recipe from the 2017 Ezine.
FAQs
Why are my cookies falling apart?
The top reason for Keto Snowball Cookies to fall apart is the amount of moisture used. Almond flour is a very absorbent flour, so it takes the full stick of butter for these guys to stick together. When you mix the dry and wet ingredients together, it should form a sticky ball (but not stick to your hands sticky). The smaller balls should be easy to form and not fall apart.
If your dough does not do this, try adding 1 tbsp of extra butter to the mix.
Are Snowball Cookies Freezer Friendly?
Yes! These cookies work great in the freezer for up to two weeks, but if you are not planning on keeping them for too long, I would recommend the refrigerator instead. The freezer is a little harsh and they honestly will retain their consistency better in the refrigerator.
The Best Christmas Cookies!
These are honestly my new favorite Christmas or holiday cookie! They are about spot on to the classic cookie I remember from my childhood. They fall apart in your mouth, but not in your hands. The Gentle Sweet coating comes awfully close to the powder sugar I remember, and the buttery goodness makes you feel like you are eating a very, very, very naughty cookie!
They are trimtastically good! No naughtiness allowed.
If you try these, catch me over on Instagram and let me know how they turned out!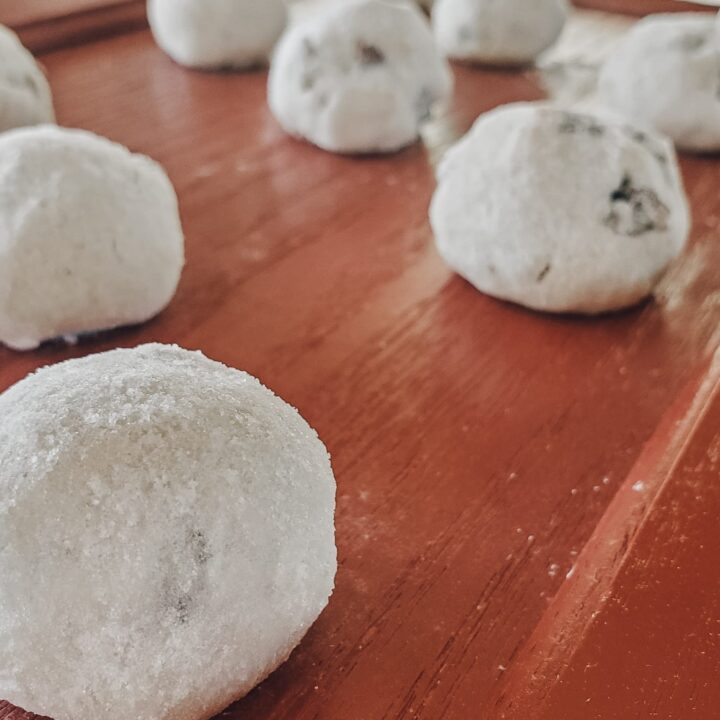 Keto Snowball Cookies (THM-S)
Additional Time:
10 minutes
We are about to talk about my favorite all-time Christmas cookie, so listen up because if these Keto Snowball Cookies were not spectacular, I wouldn't give them a second glance. If I'm going to trimtastic my favorite Christmas cookie, it must be spot on, and if I do say so myself, these are spot on.
Ingredients
1 cup almond flour
½ cup oat fiber
⅓ cup gentle sweet
1 stick softened butter
1 egg
1 tsp butter extract
1 tsp baking powder
½ tsp vanilla
¼-1/3 cup crushed "R's Candied Pecans"
Optional Extra Gentle Sweet to powder balls with
Instructions
Pre-heat oven to 425 degrees. Grease 2 baking pans well.
Mix the almond flour, oat fiber, Gentle Sweet, and baking powder together with a whisk.
Add the wet ingredients in a separate bowl and mix together.
Add the crushed pecans to the dry ingredients and then mix the wet and dry together.
Roll balls into 1 inch balls and place onto pans.
Bake for 5-8 minutes until the tops are just barely browning.
Let cool for 10 minutes before coating with additional Gentle Sweet
This taste best refrigerated.
Recommended Products
As an Amazon Associate and member of other affiliate programs, I earn from qualifying purchases.
Nutrition Information:
Yield:

24
Serving Size:

1
Amount Per Serving:
Calories:

83
Total Fat:

8g
Saturated Fat:

3g
Trans Fat:

0g
Unsaturated Fat:

4g
Cholesterol:

18mg
Sodium:

61mg
Carbohydrates:

3g
Fiber:

1g
Sugar:

1g
Protein:

2g
Online nutritional calculators are not 100% accurate. They are meant to guide you instead of being a perfect resource. Please use your best judgement when consuming.