So, what makes it the best chia pudding? It's the baobab! Plain and simple. Baobab is an immune-boosting, vitamin C-driven, antioxidant champion. The monk fruit makes it a sugar-free chia pudding, and the beet crystals give it a beautiful pink color.
It is without trouble the best-tasting and best-looking chia pudding I have ever seen. Grab it for a snack, breakfast, or even a simple quick meal. Protein-rich, Trim Healthy Mama friendly, and keto-friendly, this one is sure to make it into your regular rotation of chia puddings.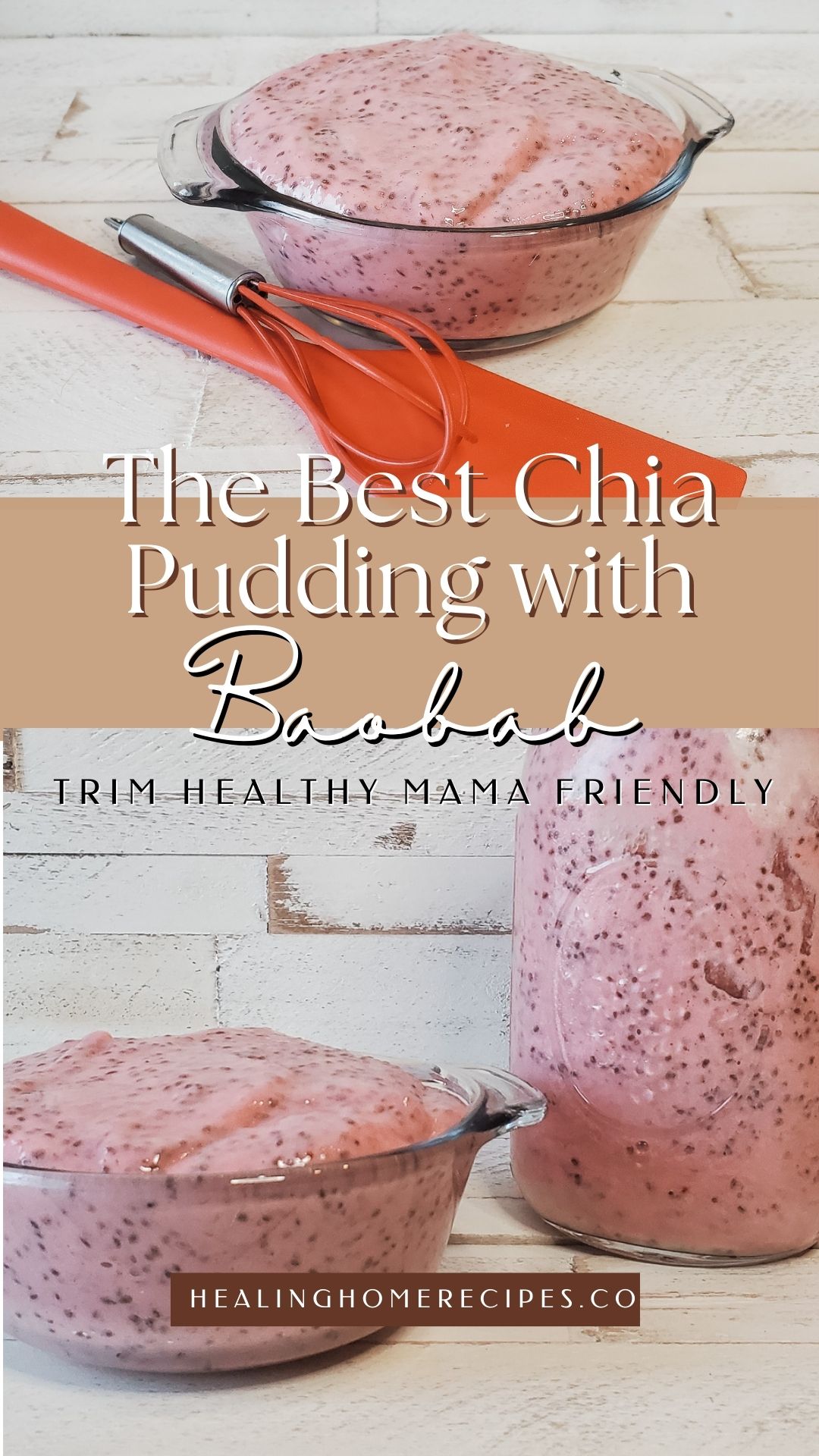 This page may contain affiliate links. To view my full affiliate link disclosure, click here.
Jump to:
Chia seed pudding can absolutely be good for you. Chia seeds are a superfood marvel. They are tiny seed that packs a huge punch! A couple of the powerhouse items of chia seeds are their omega-3 fatty acids, antioxidants, fiber, and iron. An ounce of chia seeds also includes about 5.5 grams of protein.
For those that have egg allergies, chia seeds can replace eggs! I've successfully used chia seeds to replace eggs, but it usually is not my favorite way to substitute eggs because of their 'seed' texture.
To verify these points, you can visit the US Food Data Central which has a wealth of knowledge on foods and their nutritional value.
I like to tell people that no one food is going to solve their weight problem. But turning to healthy alternatives is a key factor in living a healthy lifestyle. Using chia pudding during a weight loss season is a great addition!
Chia seeds contain 5 grams of fiber per tablespoon and fiber is important in weight loss and digestion. The chia seed also can help you feel fuller faster and longer because of the amount of water it absorbs. Those little seeds absorb 10x their weight in water! Isn't that incredible? God has created some amazing foods and I would count chia seeds as one of them.
Benefits of Chai Seeds
We've already covered many of the benefits of chia seeds. They are high in fiber, antioxidants, and protein, and can aid in weight loss and digestion. They are the King of what makes this the best chia pudding. But the queen's role is still vying for position between two other powerhouse ingredients.
Sugar-Free Benefits
I typically enjoy using my Gentle Sweet from Trim Healthy Mama to sweeten up my sugar-free treats. Snacks like my stevia Jello really flavor well with Gentle Sweet. However, sometimes it's nice to go off the beaten path and try something else. So, for this sugar-free chia pudding recipe, I am using Lakanto Monk Fruit. Monk fruit still ranks exceptionally low on the glycemic index and therefore is easy on blood sugar. Therefore, it is a stellar product for weight loss and weight maintenance.
Benefits of Baobab
Baobab is probably the one ingredient that sets this chia pudding apart from the rest. It is what makes it the best chia pudding that I have ever tasted. Baobab has the highest levels of antioxidants of any plant on the planet. Yep, you read that right! It has eight times the number of antioxidants than the well-known Acai berry!
It is filled with vitamin C and iron! We need vitamin C to absorb iron, and we need iron to absorb vitamin C. This plant has both, so you get absorption power with baobab. And here is something radical, it has 6x the amount of potassium than in a banana!
Another thing that I have found utterly amazing is that there is very minimum processing with baobab. Unlike other superfood powders that have to be dried and then ground, the baobab fruit dries on the tree! So it literally just needs to be picked and ground. No other processing is needed.
Ingredients
If I have not convinced you to try this best chia pudding yet, I'm not sure what else to say! Oh wait, it also has just a slight number of beets included in this powerhouse recipe. There are all different types of beet powder, this is the one that I use.
The flavors, texture, and nutritional benefits make this the best chia pudding I have ever had!
Unsweetened almond milk
Heavy whipping cream
Collagen
Beetroot powder (for coloring)
Instructions
Add all the ingredients except the chia seeds and xanthan gum together in a mason jar or bowl. Using an immersion hand blender, combine all the ingredients.
Add the chia seeds and mix.
Sprinkle the xanthan gum on top and mix once more. Place into the refrigerator overnight or at least 4 hours.
Substitutions
You can substitute a lot of ingredients in this recipe and still get a good result.
Gentle Sweet - Replace Monk fruit with Gentle Sweet. You will use roughly half Gentle Sweet to Lankanto Monk fruit.
Gelatin - Replace Xantham gum with gelatin. You will need 2 parts gelatin for every part of xanthan gum.
Equipment
I like to use an immersion blender for this recipe because it makes it a bit quicker and easier to manage and clean up. However, a blender or food processor will work as well.
Measuring cups
Measuring spoons
Mason jar or container
Mason jar lid (if using)
FAQ
How do you thicken chia pudding?
There are many ways to thicken sugar-free chia pudding, but this recipe seems to work best with xanthan gum. Some recipes rely completely on almond milk and chia seeds to thicken the mixture. Others use glucomannan, gelatin, or xanthan gum! It really depends on the texture and variety you are going for.
In this case, the xanthan gum aids the chia seeds and almond milk in creating a very thick pudding. You can eliminate the xanthan gum completely, but you will have a much thinner consistency. It still will be yummy though!
Why did my pudding not set?
If you are not using a thickener, you will want to make sure the ingredients are mixed well together, and the chia pudding has ample time to set in the refrigerator. If your chia pudding did not sit well, consider adding a little less liquid or adding a slight amount of xanthan gum to make the pudding set a bit firmer.
Related
If you have enjoyed this healing and healthy recipe, I would love for you to peruse this website more! Grab some of the other healthy recipes or download your free Healing Harvest Cookbook and recipe starter pack!
The Best Chia Pudding with Baobab
The best chia pudding is here! What makes it the best? Packed with chia seeds, monk fruit, and baobab, this immune system pudding boost is sure to be added to your chia pudding rotation!
Ingredients
3 cups unsweetened almond milk
¼ cup heavy whipping cream
6 tbsp chia seeds
3 tbsp baobab
3 tbsp monk fruit
1 tbsp collagen
¼ cup whey protein
1 tsp xanthan gum
Optional ¼ tsp beet root powder (for coloring)
Instructions
Add all the ingredients except the chia seeds and xanthan gum together in a mason jar or bowl.
Using an immersion hand blender, combine all the ingredients
Alternatively, everything can be mixed in a food processor or blender.
Add the chia seeds and mix.
Sprinkle the xanthan gum on top and mix once more.
Place into the refrigerator overnight or at least 4 hours.
Recommended Products
As an Amazon Associate and member of other affiliate programs, I earn from qualifying purchases.
Nutrition Information:
Yield:

4
Serving Size:

1
Amount Per Serving:
Calories:

195
Total Fat:

13g
Saturated Fat:

4g
Trans Fat:

0g
Unsaturated Fat:

8g
Cholesterol:

18mg
Sodium:

22mg
Carbohydrates:

11g
Fiber:

7g
Sugar:

1g
Protein:

11g
Online calculators are estimates only. Please use your best judgement when consuming.