Summer has sprung! The birds are singing, the grass is growing, and the smells are here! One of my favorite summertime smells is grilling! Can you smell it? Let's roll out those THM BBQ sauce recipes and throw some THM side dishes on the table as we enjoy a healthy and happy BBQ season! All that delicious food right on the grill. It's time for a THM barbecue.
This page may contain affiliate links. To view my full affiliate link disclosure, click here.
A Summer THM Barbecue
There's nothing quite like living the Trim Healthy Mama lifestyle and getting a summer barbecue only to find there is literally nothing on-plan to eat besides the fruit.
There are a few things you can do.
PANIC!
Or you can make the best choices possible and move on. That's one of the things I like to impress on my coaching clients. We can only do the best we can (if we truly are doing our best) and then it's time to move on. Sometimes at gatherings like summer barbecues, we can only do our best and move on.
I think you know which one is probably the better choice.
In an ideal world though, we would never be out of different summer barbecue recipes. This is precisely why I teamed up with an abundance of THM bloggers and content creators to bring you this recipe round-up for your next summer BBQ!
THM BBQ Sauce Recipes
Let's kick off our Trim Healthy Mama barbecue with some THM BBQ sauce recipes! These are going to be easy to make, completely THM friendly, and most of them would be perfect for a keto or low carb BBQ as well.
Garlic Grilled Chicken
Who doesn't love Glenda's recipes! It seems impossible to go wrong with one of Glenda's recipes. That is certainly true with this grilled garlic chicken! The recipe uses 15 cloves of garlic, which sounds insane, but to quote Glenda:
I know this sounds like a crazy amount of garlic but it isn't as strong as it sounds.

Glenda, Around the Family Table
Sweet Tea Grilled Chicken
I had to read this recipe through a few times to see if it was real! Sweet tea chicken? Could it be? Yep! Oh, Sweet Mercy uses tea in this recipe. This one is for sure going on my list to try this summer!
Easy Dry Rub Spicy Grilled Tuna
I have never grilled Tuna before but this super lazy dry rub may just have to convince me that I need to try. Although looking at the result, I imagine there are quite a few other uses for a rub like this. I could even see using it with grilling chicken!
Smoked Turkey Burgers
I am most definitely intrigued to try a smoked Turkey Burger. My husband on the other hand may think I've gone a little bit looney! Taryn makes it look so delicious with all her amazing toppings; how can you NOT want to try this one?! You could even add a little bit of THM BBQ sauce on the side and dip this guy in!
The Best Sugar-Free Barbecue Sauce
TJ calls this the best Sugar-Free Barbecue sauce for a reason. It's that good. You are going to want to print, copy, download, and carry in your purse this recipe it's so good! Don't believe me? I dare you to make it!
Summer Grilling THM Side Dishes
Now let's get down to the nitty-gritty of summer barbecues. Eating on-plan at a barbecue is simple with the meat. If it does not have a sugary BBQ sauce on it, you are probably safe to consume! But those side dishes, now it's going to get tricky.
Thankfully these THM recipe creators have you covered again with these amazing Trim Healthy Mama side dishes!
Summer Cauliflower Rice Salad
I usually end my THM recipe roundups with my recipes, but for this section, I'm going to start with one of my recipes! This salad was my favorite creation from last barbecue season. There was something about that cauliflower and wild rice that was just too delicious to contain!
Potato Salad
What Trim Healthy Mama barbecue would be complete without a potato salad! Around the Family Table has done it again with this fantastic crossover potato salad!
Jalapeno Popper Pasta Salad
When my husband saw this salad, he declared, "we are making that tonight!" It looks so tasty that I would have to agree! This salad looks and I am confident is going to taste fantastic! Truly a delightful one to take to a summer barbecue gathering.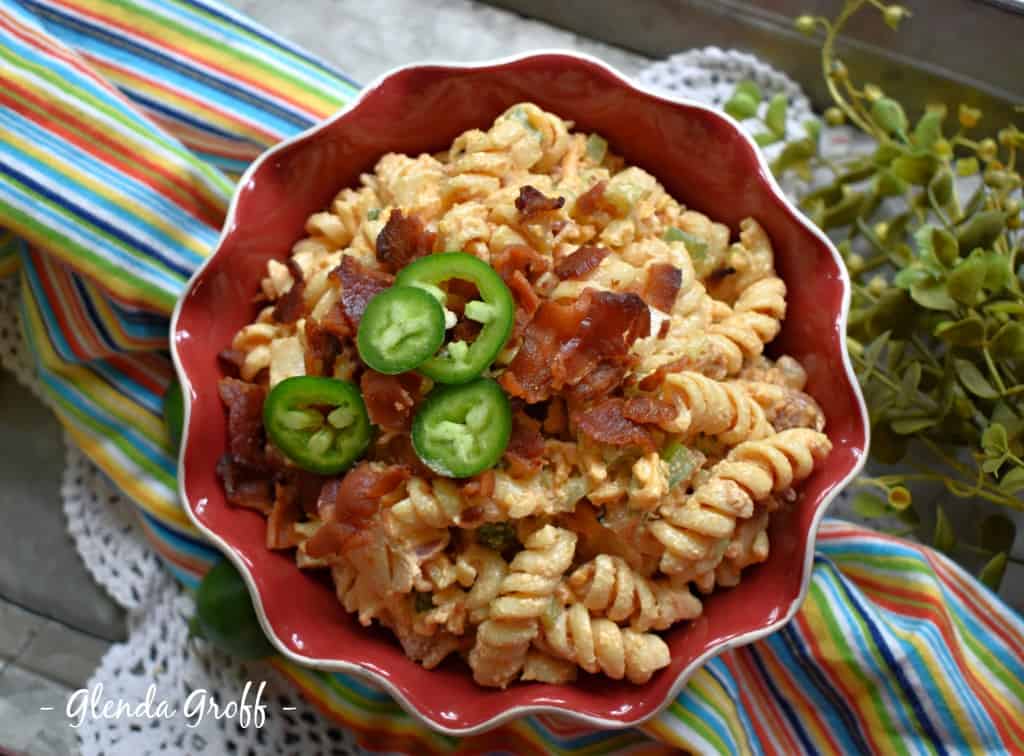 Southwest Cauliflower Salad
Chipotle, lime, and cilantro! Are there any other flavors that so perfectly combine to say 'summer'?! I'm so stoked to try this salad this summer. It looks amazing. My Imperfect Foods order just came with a HUGE head of cauliflower so this week might be a perfect opportunity to try this recipe.
Quick and Easy Coleslaw
I have a fascination with Country Girl Cookin'! Not just because we share a name, but because she also likes easy and quick recipes that taste delicious. It's almost like we are kindred spirits! This coleslaw is truly quick and easy!
Zucchini and Feta Salad
Are you a feta fan? I'm a feta fan, especially in a good summer salad! This summer salad looks so healthy and delicious. You should read the story that goes along with the recipe because it made me giggle! I have a habit of taking pictures of recipes and then misplacing where I put the recipe card too!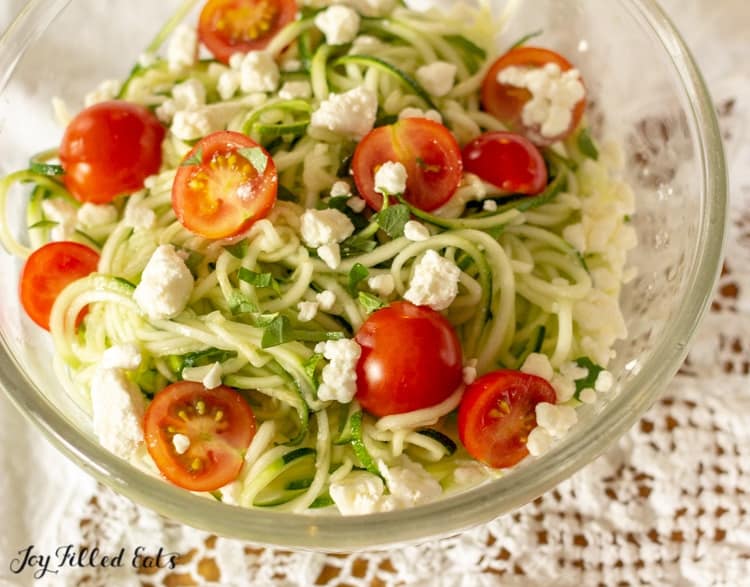 Summer Spaghetti Squash Salad
I have never thought to put the spaghetti squash in a salad! If you've hung out around my blog or IG page for any length of time, you may recall that I adore using spaghetti squash and my husband abhors it. I'm really excited to try this recipe to see if I can convert him!
Low Carb 7-Layer Salad
One of my favorite salads to see at a summer gathering is a 7-layer salad. I'm excited to try this low-carb rendition of a traditional 7-layer salad. One thing I don't remember having in other 7-layer salads is cauliflower! But Dawn makes it look and sound remarkable!
Dawn also has an amazing Chipotle Lime Roasted Sweet Potato salad and a cucumber tomato salad that truly looks delicious if you need more side dishes.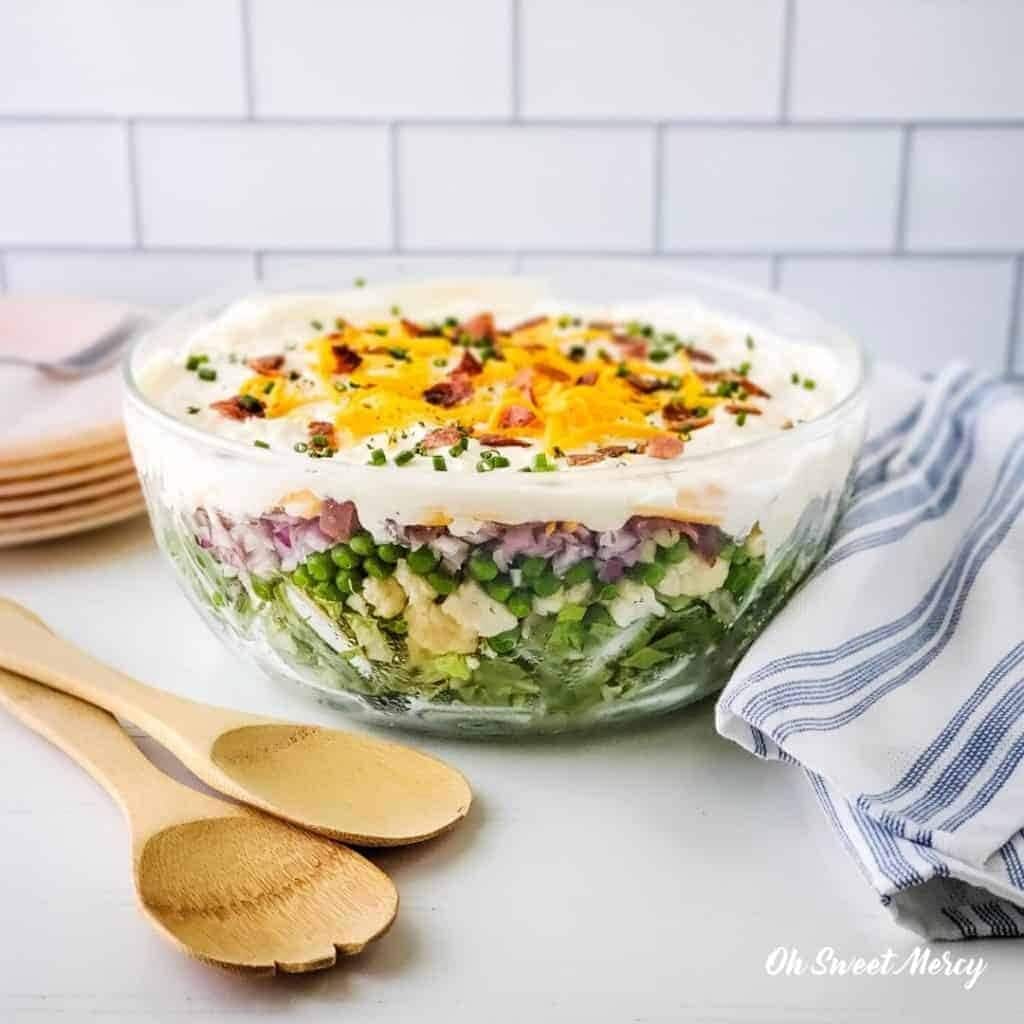 Low Carb Brussel Sprouts and Kale Slaw
There has been something about this year and Brussel sprouts. Everywhere I turn there have been new and delicious THM dishes with brussels sprouts!. Just like TJ, I was at a restaurant recently with an unbelievably good Brussel Sprout recipe, which lead to the creation of this recipe on my blog.
TJ's Taste's had a similar experience at the Cracker Barrel, which lead to the creation of this stupendous slaw recipe.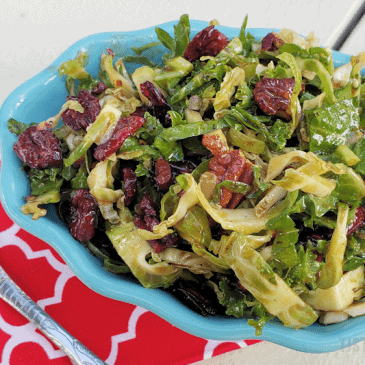 Chicken and Grape Salad
Can I tell you, readers, a fun fact about me!? Since I was a little girl, I have requested chicken salad as my birthday meal on June 9th. Every year that is what I have on my birthday. During my first few Trim Healthy Mama years, I struggled with now to have my chicken salad on my birthday. I eventually started to have a crossover with Dream Field pasta. TJ's Tastes has changed the game with this recipe! It is so satisfying and delicious. I may never go back to having pasta in my chicken salad again!
The Best THM Side Dishes and THM BBQ Sauce Recipes
What other side dishes do you like to bring to a barbecue? How about BBQ sauce recipes? Like no other recipe round-up that I have done before, I want to try ALL of these recipes. I'm planning out my summer menu right now!
Make sure you check out all these bloggers on their IG pages too, it's really a blast to follow them and see what they are up to in the kitchen. I'm sure I'll be sharing these side dishes and THM BBQ recipes on my IG stories this summer, so be sure to follow along by following me on IG too!
If you love Trim Healthy Mama recipes like these, be sure to check out my new cookbook called Healing Harvest Cookbook! It is even available on Amazon!