This first time this hits your lips, you might think I've gone a wee bit mental. Yet if you give this cranberry cheese ball a chance, you'll soon find yourself addicted to it's unique flavors that pop with creamy cheese, punchy cranberry, sweet peppers, subtle lemon, and rich pecans.
The peppers threw me for a loop when I started experimenting with flavors, but now they are my most favorite part of this party cranberry cheese ball. They are just so unexpected in a cranberry pecan cheese ball that it seems wrong, but it works!
Give it a shot for your next gathering, I think you'll be surprised.
This page may contain affiliate links. To view my full affiliate link disclosure, click here.
A Cranberry Cheese Ball with Peppers!
I happen to really like the TV series "How I Met your Mother." It's a quirky sitcom that just makes me giggle. In season 4 episode 2, the friend group goes on a mission to find the best Cheeseburger in all of Manhattan. In one part of the episode the character Marshall starts describing what the most perfect cheeseburger tastes like. He describes the burger in such poetic words that you can't help but be left craving a juicy New York burger.
Just a Burger? Just a burger. Robin, it's so much more than "just a burger." I mean…that first bite—oh, what heaven that first bite is. The bun, like a sesame freckled breast of an angel, resting gently on the ketchup and mustard below, flavors mingling in a seductive pas de deux. And then…a pickle! The most playful little pickle! Then a slice of tomato, a leaf of lettuce and a…a patty of ground beef so exquisite, swirling in your mouth, breaking apart, and combining again in a fugue of sweets and savor so delightful. This is no mere sandwich of grilled meat and toasted bread, Robin. This is God, speaking to us in food.

How I met your Mother, Season 4, Episode Two, "The Best Burger in New York"
That description just must be about the oddest burger monologue that I have ever read or heard, but even more odd that is the scene that went through my head the first time I put this Pecan Cranberry Cheese Ball into my mouth.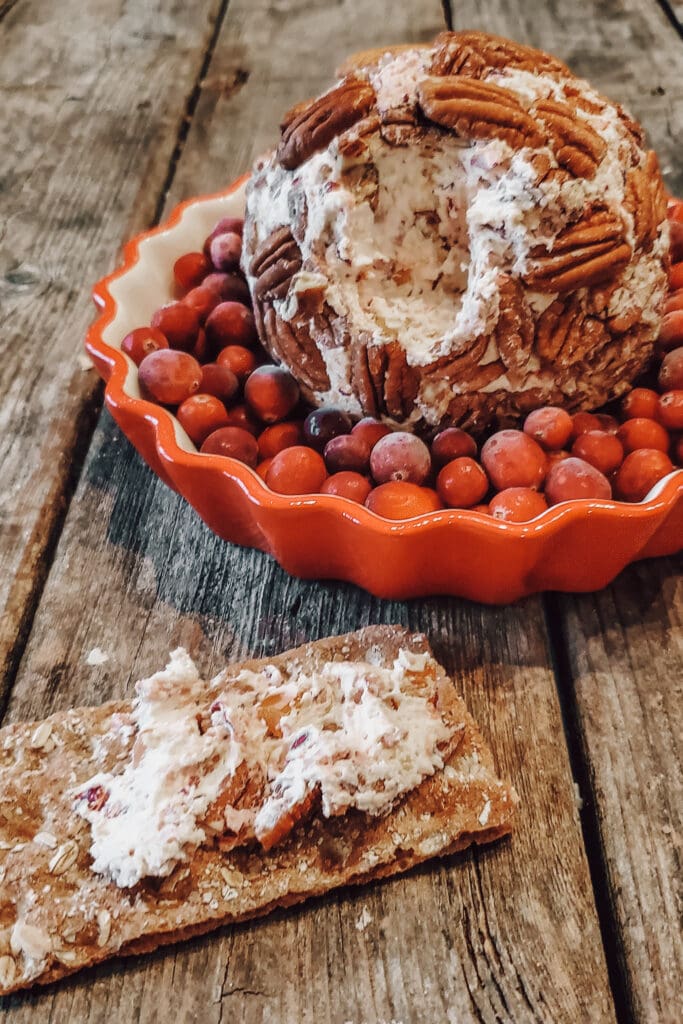 It's not just a cheese ball. No, it's much more than that. It is flavored bursting that you would never expect to work together. The cream cheese hits your mouth with addicting precision, but then the sour cranberries pack a roundhouse punch as they infatuate their way into your taste buds.
Next, sweet peppers attack as they sneakily work their way in. Just when you think that it tastes sort of odd, the pecans smack! Suddenly the flavors crescendo together to create a cranberry cheese ball flavor that is so unique you are instantly reaching for another cracker to fill up again.
What do you Serve with a Cheese Ball?
This is a keto and Trim Healthy Mama-friendly cheese ball, so naturally, if you are following either of those two lifestyles, you will want to use this dip with other on-plan approved items. Here are a few ideas to get you started.
How Long will a Homemade Cheese Ball Last?
Homemade cheese balls usually last about 2 weeks in the refrigerator. However, whenever you have any cheese ball with nut toppings, you will want to use the cheese ball as soon as possible. The nuts tend to get soggy when surrounded by cheese for long lengths of time. If you are planning to use the cheese ball later, keep the pecans off, wrap it in plastic wrap and keep it in the refrigerator until you are ready to use. Then roll into the chopped pecans.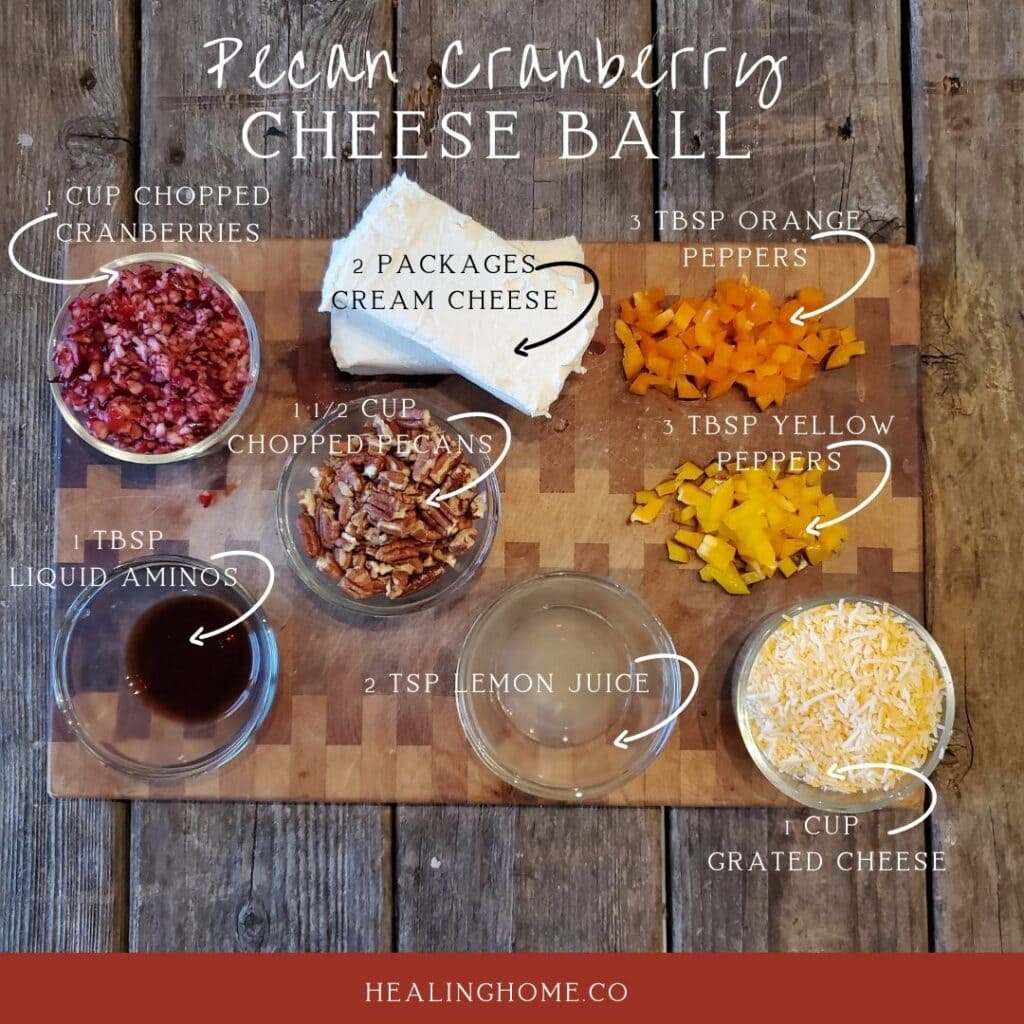 Making your Pecan Cranberry Cheese Ball
Thankfully, this cranberry cheese ball is extremely easy to make! Chop all the cranberries, peppers, and pecans, and then mix! Couldn't be easier than that could it.
It is easiest if I take my fresh cranberries, place them in a blender and pulsate a few times. Don't pulsate so much that the cranberries start to liquify. Your cranberry cheese ball will become too watery. They just need to be small enough that you don't have to bite down on them when they are in the cheese ball.
If your cheese ball is too watery add a little bit more grated cheese. You can also try reducing the liquid amino to only 2 tsp.
Please note that I did keep the serving size low at 3 tbsp. Feel free to enjoy more if this is a main snack or side dish you are having. For holiday parties, we often consume more than we need to of dips, so I kept the serving size a bit lower.
Cranberries and the Holidays
I have always loved playing with cranberries in recipes. My cranberry wassail continues to be one of my favorite drinks to make. For some reason this year, I have really gone all sorts of cranberry crazy. From the Cranberry Orange Shortbread cookies, to my new Cranberry Smoothie, I have really gone a wee bit bonkers with the cranberries.
You can find more delicious and healing recipes in my Free Healing Harvest Cookbook, click the image to download.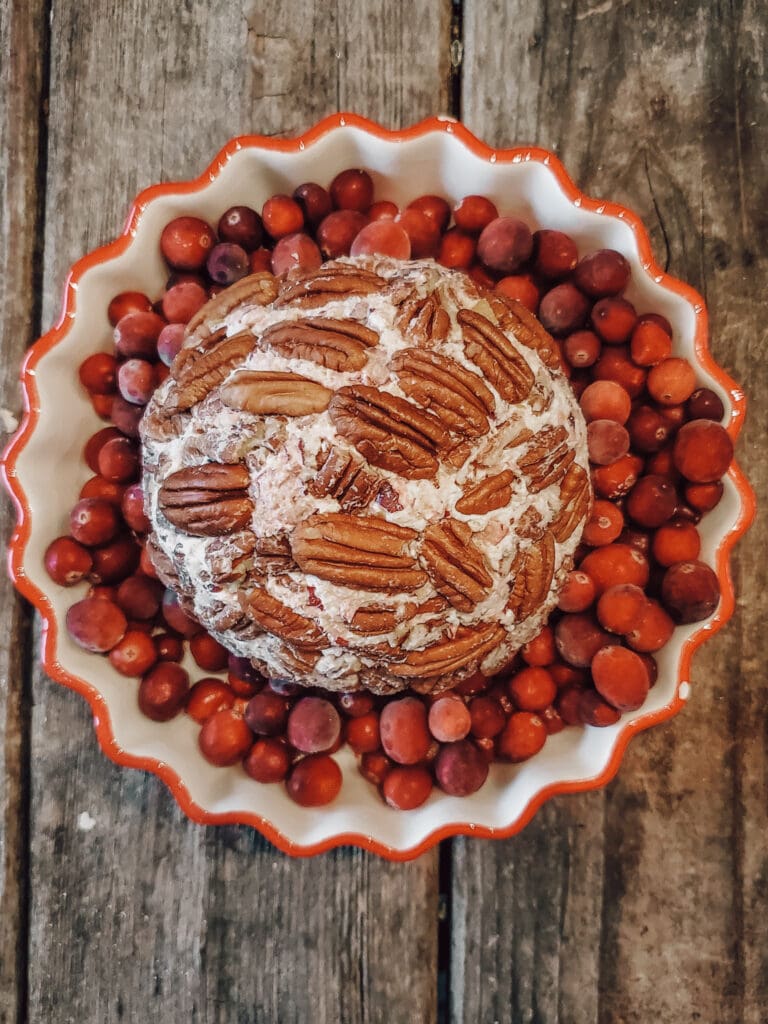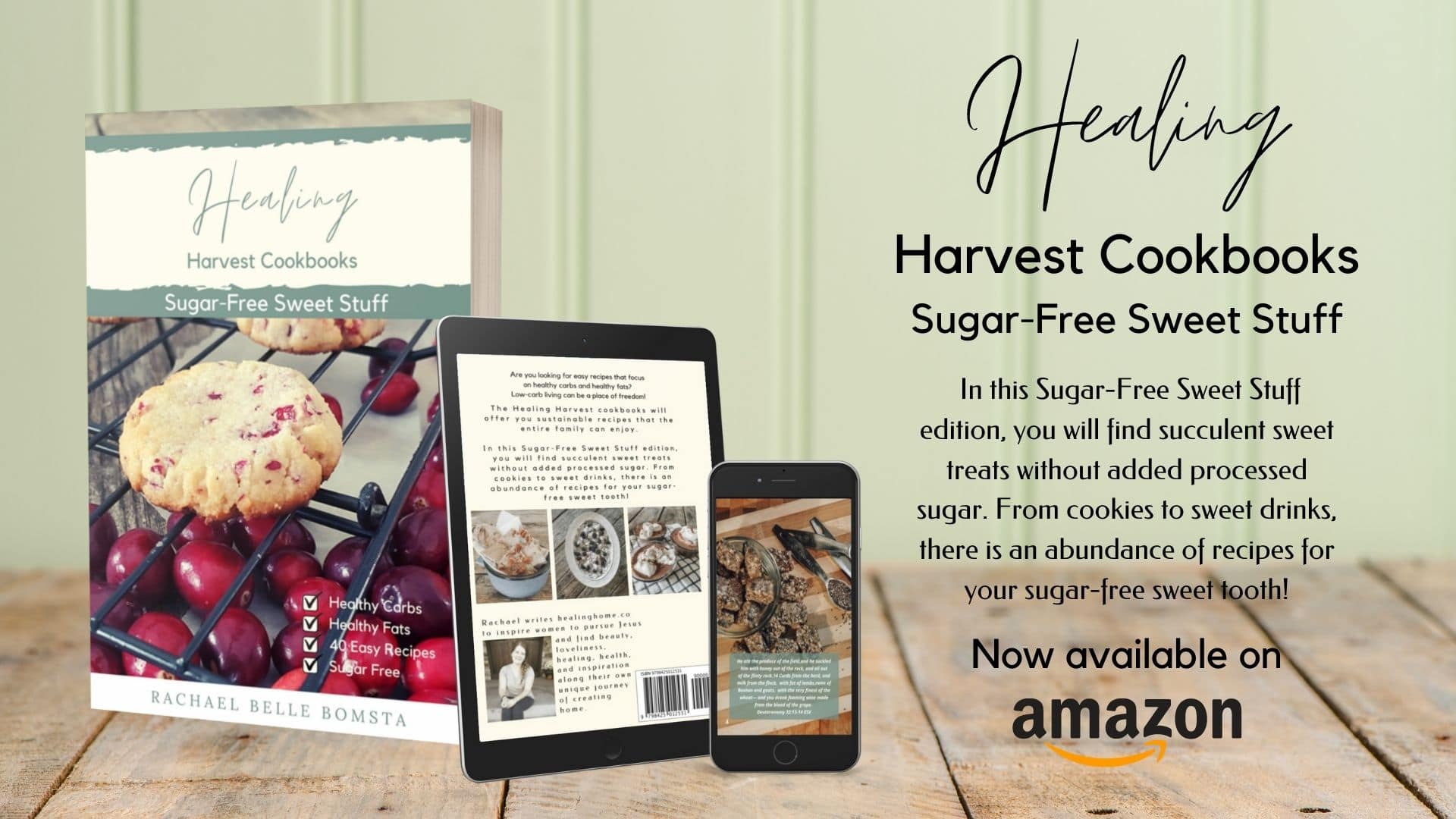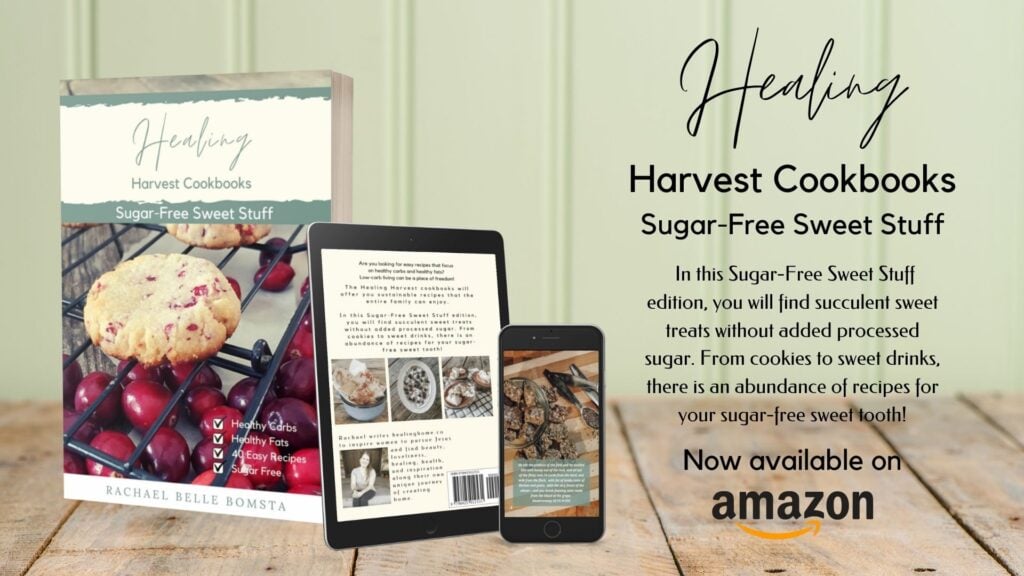 Pecan Cranberry Cheese Ball
If you give this cranberry cheese ball a chance, you'll soon find yourself addicted to it's unique flavors that pop with creamy cheese, punchy cranberry, sweet peppers, subtle lemon, and rich pecans.
Ingredients
2 packages 8 ounce cream cheese
1 ½ cups chopped pecans
1 cup fresh chopped cranberries
1 cup shredded cheese
3 tbsp chopped yellow pepper
3 tbsp chopped orange pepper
1 tbsp liquid amino acids
2 tsp lemon juice
Instructions
If you have not done so already take approximately 1 cup of fresh cranberries and pulsate in a blender until they are well chopped but not liquified.
Chop pecans if you have not already done so.
Add all ingredients except pecans in a mixing bowl.
Using your hands or a spatula mix all ingredients well and form them into one large ball.
Place chopped pecans in a large bowl and roll the cheese ball into the pecans until they cover the cheese ball completely.
Serve with wasa crackers, beauty blend crackers, or corn chips.
Notes
If you are a Trim Healthy Mama this is a S recipe. You can enjoy Wasa Crackers, Beauty Blend Crackers, or corn chips for a nice crossover.