Have you ever tried to cut back on coffee by using an herb substitute? Me too, more times than I can count. One of my favorite replacement recipes is ashwagandha coffee. The flavors are bitter like coffee but this specific recipe has a sweet undertone!
I've found my nemesis. Its name is coffee.
I can't emphasize enough how much I love coffee. However, my husband has been encouraging me for months to cut back on my intact. He's totally right, but I am not motivated to cut back. I'm a tired mommy and my entire pot of coffee seems like small potatoes in exchange for a little energy.
Yes, you read that correctly. An entire 12 cup pot of coffee. Down the guzzle, it goes.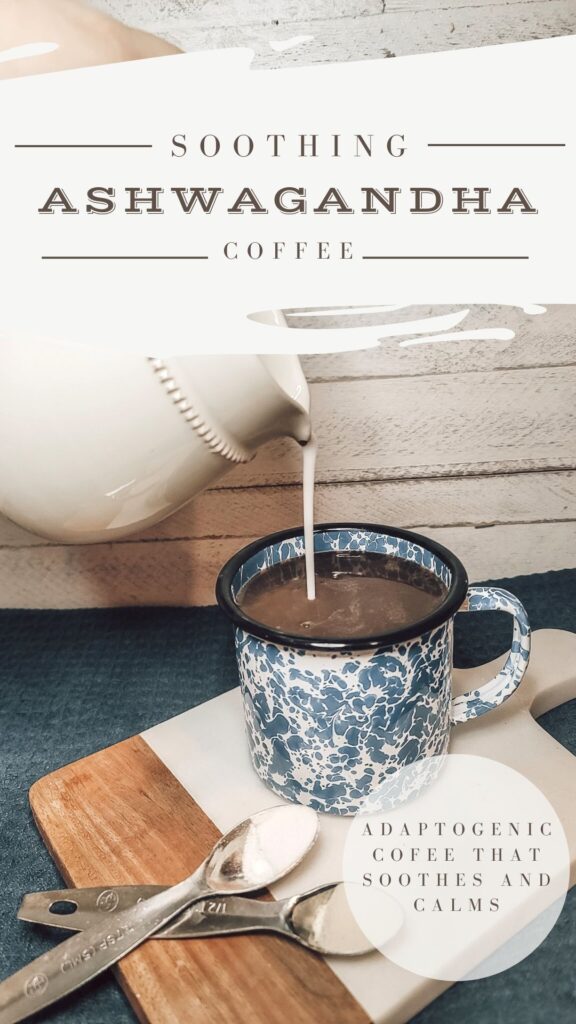 This page may contain affiliate links. To view my full affiliate link disclosure, click here.
What is Ashwagandha?
So a few months back I was introduced to a plant called Ashwagandha. I was intrigued by the name and out came my intense desire to learn everything I could about this funny named substance. I dived into the deep dark internet and was blown away that I'd never heard about this healing plant. Its plant name is Withania Somnifera but is more commonly known as Ashwagandha.
This herb is apoptogenic that helps the body assimilate to stressful conditions.
One double-blind study that I read concluded this:
The findings of this study suggest that a high-concentration full-spectrum Ashwagandha root extract safely and effectively improves an individual's resistance towards stress and thereby improves self-assessed quality of life.
What is Ashwagandha?
I don't know about you, but this momma has got some stress. Let's face it, everyone does. Stress does not facilitate cultivating a healing lifestyle. The most effective way of healing stress from life is by eliminating the toxic situations that produce the stress. But most of us know that stress is not going away in this fast-paced, technology-saturated world.
Soon my research turned to Pinterest. The pretty world of graphics, recipes, and unreliable information. I tried a few recipes but was ultimately bummed by the very earthy flavor that did nothing for my coffee-stained taste buds. In my mind, I needed to find a recipe that slightly sweetened the very bitter taste of Ashwagandha.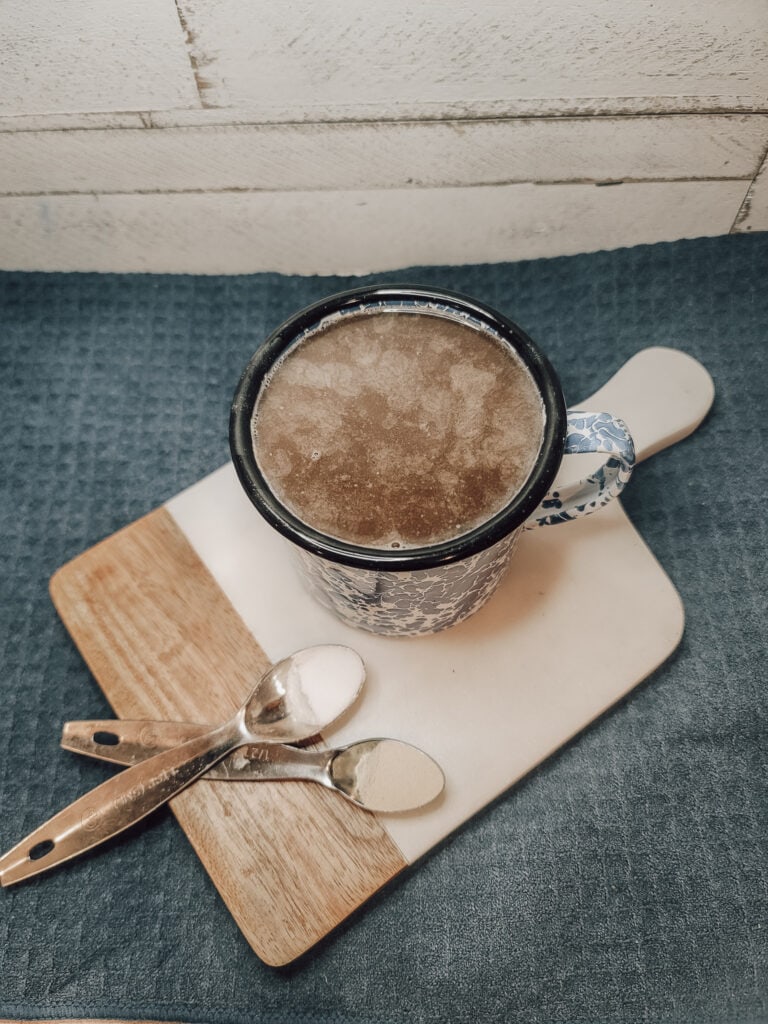 What to Put in the Ashwagandha Coffee
It suddenly dawned on me. Baobab. This could be the answer I was looking for. No recipe I could find included Baobab, and I couldn't wait to create a recipe that included this superfood. Throwing together some ingredients I cautiously tasted my creation. That was it! This second superfood was my answer to caramelizing the earthy flavor of ashwagandha. It is delicious.
For those of you who don't know what Baobab is, get on board! Baobab must be one of the coolest superfoods I've ever researched, and unfortunately, it just doesn't get the rap it should.
In just a gram of Baobab, there is fifteen times more vitamin C than a pomegranate, ten times more antioxidants than goji berries, and three times more calcium than milk!
Combining these superfoods this warm drink of wonder not only meets my standard for yumminess, but is nourishing my body, feeding my adrenals, giving me a much-needed immune boost, and protecting me against stress. You can't make this stuff up! Go make this delicious concoction and put your feet up for some needed rest.
Can I Drink Coffee with Ashwagandha?
Yes! As this recipe suggests you can combine ashwagandha with coffee and it does not change the taste of coffee too much, but adds a lovely health boost. If you want something more delectable, this recipe is a much more tasty alternative. If you find you are sensative to ashwagandha, you can start with smaller amounts and work your way up.
Commonly Asked Questions
My collagen turns lumpy in this recipe.
Many collagnes will do that, so a trick that I like to use is adding the collagen in at the very end. You can use a coffee frother and sprinkle the collagen over the coffee and blend immediently.
I don't like the taste of ashwagandha coffee.
One way to combat this is to start out with less ashwaghanda and work your way up from there.
Other Ashwagandha Recipes
I love ashwaghanda recipes, I think the taste of ashwaghanda coffee is fun to play around with and it has led to many other recipes making it onto my blog! Try a few of these if you would like to play around with this adaptogen herb.
Ashwagandha Drink Latte with Tumeric
Powerful Healing Elixir with Lemon & Ashwagandha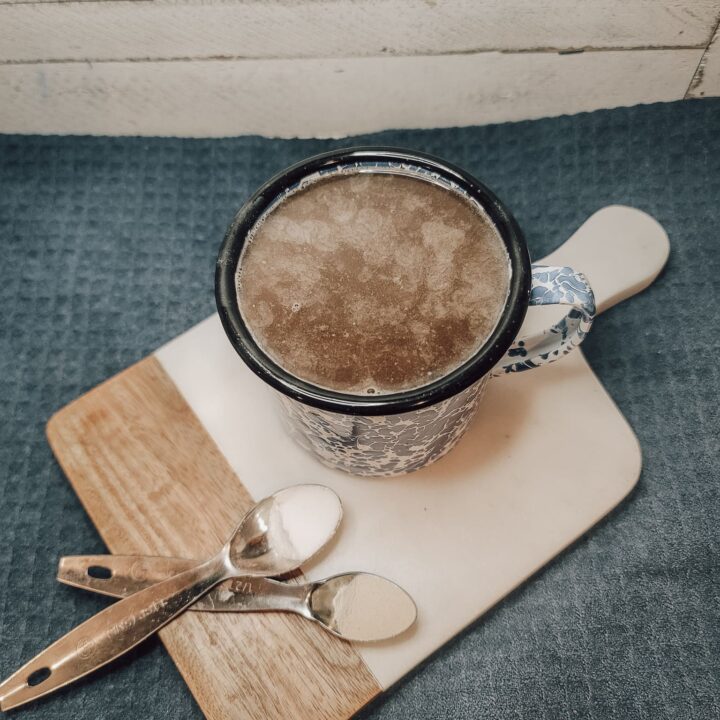 Ashwagandha Coffee
Have you ever tried to cut back on coffee by using an herb substitute? Me too, more times than I can count. One of my favorite replacement recipes is ashwagandha coffee. The flavors are bitter like coffee but this specific recipe has a sweet undertone!
Ingredients
1 cup boiling water
1 cup hot coffee
2 tbsp almond milk
3 tsp stevia
1 tsp baobab powder
1 tsp cacao powder
1 tsp collagen
½ tsp ashwagandha powder
½ tsp vanilla extract
Instructions
Bring water and coffee to a rolling boil.
Add water to the blender.
Add remaining ingredients.
Mix until desired frothiness is obtained.
Consume in glorious amounts.
Notes
If you want to make this 100% calming with no caffine additives, you can cut the coffee and add another 1 cup of boiling water.
Recommended Products
As an Amazon Associate and member of other affiliate programs, I earn from qualifying purchases.
Nutrition Information:
Yield:

1
Serving Size:

1
Amount Per Serving:
Calories:

34
Total Fat:

1g
Saturated Fat:

0g
Trans Fat:

0g
Unsaturated Fat:

0g
Cholesterol:

0mg
Sodium:

20mg
Carbohydrates:

17g
Fiber:

1g
Sugar:

1g
Protein:

3g
Nutritional calculators are estimates only. Use your best judgement when consuming.